This post may contain affiliate links. Read my disclosure policy here.

Our babies sure do adore their lovies, don't they? My three-year-old has a special blanket that he pretty much always has to sleep with. It's a quilt that I made him for his first birthday, so it makes me feel special to see that he treasures it so much.
When I decided to make a quilt for him, I actually tried to find patterns that were shaped like animals. I thought it would be adorable to make him a blanket that was shaped like a bear. Unfortunately, I wasn't able to find a pattern, and since it was my first time sewing, I didn't want to dive in with too difficult of a project.
When MiniMe baby gear contacted us for a review/giveaway of their Minky Dinky blanket, and I read that they were shaped like animals, I was very intrigued. The Minky Dinky blanket lovie is exactly what I had wanted to make for my son.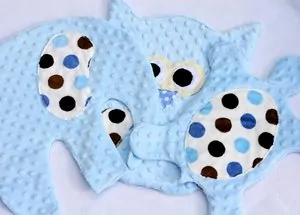 Shaped as owls, turtles, elephants and flowers, the Minky Dinky blanket will quickly become your child's special lovey.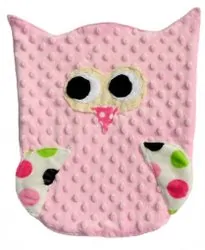 I was sent the pink Minky Dinky Hooted Owl to review. It is adorable. Made from minkie fabric, the blanket is so very soft. I could see why babies would enjoy cuddling it up to their little faces.
The eyes are made of yellow, chocolate, and white minkee, topstiched together. The nose is made of blue and white dot minky, and the feathered wings are made of a contrasting chocolate dot minky.
I love that a little pouch is formed on the side of each wing, which I imagine would become the perfect place for a baby to place her hands or fingers while resting.
Right now the Minky Dinky Hooted Owl blanket is priced at $24.95, making this a unique and affordable gift for that special baby in your life.
We have one Minky Dinky blanket to give away. In the comments section, be sure to tell us whether you would prefer the owl, turtle, elephant or flower. Be sure to also let us know if the Minky Dinky blanket is for a boy or a girl.
Here are more details on how to enter this giveaway:
See our Christmas Giveaway 2009 post to read more about
participating in our Christmas Giveaway

Either link back to this post and include a Christmas Giveaway 2009 button in that post or on your sidebar, or link to the individual giveaways you choose to enter. We have a ton of different buttons and styles for you to choose from. Click here to get the button codes. (If you post and include the button, either in your post or on your sidebar, and link back here, you are good for all the giveaways. No more linking required.)
You may earn additional entries for the following:
If you are already subscribed and are on our newsletter list, you qualify for these two additional entries. Go ahead and leave your additional comments below.
Spread the word to your friends via your blog, twitter, etc.
Remember to leave a comment for each thing you do!
Entries are open until Friday, December 4th at 12pm EST.
Our winner will be drawn randomly and we will announce the winner Saturday, December 5th. Please make sure to check our site and your email address to see if you have won a prize. We must receive your reply within 5 business days. (If you want your prize to arrive in time — the sooner we hear from you, the better!)
This contest is open to US shipping addresses only. Due to legal restrictions, this promotion void where prohibited.
Please see our site's Terms and Conditions of Use for a complete list of our Contest and Giveaway Rules.
*I received a Minky Dinky Hooted Owl blanket to review.
Written by 5 Minutes for Mom contributing editor, Erica.