This post may contain affiliate links. Read my disclosure policy here.
5 Minutes for Books' reviewer and lifelong lover of children's literature Dawn is happy to be working with HarperCollins to announce Mouse's grand return in the newest book of the If You Give series. Be sure to enter the giveaway for an adorable gift pack to accompany the book.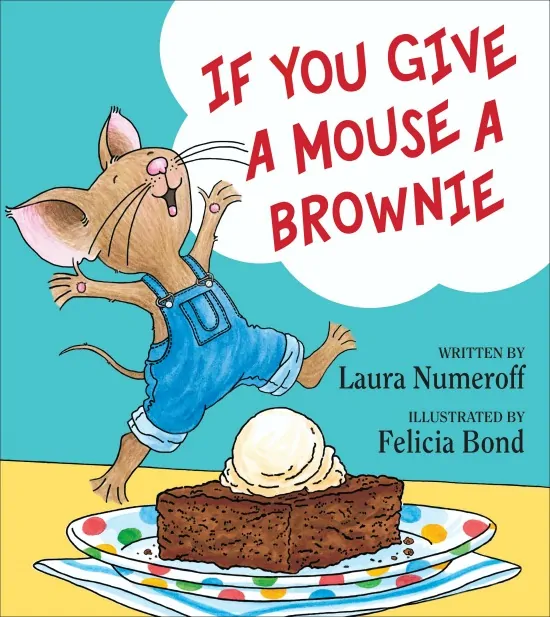 You'd recognize those tiny denim overalls anywhere, right? Mouse is back, and he's trading in his cookie for a new snack in Laura Numeroff's newest book If You Give a Mouse a Brownie.
If you can believe it, the original If You Give a Mouse a Cookie turns 31 this year. I had no idea that this classic children's picture book was that classic. Laura Numeroff and Felicia Bond are bringing Mouse back this year, and he hasn't aged a bit. When we first met Mouse, his charm was instantaneous, and children and adults alike couldn't help but smile when his wishes caused a bit of chaos as his young friend tried to accommodate them all.
This time around, Mouse's antics take them through the house and out into the neighborhood. Following the pattern of the series, one wish leads to another, with the silliness increasing until the story comes full circle. But in the middle, the boy and the mouse play some music, do some crafts, and get stuck in the rain, all the while with smiles on their faces.
The spirit of this newest book in the series seems to most closely match the magic of the original, in my opinion. Mouse is his usual adorable self, and the transitions between one scene and the next flow with just the right level of childlike logic and whimsy. Having spent many years in a preschool classroom, I am confident this will be as beloved as the first, leading many young readers (and pre-readers!) to tell the story with joy and laughter.
Enter to win
Enter below for a chance to win your own copy of If You Give a Mouse a Brownie, along with an imagination building baking set, care of HarperCollins. Giveaway is open to US addresses only.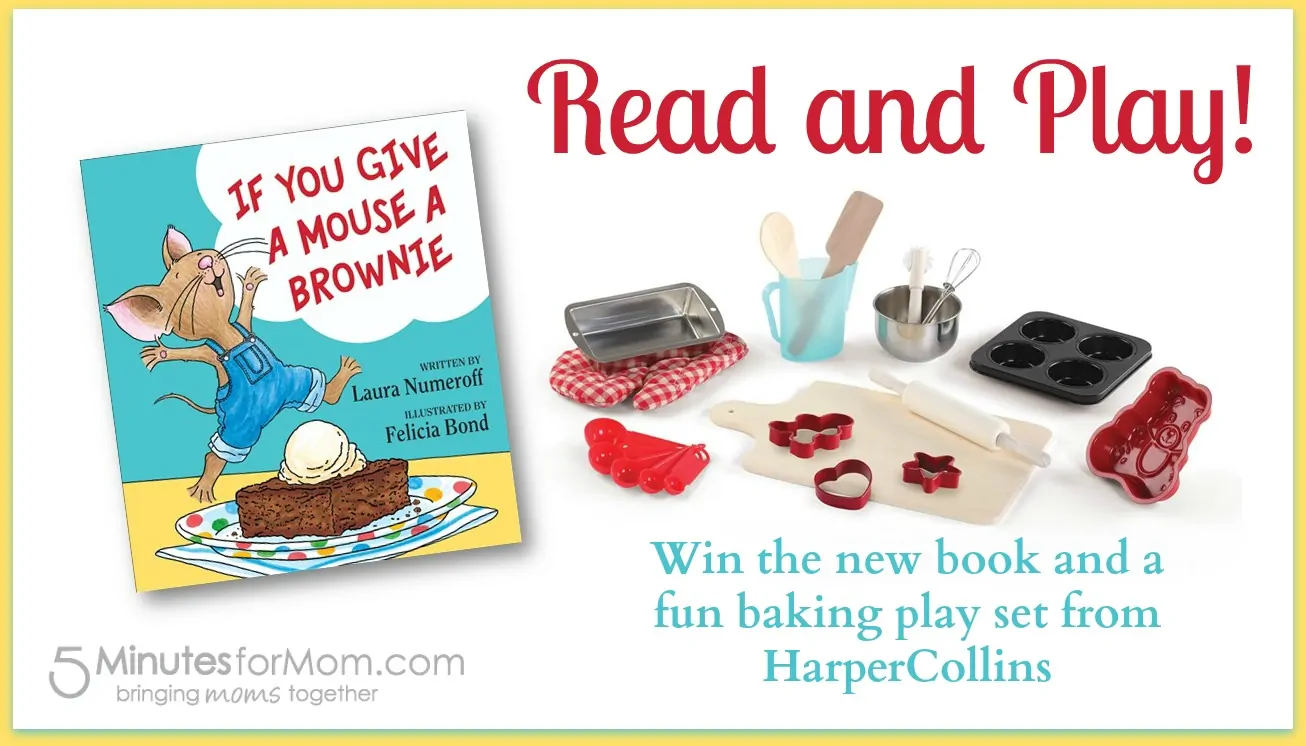 Keep the fun going with a Mouse and Friends Activity Guide. Be sure to check out HarperCollins' social media channels on Twitter, Facebook, Instagram, and Pinterest to share in the #IfYouGiveBooks magic.
Disclosure: This post is sponsored by HarperCollins
Written by Dawn, contributor for 5 Minutes for Mom
Talk with us: @5minutesformom and Facebook.com/5minutesformom
Pin with us at pinterest.com/5minutesformom