This post may contain affiliate links. Read my disclosure policy here.
Rachel here with a quick way for you to protect your cell phone.
(Hint: This clever tech gadget will be perfect for stocking stuffers for all the tweens, teens and adults on your list this holiday season.)
Do you have trouble keeping track of your phone? I've lost my phone more times than I can count. Fortunately, there's an easy solution.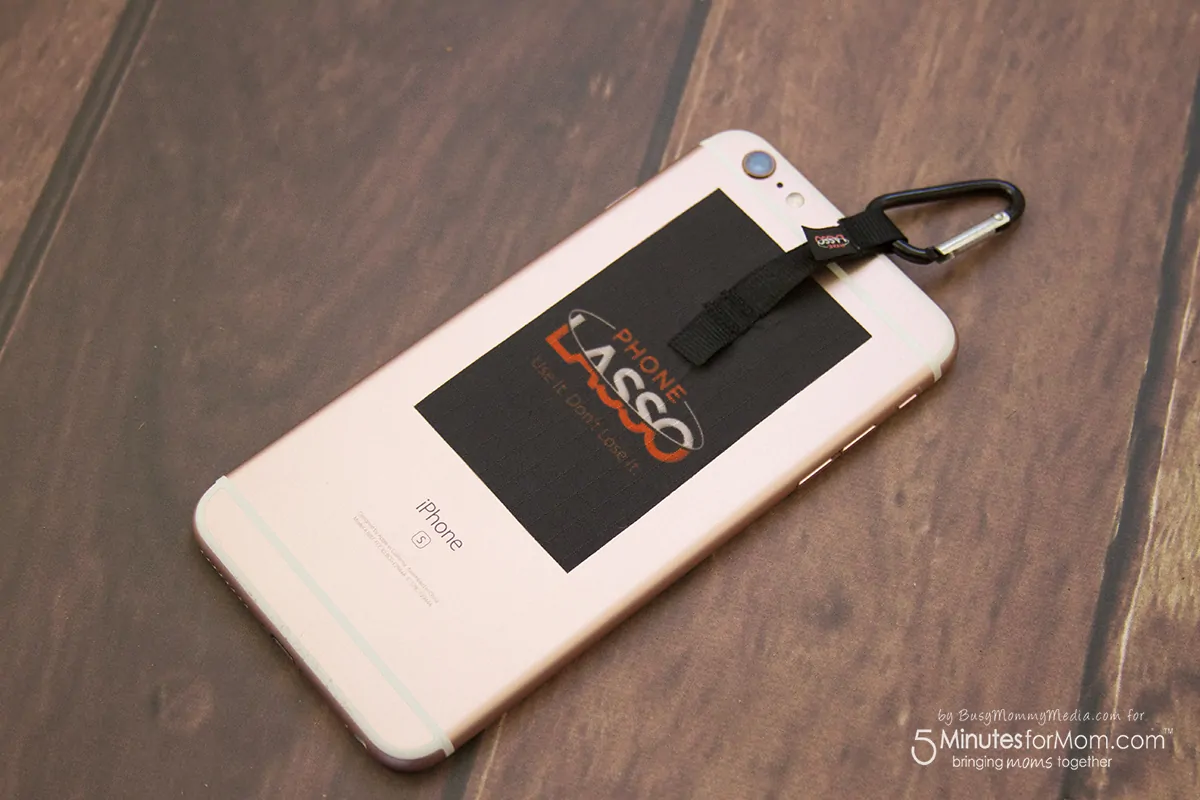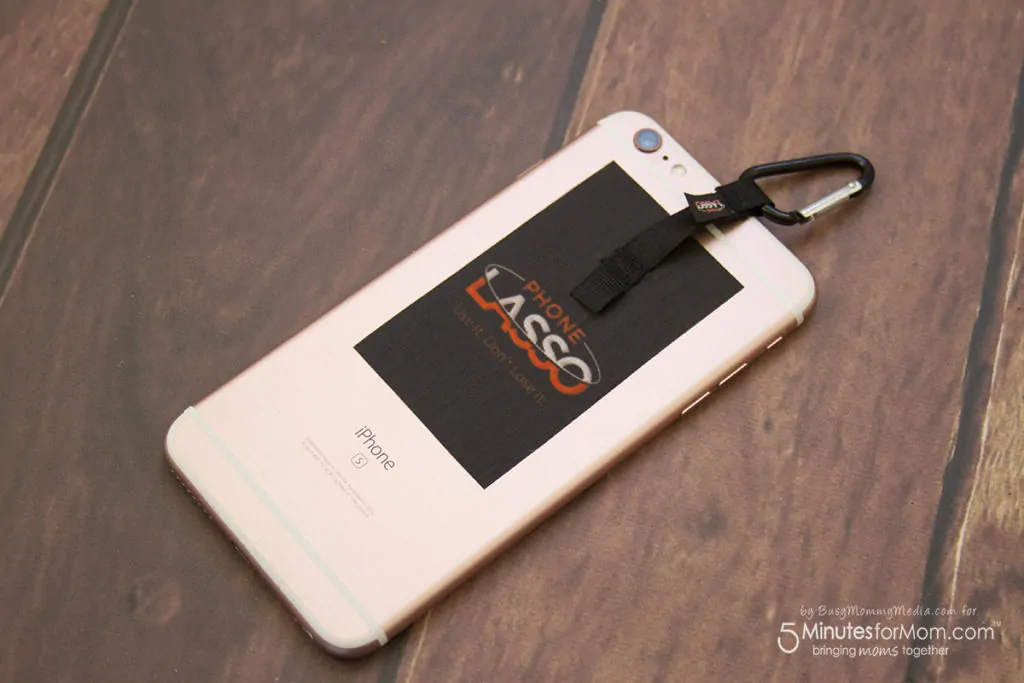 The Phone Lasso is a great little tool that lets you secure your phone to just about anything. It fits securely on the back of your phone and you can even use it under most phone cases so your phone is still protected.
This not only stops you from losing your phone but it also offers great phone protection since it prevents drops — I've lost more than a few phones to a drop on the pavement.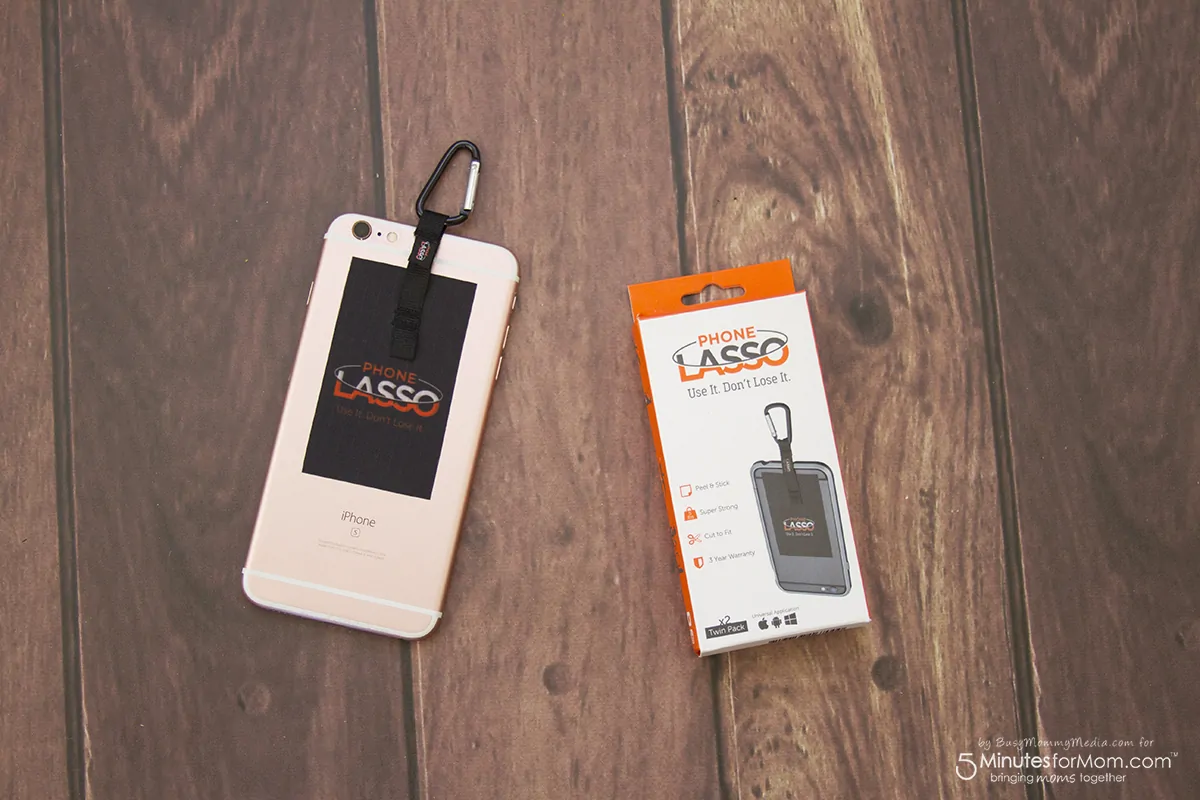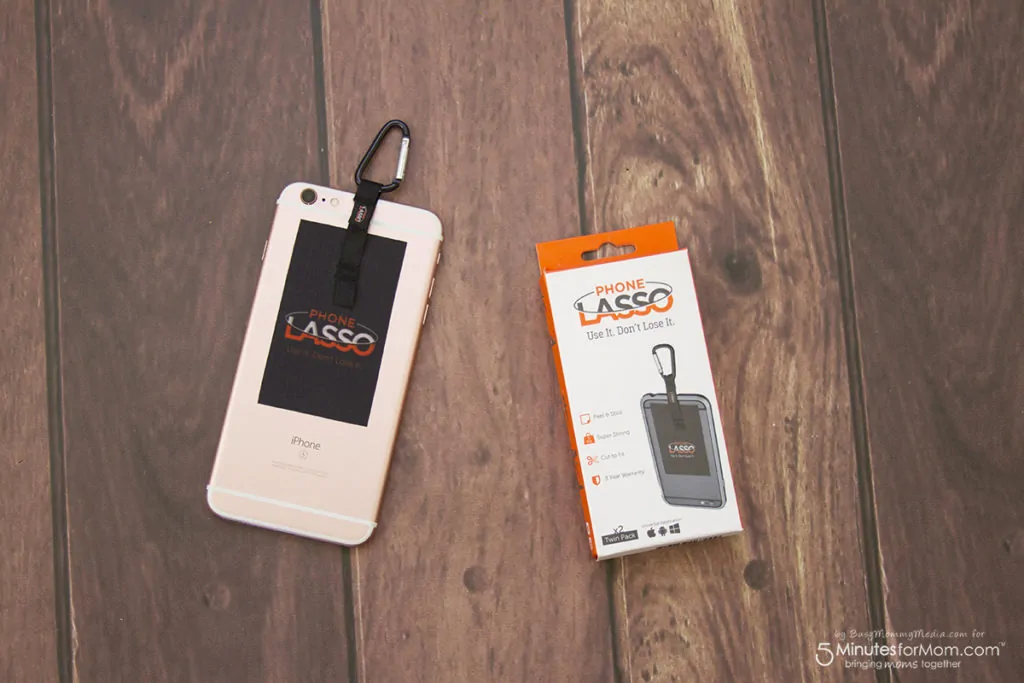 As a mom with an active lifestyle, I'm constantly on the go and my phone goes everywhere I go. Unfortunately, that often means that my phone gets left behind a lot.
My kids are always laughing at me because I'm constantly walking around the house saying "where did I put my phone". That works out fine when we are at home. When we are out and I leave my phone behind, the chances of getting it back go way down.
The Phone Lasso lets you hook your phone to your diaper bag, belt loop, stroller, or anything else that you have with you so it is easily accessible and won't be left behind. I used to just keep my phone in my pocket but I went to a larger phone and it no longer fits securely in my pocket.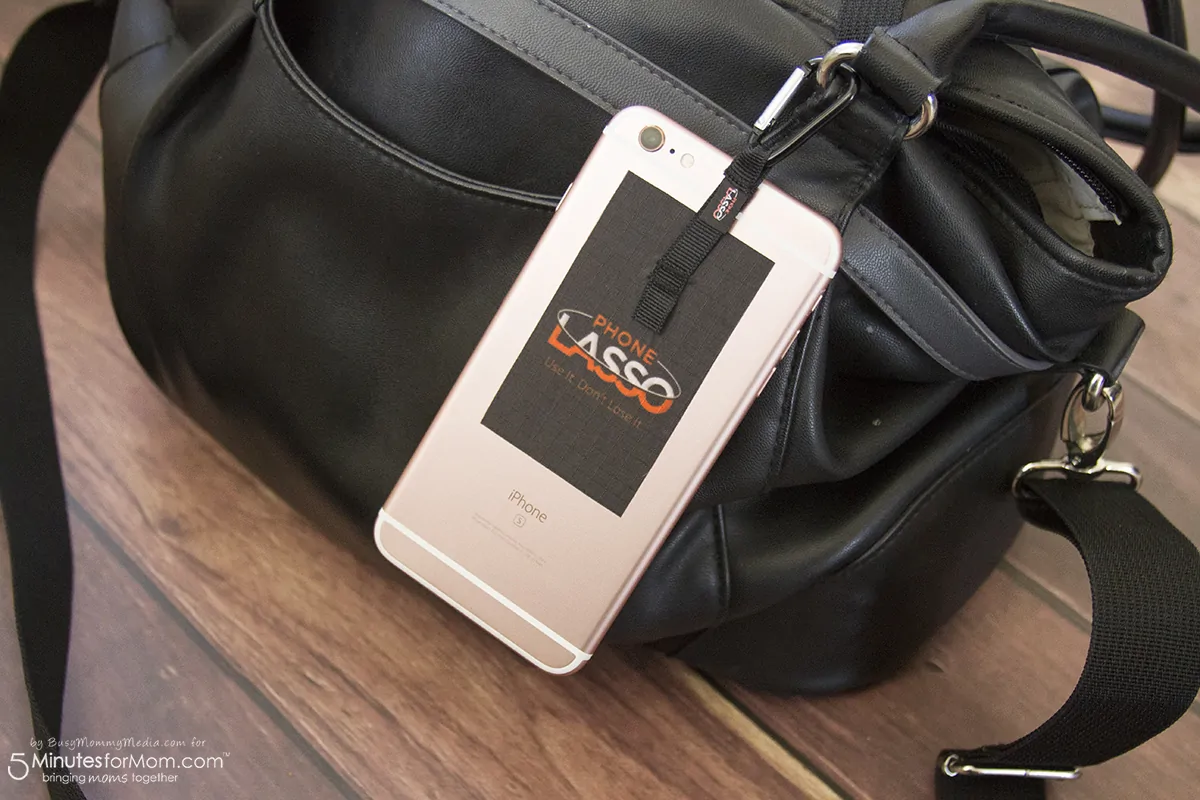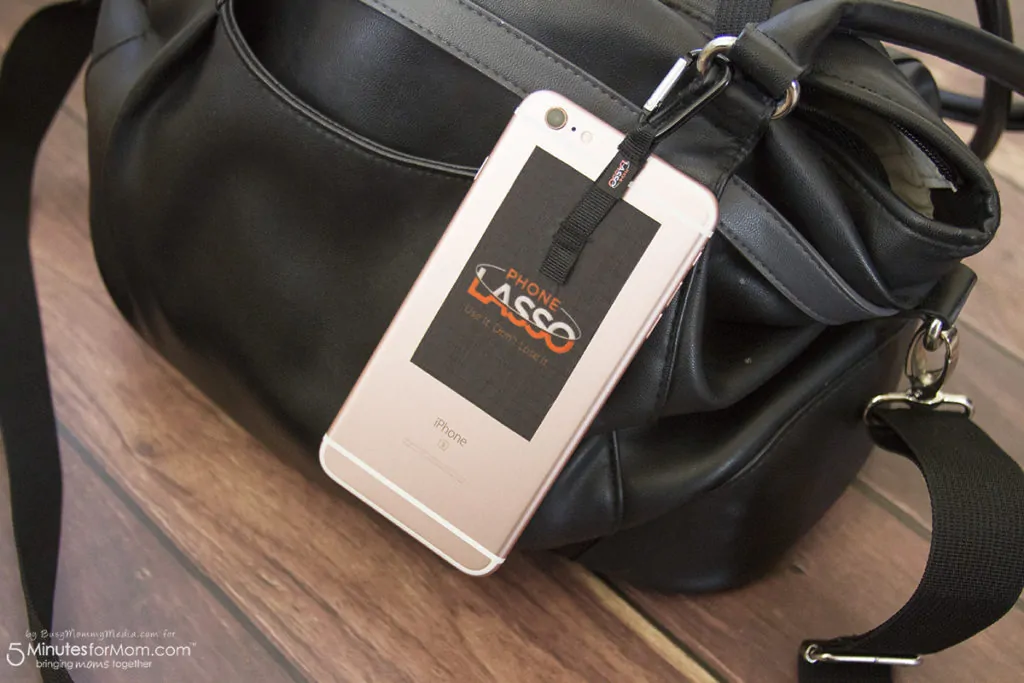 I love that I can use the Phone Lasso to help me keep track of my phone and keep it close at hand. I just got a new iPhone 7 and I want to make sure I keep track of it.
There's no more digging through my diaper bag trying to hunt down a ringing phone. I can hook my phone to the outside and know that it's staying put.
The Phone Lasso comes in handy with kids too. I'm moving into the stage where several of my kids have phones. We've been lucky that we haven't had any phones broken yet but we have had a few lost around the house for extended period of time. My boys can hook their phone to their belt loops or backpack using the Phone Lasso and prevent any phone accidents.
For more information on the Phone Lasso, check out their website or follow them on Facebook, Twitter, Instagram, or Pinterest
Giveaway
We're giving away FIVE (5) Phone Lasso Complete Kits. Each kit retails for $12.95 and includes:
Universal for all cell phones and cases.
Includes two insanely sticky patches, along with an adjustable neck lanyard and wristlet for hands-free action.
Metal carabiner hooks to purses, gym bags, backpacks, sports bras, belt loops, diaper bags, and more.
Easily to attach and detach.
Enter to win 1 of 5 Phone Lasso Complete Kits. Leave a comment telling us if you've ever lost or dropped and broken your smartphone? Then complete your entry using the form below.
Pin it for Later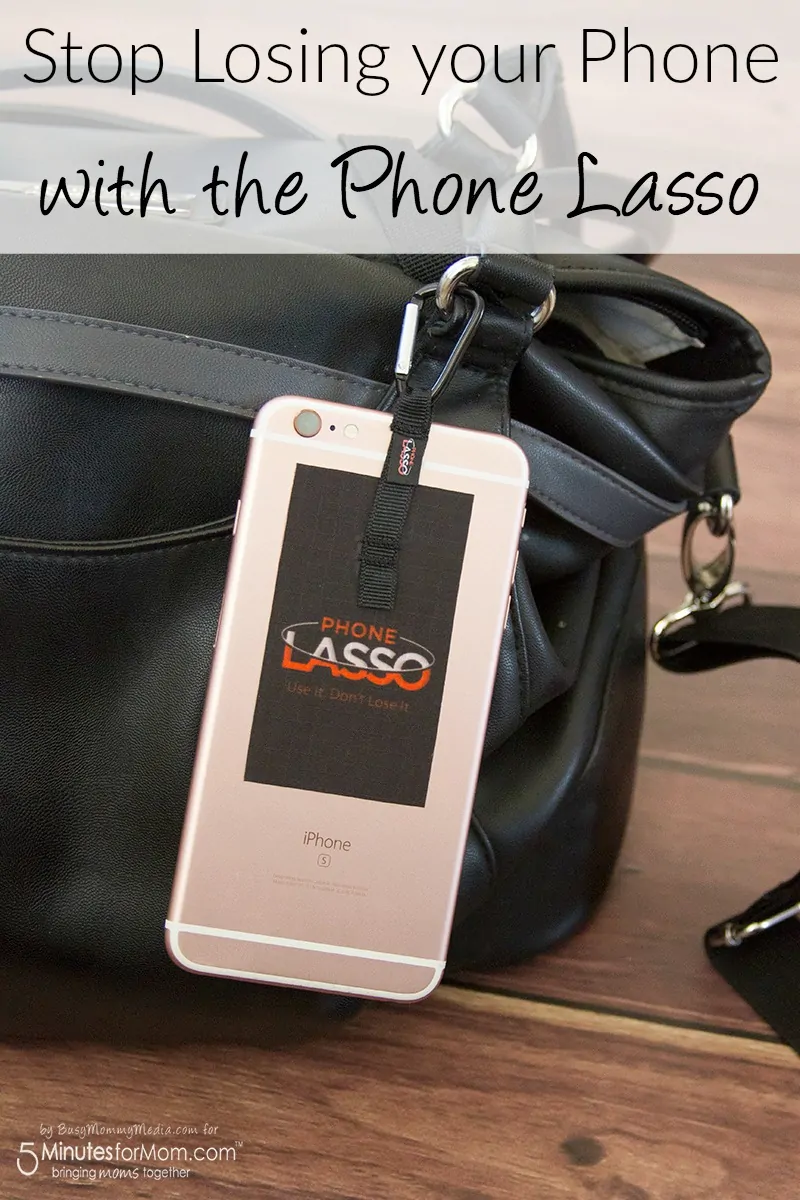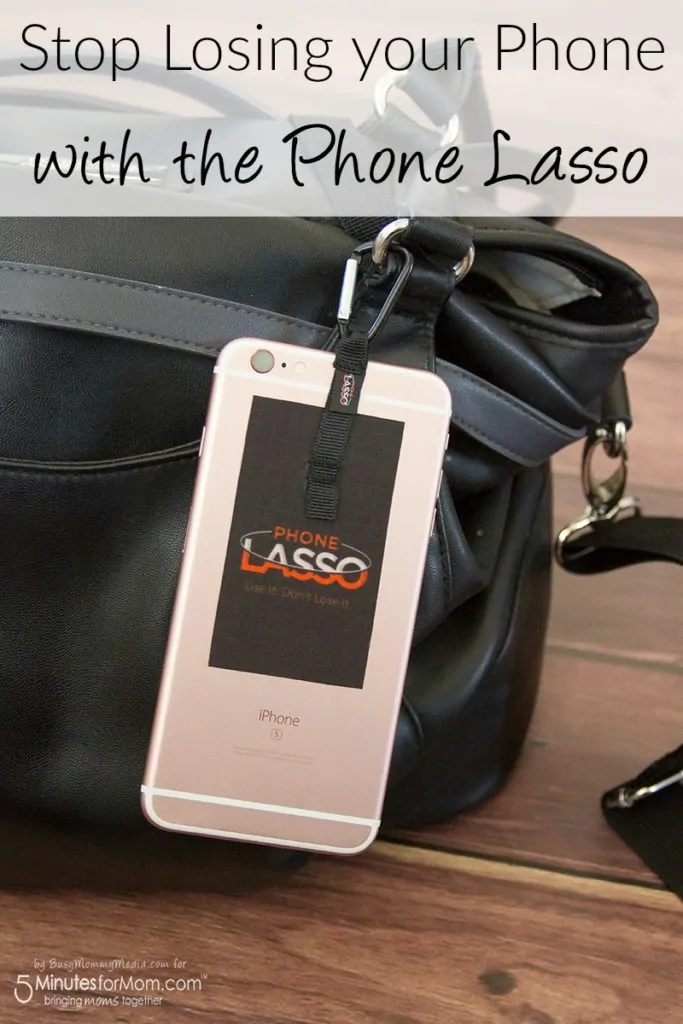 Disclosure: This giveaway post is sponsored, so extra thanks for reading and sharing.
Written by Rachel Lister, contributor at 5 Minutes for Mom
Talk with us: @5minutesformom and Facebook.com/5minutesformom
Pin with us at pinterest.com/5minutesformom