This post may contain affiliate links. Read my disclosure policy here.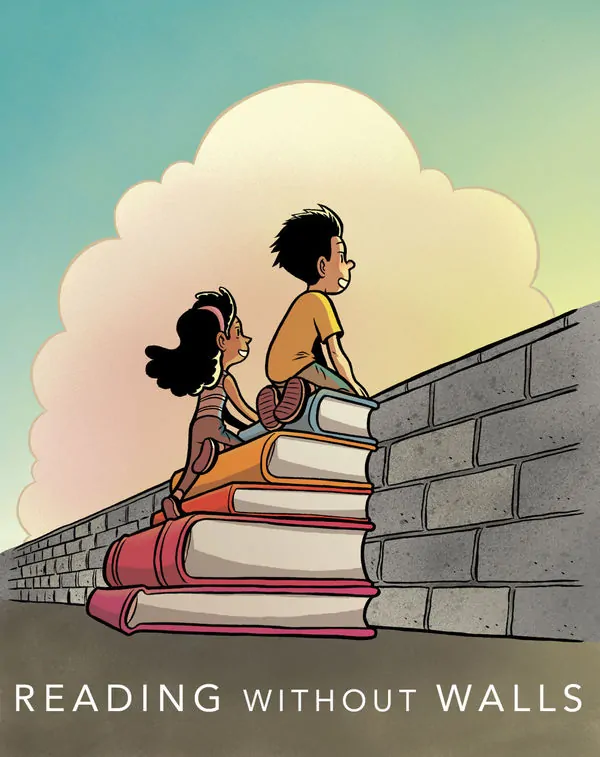 5 Minutes for Books' reviewer Dawn loves to share the joy of reading with children and grown-ups alike, and she and her children are excited to tackle the Reading Without Walls Challenge this fall!
Reading challenges abound in the world of social media, and most are geared toward adults. I've taken on a few over the years, and I've even made some BINGO style cards for my kids to keep them reading in the summertime. I prefer reading challenges that push me out of my "comfort zone" and get me to read books that I may not have otherwise picked on my own. From what I've observed from my own children's reading habits, this benefit of a challenge can apply to younger readers, as well, who may get stuck choosing similar types of books. Enter the Reading Without Walls Challenge, from the incredible author and illustrator, Gene Luen Yang, who is the current National Ambassador for Young People's Literature.
As the National Ambassador of Young People's Literature, Gene Luen Yang is given the mighty task of "rais[ing] national awareness of the importance of young people's literature as it relates to lifelong literacy, education, and the development and betterment of the lives of young people." In that spirit, Yang is introducing this challenge to encourage young readers to explore diversity in character, format, and genre in their book selections.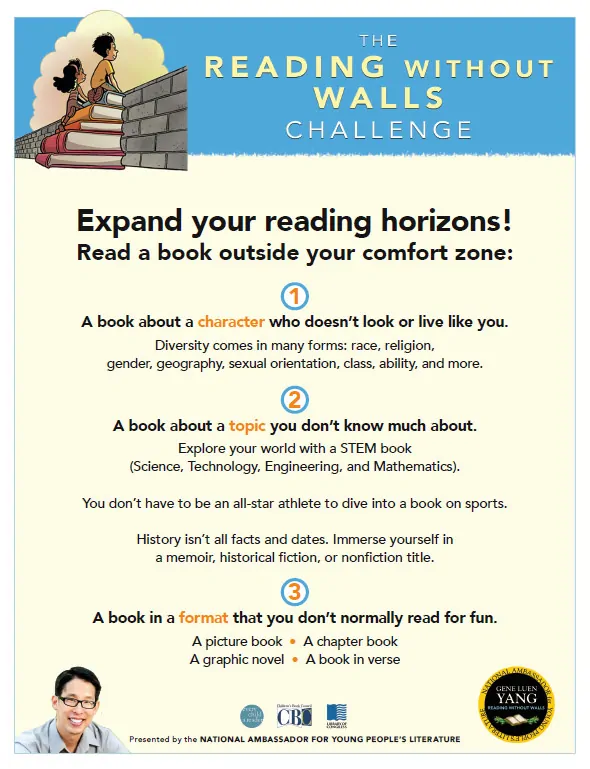 This program is currently being piloted in 25 schools across the United States, and teachers and librarians are encouraged to join the challenge by visiting the website and following the instructions to sign up. But it doesn't have to be limited to school groups, for anyone can download and print the flyer and the certificate to participate individually, as my kids and I are planning to do!
When I first read the three parts of the challenge, my mind immediately started coming up with book titles I could suggest to my own daughter and son, who are ten and eight years old, respectively. In a nutshell, they are white, suburban kids who are not being raised with any specific religion, who live with a father and mother. I know that my son leans toward nonfiction more than my daughter, but my daughter has read several books in verse while he has previously shied away from these, preferring simple graphic novels. The options are endless, and I'll be putting several of these titles on our next library wish list.
A book about a character who doesn't look or live like you
Shooting Kabul by N. H. Senzai focuses on 11-year-old Fadi who is struggling with obstacles faced by many immigrants and presents the story in a deep and serious tone that also emphasizes the universality of being a child on the verge of adolescence.
Better Nate Than Never and Five, Six, Seven, Nate! by Tim Federle features a spirited protagonist in Nate, who, at thirteen, is unsure of his own sexuality but is already bullied for others' perceptions of him as gay.
My Basmati Bat Mitzvah by Paula J. Freedman centers on Tara Feinstein, who is half Jewish and half Indian, as she questions how her self-identity balances these two backgrounds.
A Long Walk to Water by Linda Sue Park dramatizes the real-life story of Salva, one of Sudan's "lost boys" whose tale of survival remains one of the most moving I've ever read. I read this aloud with my oldest son when he was ten years old, and I was happily reminded of my desire to revisit it with my younger children when planning for this challenge.
A book about a topic you don't know much about
Hidden Like Anne Frank: 14 True Stories of Survival by Marcel Prins and Peter Henk Steenhuis may be appropriate for my 5th grade daughter who has a limited understanding of the atrocities involved in the Holocaust but has questions about this time in history.
What Do You Believe? by DK Publishing presents information on the world's most prevalent faiths and religious practices in a visually appealing way that encourages young readers to browse and take in as much as they desire rather than necessarily read cover to cover.
Josephine: The Dazzling Life of Josephine Baker by Patricia Hruby and illustrated by Christian Robinson brings the incredible Josephine Baker to life on the page, chronicling her entire life, including the challenges she faced posed by segregation, race-based mistreatment, and poverty.
Gettysburg: The Graphic History of America's Most Famous Battle and the Turning Point of the Civil War by Wayne Vansant will likely appeal to my daughter who knows her class will be visiting the Gettysburg battlefields in the spring.
A book in a format that you don't normally read for fun
Bud, Not Buddy by Christopher Paul Curtis is an acclaimed and beloved middle grade novel that I think will make a great read-aloud for my son who is still a little reluctant to read longer chapter books on his own.
Serafina's Promise by Ann E. Burg is a novel in verse that I predict will be enjoyed by my daughter who is already a huge fan of Kwame Alexander's books in verse.
Inside Out and Back Again by Thanhhà Lại would fit in all three of these categories for my own children, and is another novel in verse that has received several awards including the National Book Award for Young People's Literature.
Home at Last by Vera B. Williams and illustrated by Chris Raschka is a picture book with a heartwarming theme of family love that will remind my children what they loved so much about picture books– beautiful illustrations and compact storytelling.
Do you think your children are up to the challenge? Do you have other book recommendations that fit the bill for any of the three parts of the challenge? Please feel free to share them in the comments for our community of readers.