This post may contain affiliate links. Read my disclosure policy here.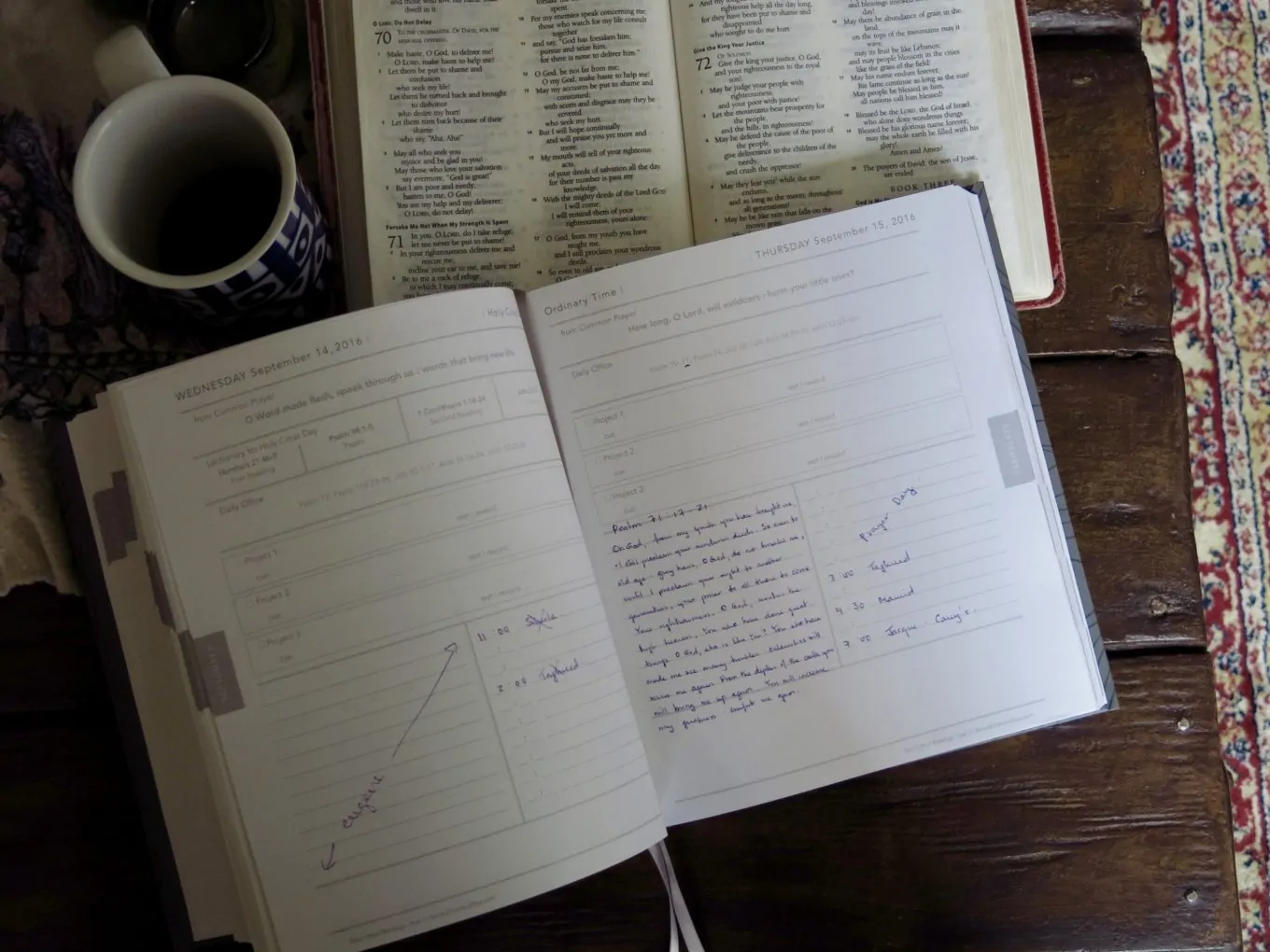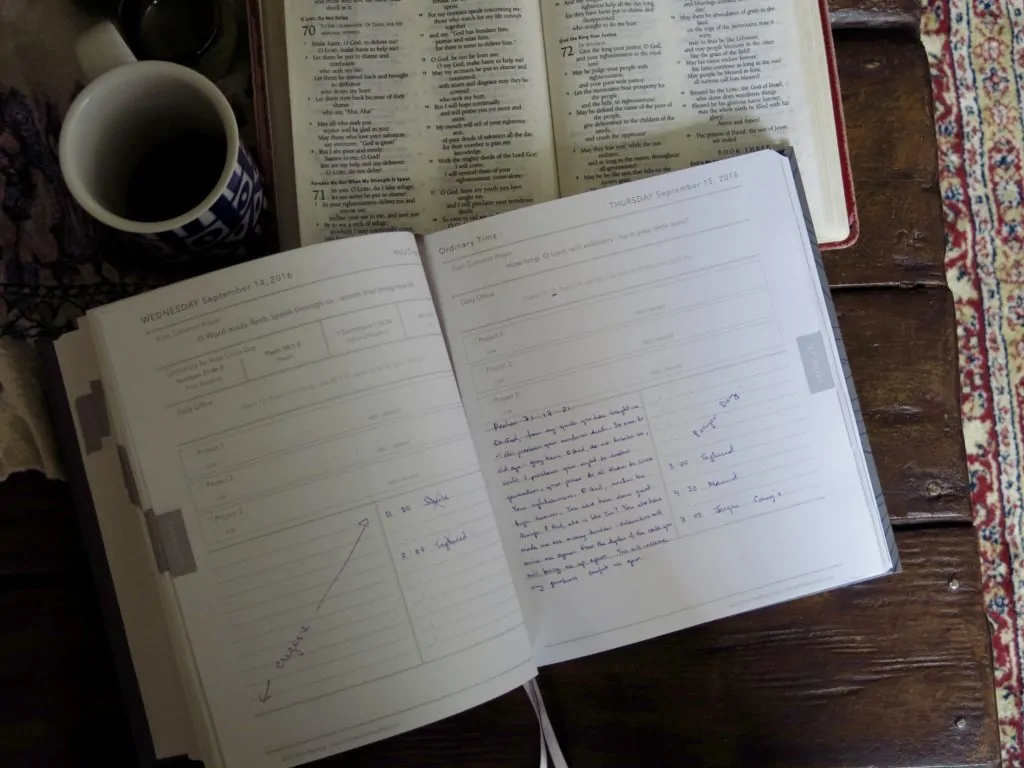 As we move into the bright September days, families are adjusting again to school schedules, with hectic mornings and packed lunches and after-school activities. Most people greet these days with a mixture of dread and relief. It can be nice to get back into a routine, but at the same time, one can long for more depth, a time for contemplation on the meaning behind the hecticness. How can we find space to slow down and take time to center ourselves? Oh sure there's the weekend, but too often, even by Sunday afternoon we've already lost that peaceful feeling of Sunday morning worship.
Jenn Giles Kemper can relate. She remembers learning about the liturgical calendar and being drawn to it as a way of integrating scripture and the life of Christ into a daily focus throughout her days. She researched various sources, drew them together, and created a planner designed to help fellow believers "live a fully integrated and embodied faith." Her planner draws on traditions of the church with a strong foundation in scripture. It currently comes in 2 forms, one for the liturgical year and one for the academic year, starting in August.

Sacred Ordinary Days focuses on "integrating life and work with faith," to quote their website. This daily planner follows the liturgical calendar and presents it with a modern aesthetic. It has a clean feel and substantial heft, which is a combination that works. In other words, while it's not a light book to tuck in your purse, it is beautifully done, printed on high quality paper, and with a simple, pleasing design that aids you in focusing rather than distracting.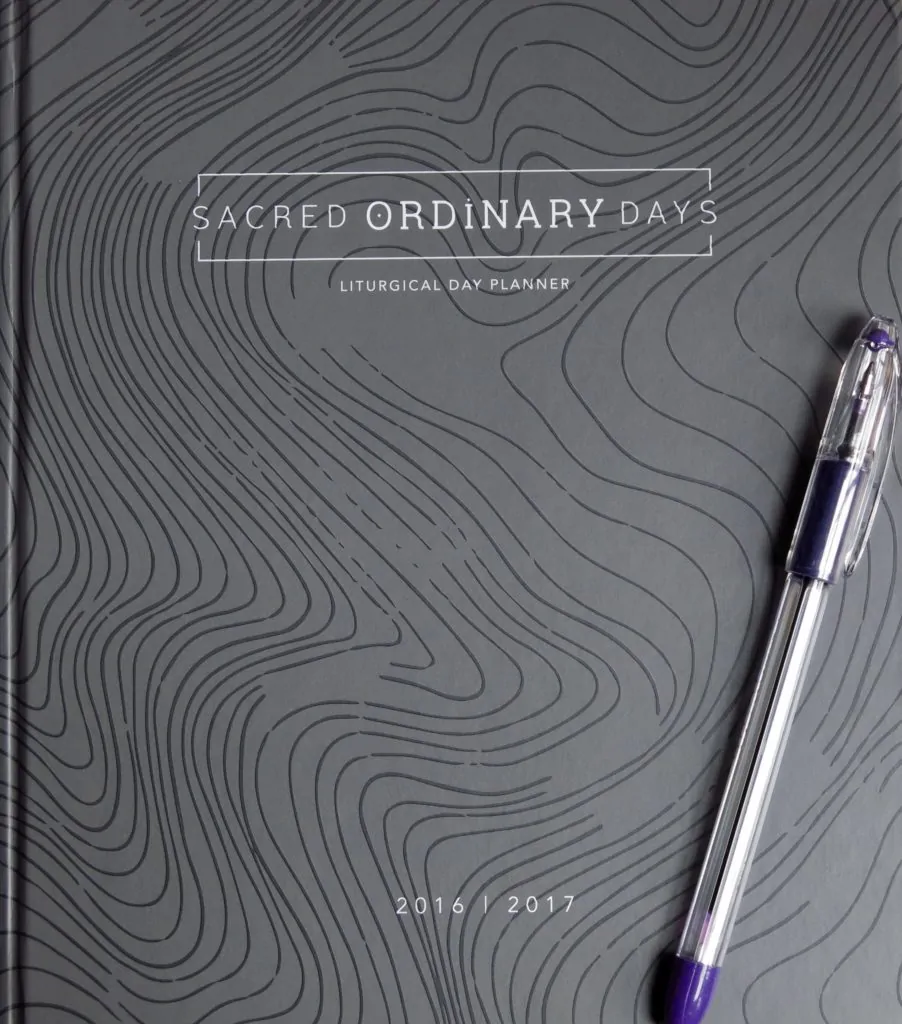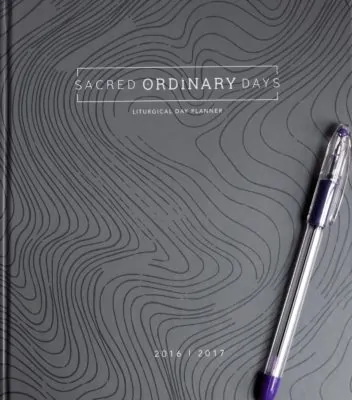 We are in the middle of the season of Ordinary Time. For those of you who, like me, aren't very familiar with the liturgical calendar, this is the time between Pentecost and Advent when there aren't any big celebrations or occasions, no Easter or Christmas or Lent. For a couple of years, I wanted to learn a little more about the liturgical calendar on my own. This planner allows me to follow it as closely as I choose, but at least helps me be aware of it.
Each day is simply laid out. At the top it says the date and what "season" it is (i.e. Advent, Ordinary Time, Holy Week), and there's a space for you to write in if the day has significance for you. Underneath is a quote from Common Prayer, followed by the days' readings from the Daily Office.
Then there's space for 3 projects, and it's set up so that each is followed by a rest/reward. I absolutely love the idea of putting this kind of rhythm into my days, and I think I'm going to find it a healthy discipline. I'm someone who tends to either go non-stop and cram 50 hours of work into my week, or go to the other extreme and spend my days not accomplishing anything at all. So the idea of slowing down my days, building in a time of rest after a time of busyness, is very helpful. (How am I doing? Umm….it's early days yet. I have successfully managed this at least twice though!)
Below that is space to fill in your appointments at their specific hours. Next to that is a lined space, and underneath that is a white space. These are available for journaling, drawing, or whatever. I find myself often writing out verses from my daily readings here, something I want to meditate on during the day.
Sundays are my favorite days though, which sounds odd because most of us don't use our planners on Sundays. But in Sacred Ordinary Days, this is the day for the weekly plan, a chance to draw back and take stock of where you're at in six areas: spirit, body, mind, relationships, home and work. There's a place to reflect on each category, and then a place to reset–to set goals or recognize needed priorities, or perhaps to simply put "continue."
I've been using the calendar for about a month now, and I am finding this tool a very helpful way to live more intentionally. It's almost like having small continuous setting of New Year's resolutions, a way to check in and get things back on track both daily or weekly. I'm looking forward to experiencing church seasons with it as well.
Additionally, Kemper has created an online community where people can share ideas and encouragements with one another. There's a podcast, a blog, a Facebook group, and more.
The planner can only be ordered through their website at www.sacredordinarydays.com. When you visit, you can download a free workbook, and right now the academic calendar is on sale. You can also check out the podcast and join the online community while there.
Sacred Ordinary Days is already helping me to live more intentionally, to be aware and thoughtful in planning my days. It's helping me prioritize rightly, and to not neglect major areas of life. I highly recommend this planner.