This post may contain affiliate links. Read my disclosure policy here.
Rachel here with some great tips to help you keep your air conditioning unit running in fabulous condition so you won't be left in the heat this summer.  
My family just moved to a new home in a new area. It has been a while since we have been in a home of our own and we forgot how many unexpected expenses can come along with home ownership.
The area that we moved to is HOT.
We aren't quite used to the heat yet. Some days it has hit 115 degrees.
We would be lost without our air conditioner here.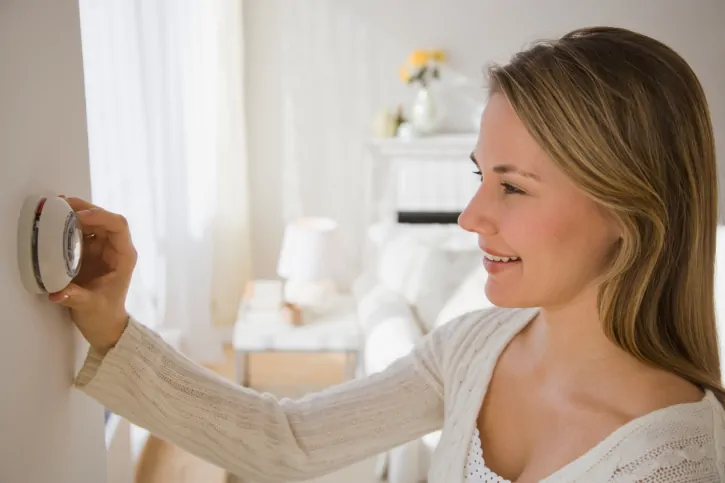 A few weeks after we moved in, our air conditioner started making a funny noise. We could tell it was really struggling keeping up with the level of heat.
Fortunately, one of the first things we did after moving into our home was hunt around for a home warranty.
After owning a home before, we know that those unexpected repairs can really eat away at your budget and we wanted to be prepared for anything that could come our way.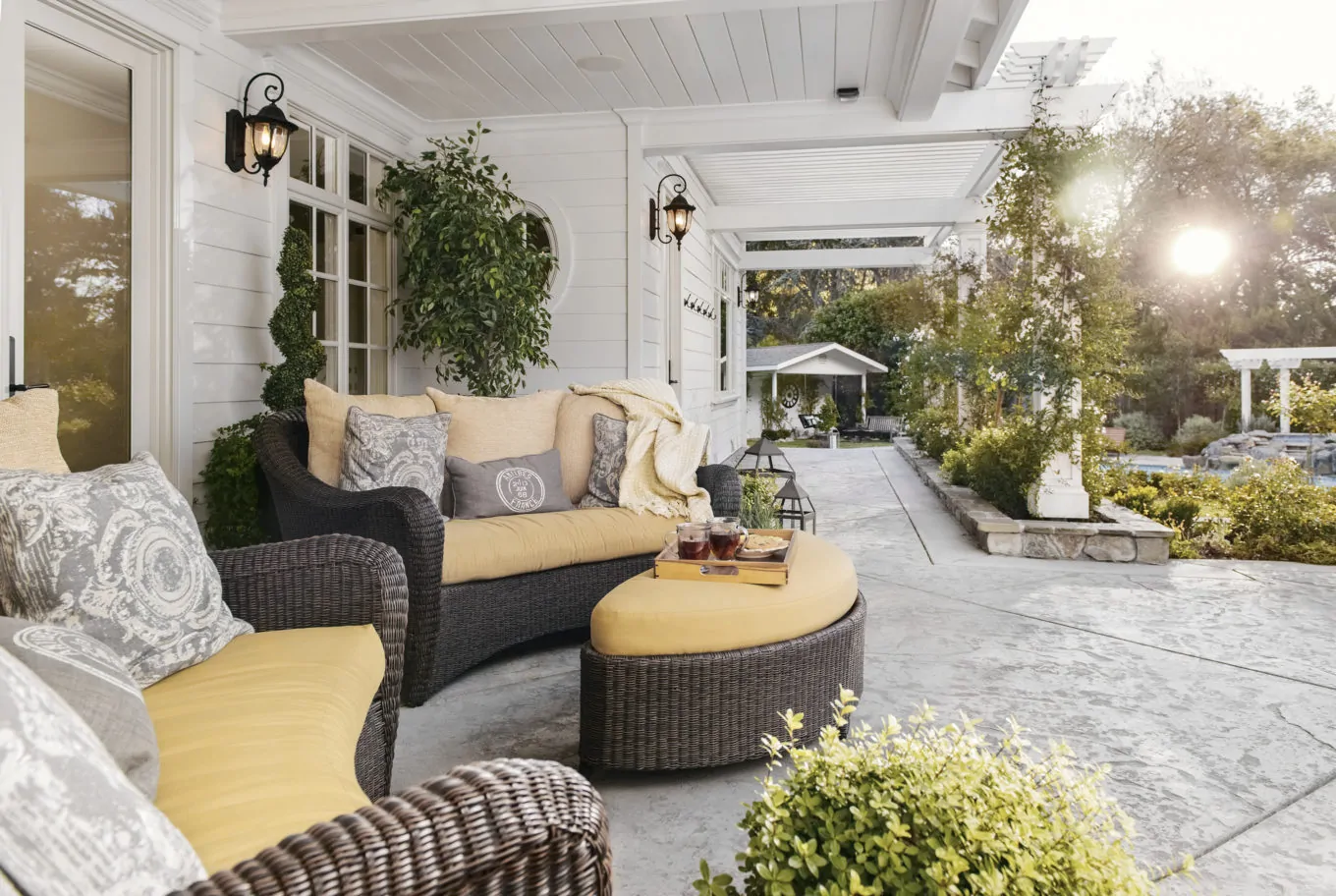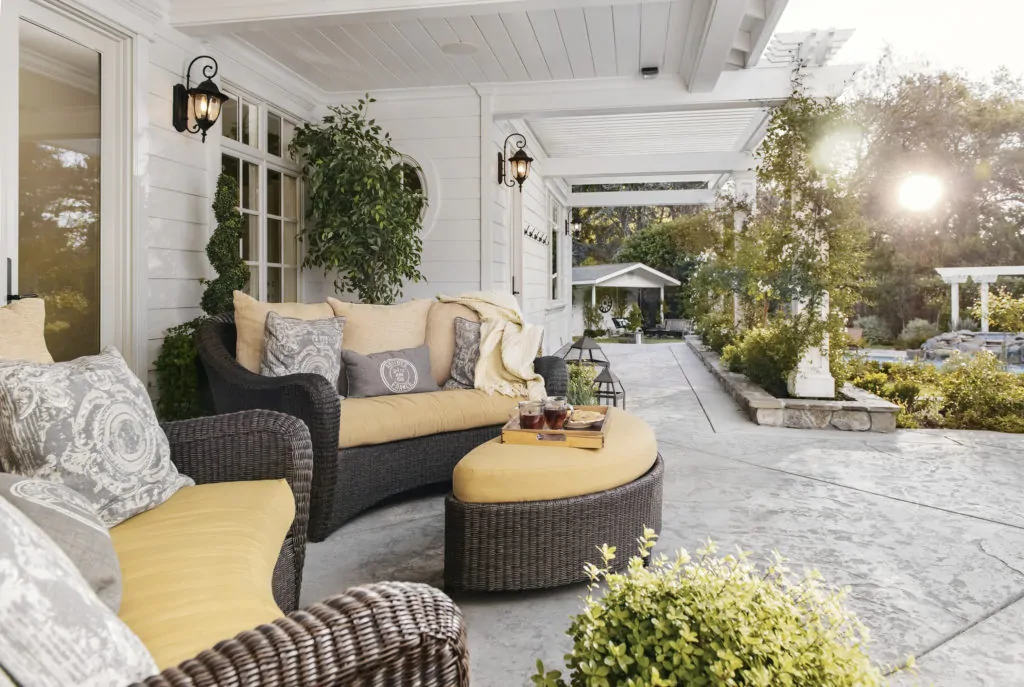 We have only lived in our new home for a month and already that home warranty has paid for itself. It was one of the smartest moves we made and I love the feeling of security knowing that our finances won't take a major hit if something unexpected happens with our home.
Our air conditioner is still going at the moment but I suspect that an air conditioner repair or replacement is in our future. Without our home warranty, that would be a source of serious stress for me.
Since we have a home warranty in place, I know that if or when the air conditioner does break, it will just be a minor hiccup rather than something that completely derails our finances.
That peace of mind is priceless.
If you haven't invested in a home warranty yet, I highly recommend getting one.
American Home Shield has an amazing promotion going on right now as part of their Hot Summer Savings event.
If you purchase a home warranty between now and July 21, 2016, you can get $25 off.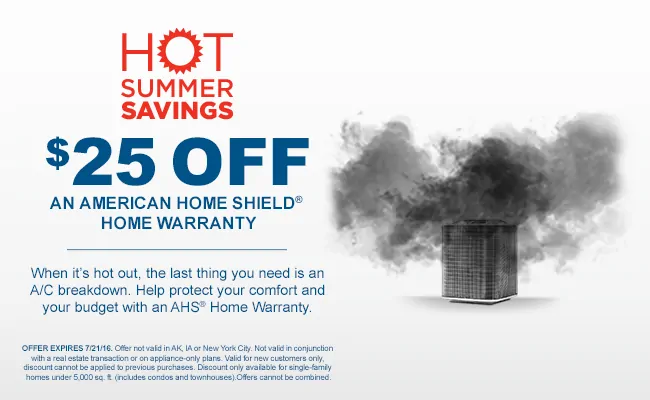 I love that you can not only save money now, but the home warranty can save you money all year long.
According to a consumer survey conducted by American Home Shield, the nation's largest provider of home warranties, central air conditioners were revealed as one of the top appliances that homeowners do not want to live without, but seven-out-of-ten (70%) agreed that they are guilty of not having them serviced on a regular basis.
I'm definitely guilty of that. After living in a coastal area without A/C, I actually didn't even know that air conditioners needed to be serviced.
American Home Shield has some fabulous tips from their network of HVAC contractors who have been servicing home appliances for over 45 years to help homeowners stay cool this season.
Summer AC Maintenance Tips
Filter it out
The air filter is the heart of the central air conditioning unit and must be changed at least once a month in the summer when A/Cs are working overtime. Not changing the filter can restrict air flow, decrease efficiency or worse, freeze up the A/C in the middle of a hot day. Not to mention the bills that wrack up when the A/C is pulling double duty.  A way to remember is to change your filters every month when you get your electric bill.
No Sudden Changes
Most of us are guilty of turning the A/C on full blast when leaving the house and turning it down upon return. According to HVAC contractors, this is a bad idea all around – it overworks the unit, isn't environment friendly and massively sucks up electricity. In fact, experts never recommend swinging thermostat temperatures more than 2 – 3 degrees. Want to come back to a cool home? Invest in a nifty digital programmable thermostat and set it on a timer to turn on the A/C a half hour before you get home.
Keep it Clean
Ahead of A/C season, inspect the area around the condenser, especially for an outdoor A/C unit for any debris that could potentially prevent air from flowing into the system. Bushes, shrubs and vegetation around the air can seriously compromise the effect of an A/C and force it to overwork. When mowing, mow grass away from the A/C unit. Make sure there are no mice, bugs, especially ants on the electric component and before summer, power off and rinse the unit lightly with a garden hose.
Seal it in and Top it Up
Before turning on the A/C this summer, watch out for leaky seams that may develop around windows and doors. Use a candle to detect drafts, and install new stripping wherever needed. Be sure all windows and doors are closed when your air conditioning is on. Additionally, make sure the unit is not low on refrigerant or coolant. To test, insert a meat thermometer in to both the vents that blow and suck in air. There shouldn't be more than a 16 – 20 degree difference in temperature. Reading too high or too low? Call a professional.
Cover Your bases
An average, well maintained central air conditioning unit can last to approximately 20 years. Seeing that an A/C is a hefty investment, protect it by scheduling regular maintenance checks. Ahead of summer, call a contractor to inspect as well as thoroughly clean inside the unit – a task best left up to professionals. In 2015 alone, AmericanHome Shield answered over 600,000 calls for A/C  related maintenance, repair and replacements.
Making sure your air conditioner stays in great working order is important, especially in this heat. Having a home warranty in place as a back up when things go wrong takes so much of the stress of home ownership away.
Find out more information on American Home Shield and check out the details on their summer promotion here.
Pin it for Later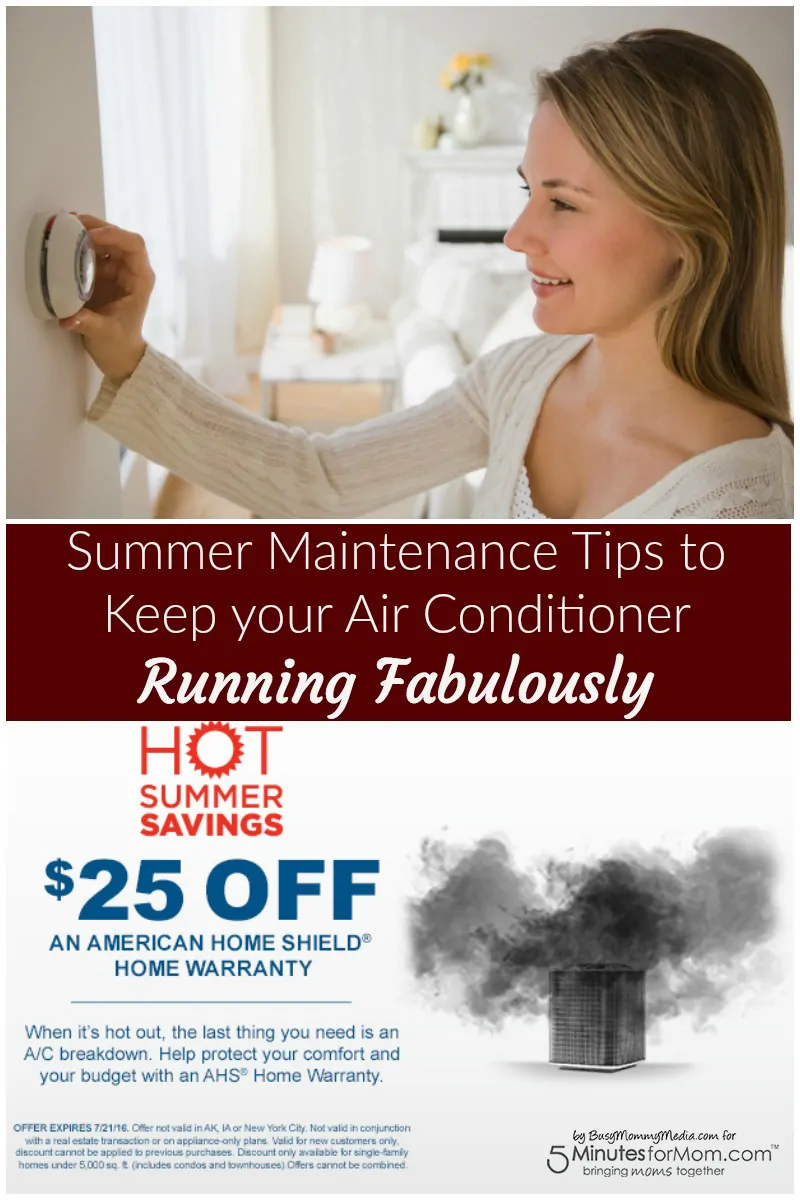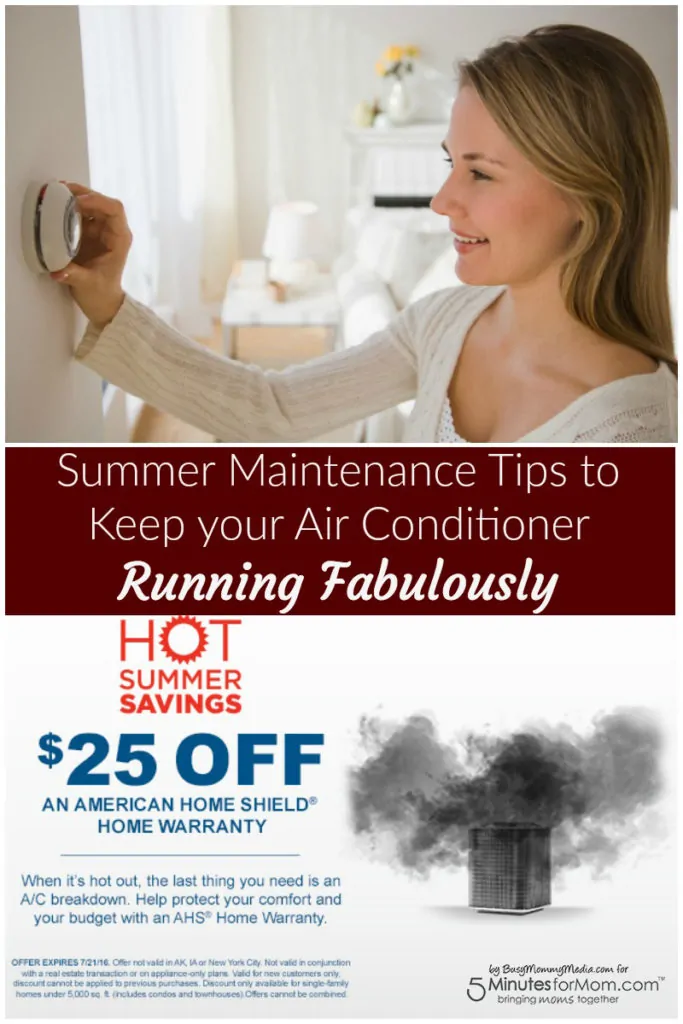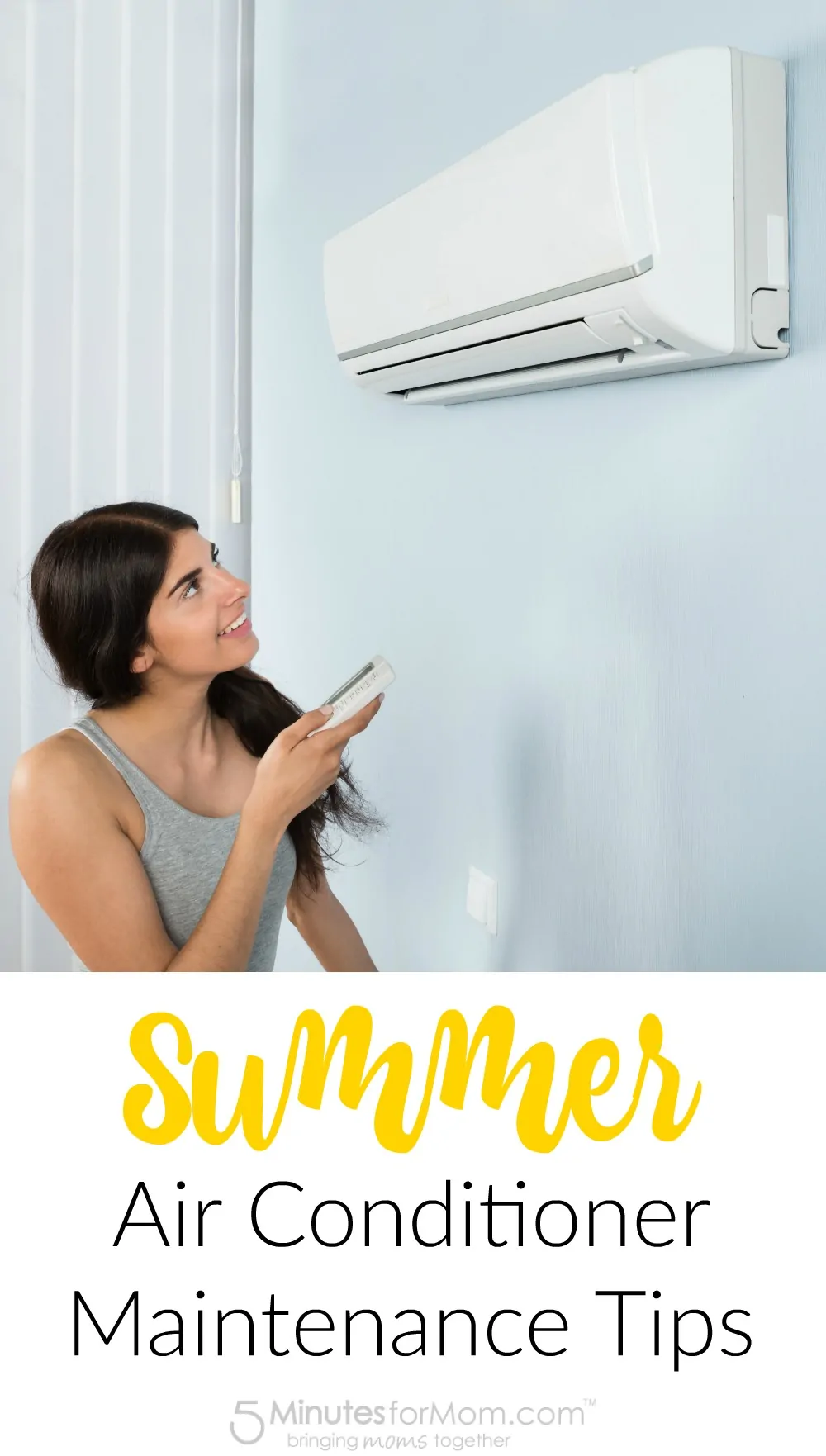 Disclosure: This post is sponsored so extra thanks for reading and sharing.
Written by Rachel, blogger at Busy Mommy Media.