This post may contain affiliate links. Read my disclosure policy here.
Owning a home can mean lots of unexpected surprises, costs and hassles. So today we're here to share an embarrassing story of our own as a warning for you to avoid the same mistake, and we want to let you know about an awesome sweepstakes from ServiceMaster®. This post is sponsored so extra thanks for reading and sharing.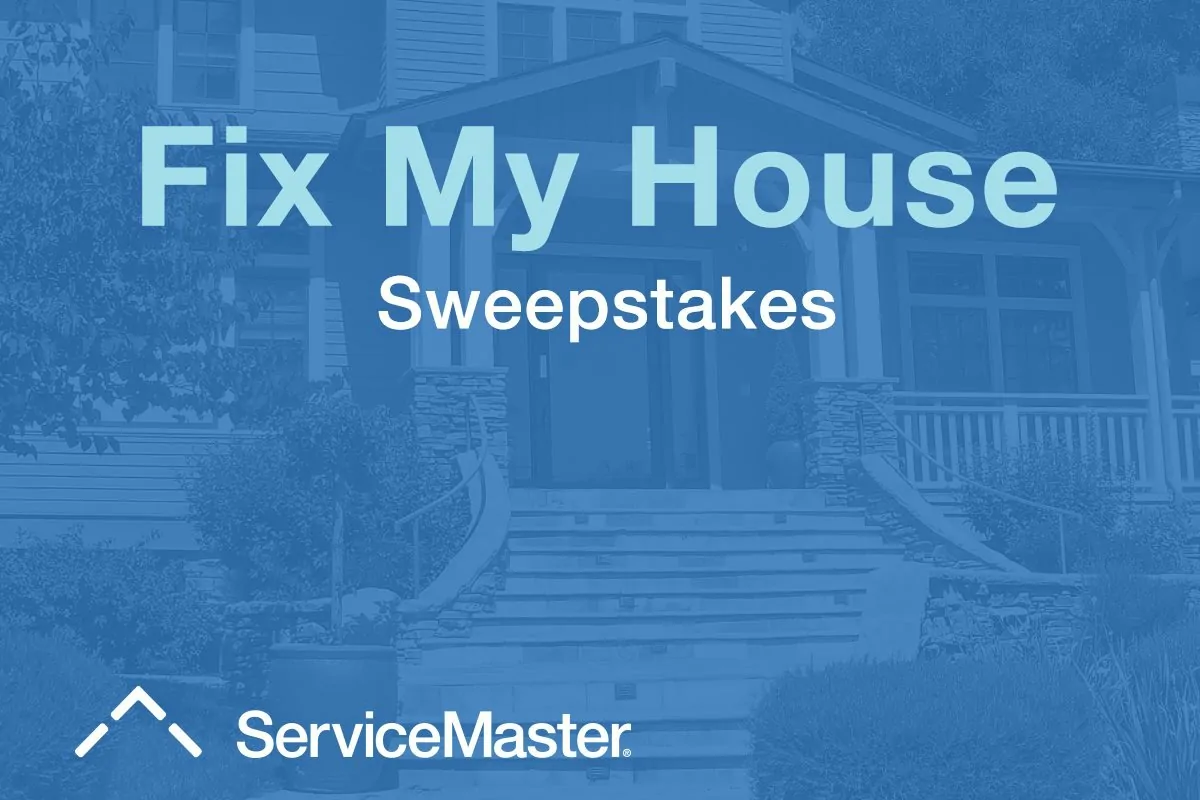 Whether you're the DIY type or you're the first to hand over the hammer, throughout your years of home ownership, you're likely to have many times you need to call in an expert.
Since Pinterest and DIY projects are all the rage these days, my guess is that DIY "fails" are on the rise as well.
But even if you're not attempting complicated renovations, the simplest mistake in your everyday living can bring on big dilemmas.

If you're like me, you may not feel confident tackling the troubles that can arise in your house.
In fact, we're not alone… the 2016 ServiceMaster® Experience Consumer Survey showed "more than half of homeowners and prospective homeowners surveyed say they feel unprepared to address (58%) and not very knowledgeable about (54%) home maintenance needs."
But despite the fact most of us know we aren't able to tackle these projects, we don't really know who to call.
The survey showed, "Two-fifths (41%) of homeowners and prospective homeowners say they wouldn't know who to call if they had a home maintenance need in the next three months, and four-fifths (83%) wish they could find one resource that could reliably help them with all of their needs."
I'm in this exact position right now. I have a household dilemma and I need to call an expert!
Here's my embarrassing story…
A couple weeks ago, I discovered a major water leak was destroying our basement ceiling.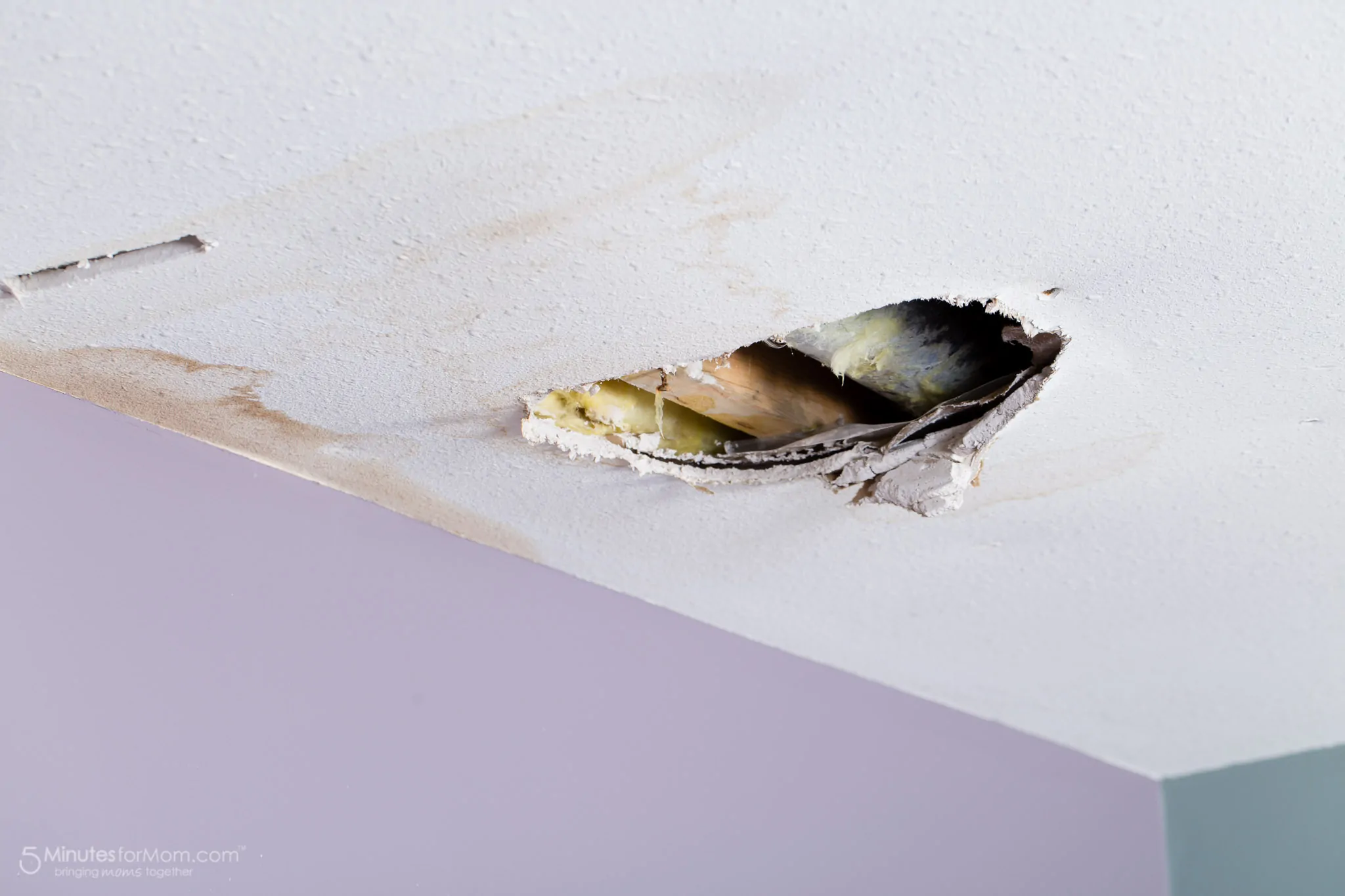 My mom and I tried to figure out where the water was coming from… it seemed an unlikely location and at first we couldn't track it down.
After some hunting around the house, we discovered the water must have come from the laundry room on the main floor. But there was no obvious leak in the pipe and we were still stumped.
Eventually my Mom figured out what had happened… The cupboard under the laundry room sink was overcrowded and whenever we slammed the cupboard door shut, it pushed against the pipe. That constant pushing caused the drain to loosen.
So when my mom had filled the sink to soak some dirty clothes, the water had leaked through the loose drain and down into the basement ceiling.
My mom remembered that a couple of times during the week, she'd filled the sink to soak clothes and come back a while later to an empty sink. It had seemed strange, but she'd forgotten about it. Until now.
Thankfully we noticed the leak and figured out the problem.
But there's no question… we're calling experts to clean up this mess!!!
Water damage is serious business. So we're going to make sure it gets fixed professionally.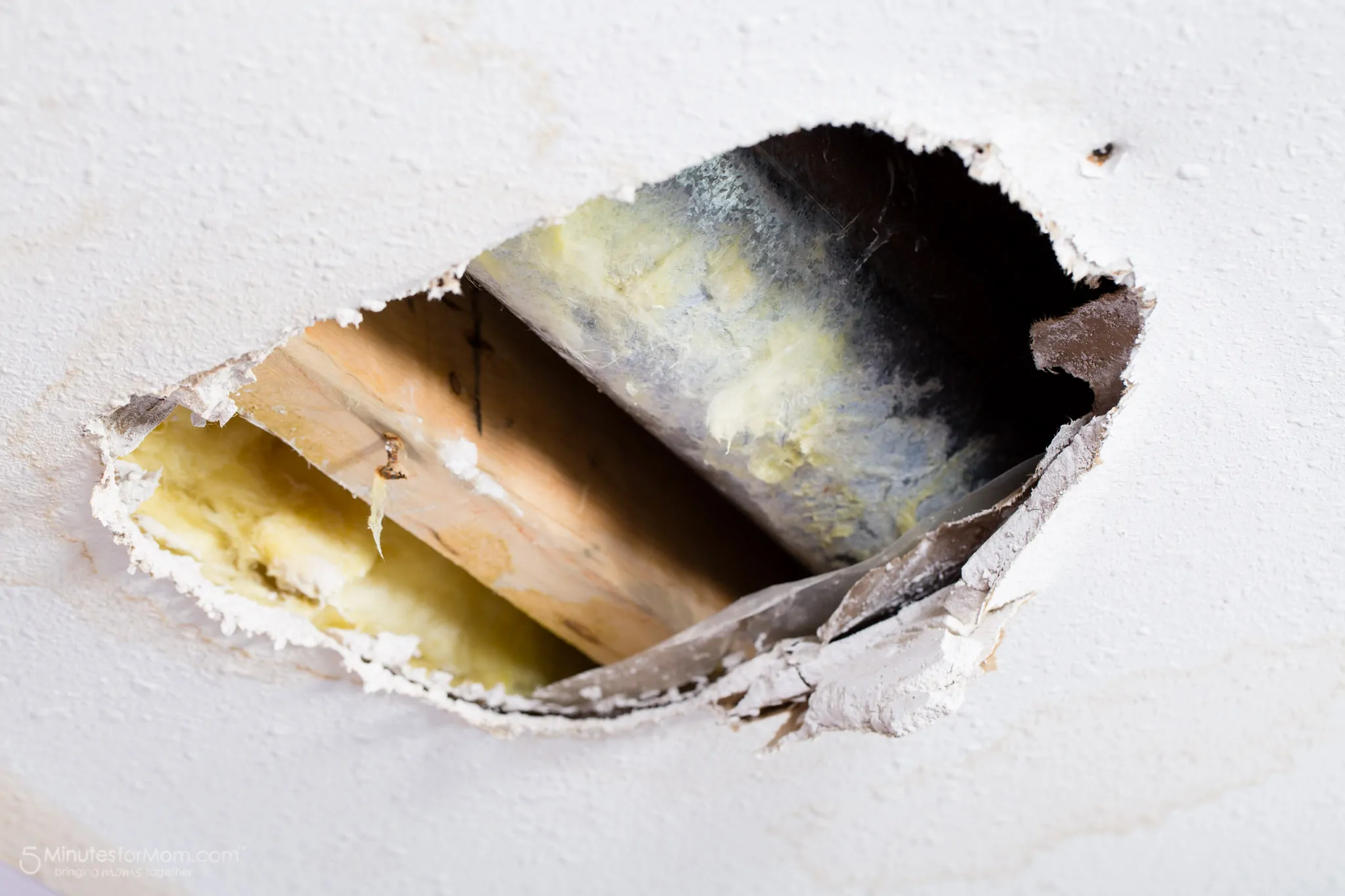 Turn Your Fail Into a Win #FixMyHouseSweeps
Have you had a home DIY fail or a home dilemma hit you?
Turn that hassle into a prize…
ServiceMaster® is running a fun sweepstakes where you can share a photo and brief description of your own DIY home fix it fail or other home improvement dilemma for a chance to win.
ServiceMaster® recently published this post on their Facebook page to host the sweepstakes.
We've embedded the Facebook post below for you…
You simply need to leave a comment on that post. When who share your "fail" or dilemma, along with the #FixMyHouseSweeps hashtag, you will be entered to win a weekly prize, along with a grand prize at the conclusion of the sweepstakes.
#FixMyHouseSweeps runs until June 27.
Each week during the sweepstakes, one entry will be randomly selected to receive a GE appliance(s) valued at up to $2,000 (plus delivery and installation).
At the conclusion of the sweepstakes, one grand prize winner will be selected from all entries received during the six-week sweepstakes to receive a $5,000 Home Depot gift card to put towards a home improvement project.
Go For It! Enter to Win…
Have you started a DIY home project that has failed?
Or are you facing a home maintenance or improvement dilemma?
If so, you'll want to enter the ServiceMaster® sweepstakes…
Click Here to visit the #FixMyHouseSweeps Facebook post.
Share a photo and brief description of your DIY home fix it fail or other home improvement dilemma as a comment, using the #FixMyHouseSweeps hashtag.
Your comment will enter you to win a GE appliance(s) valued at up to $2,000, along with entry to win the sweepstakes grand prize – a $5,000 Home Depot gift card to put towards a home improvement project.
More About ServiceMaster
ServiceMaster Global Holdings, Inc. (ServiceMaster) is a leading provider of residential and commercial services and well-recognized brands, operating through an extensive network of more than 8,000 company-owned locations and franchise license agreements.
In business for 86 years, the company now includes ServiceMaster Restore® (disaster restoration), ServiceMaster Clean® (janitorial), Merry Maids® (residential cleaning), Terminix® (termite and pest control), Furniture Medic® (furniture repair), American Home Shield® (home warranties), and AmeriSpec® (home inspections).
They are headquartered in Memphis, Tennessee and make more than 75,000 service calls each business day helping homeowners and businesses in all 50 states, the District of Columbia and more than 25 countries around the world.
For more information visit www.servicemaster.com, facebook.com/ServiceMaster and twitter.com/ServiceMaster
Pin It For Later