This post may contain affiliate links. Read my disclosure policy here.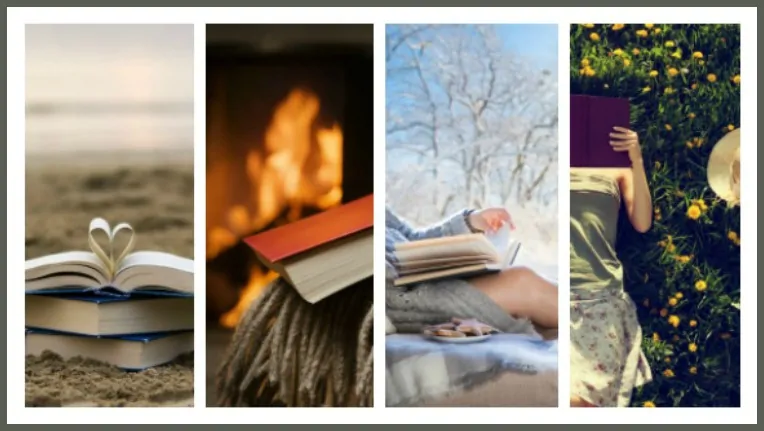 During this spring season, when the winds and rains give way to a day of sunshine — not too cold and not too hot — I drop everything to spend a few minutes outside with a book. I soak in some vitamin D, breathe in the fresh air, and enjoy words written by a talented artist. There is virtue in enjoying my backyard and that rare perfect mix of moderate temperatures, mild breezes, and rays of hope.
Spring
The hotter temperatures of a Houston summer aren't quite as ideal, but I still enjoy sitting by my pool with a book. Sometimes I take cover under my porch, but other times I lie out on the lounger as long as I can stand the heat, then jump in the water to cool off. Beach vacations offer sun and shade and ocean breezes, plus a relaxed schedule that allows me to read book after book.

Summer
Fall and winter here in Houston are kind of indistinguishable. Fall might present me with some of that perfect weather for reading outside, or it might dip into the 40's. When fireplace weather hits — fall or winter — I love turning on my gas logs, surrounding myself with pillows, and getting lost in a book. I usually get some company, too: my dog loves it as much as I do.
Fall
When I lived in Connecticut, there was nothing like an unexpected snow day to encourage the whole family to get back in bed with a favorite book. Gray snowy days sap my motivation, and the cancellation of regular activities gives me more time to take care of regular chores, which equals extra time for reading.
Winter
I just returned from a city vacation. I used to think that I was a beach girl, but I think the excitement and activity (and food!) in the city is my favorite way to spend vacation time. That said, even though the schedule is faster-paced, I still read a book and half and part of an audiobook. There was time in the hotel gym (yes, I squeezed that in) to enjoy my audiobook, time on the plane to read, and that time in the evening before I go to sleep when I can read, knowing there are no dishes to do or phone calls to return or work to do.
Vacations
No matter what type of vacation I end up taking, or whatever the weather is home or abroad, reading is always a part of my plans. When there's a change in seasons or just an ideal day, I almost feel wrong if I'm not enjoying creation with a book.
What type of weather or setting conjures up perfect reading weather to you?
Pin for Later