This post may contain affiliate links. Read my disclosure policy here.
5 Minutes for Books reviewer Dawn hopes for some commiseration from readers who may find themselves in similar situations. How do you pull yourself out of a reading slump?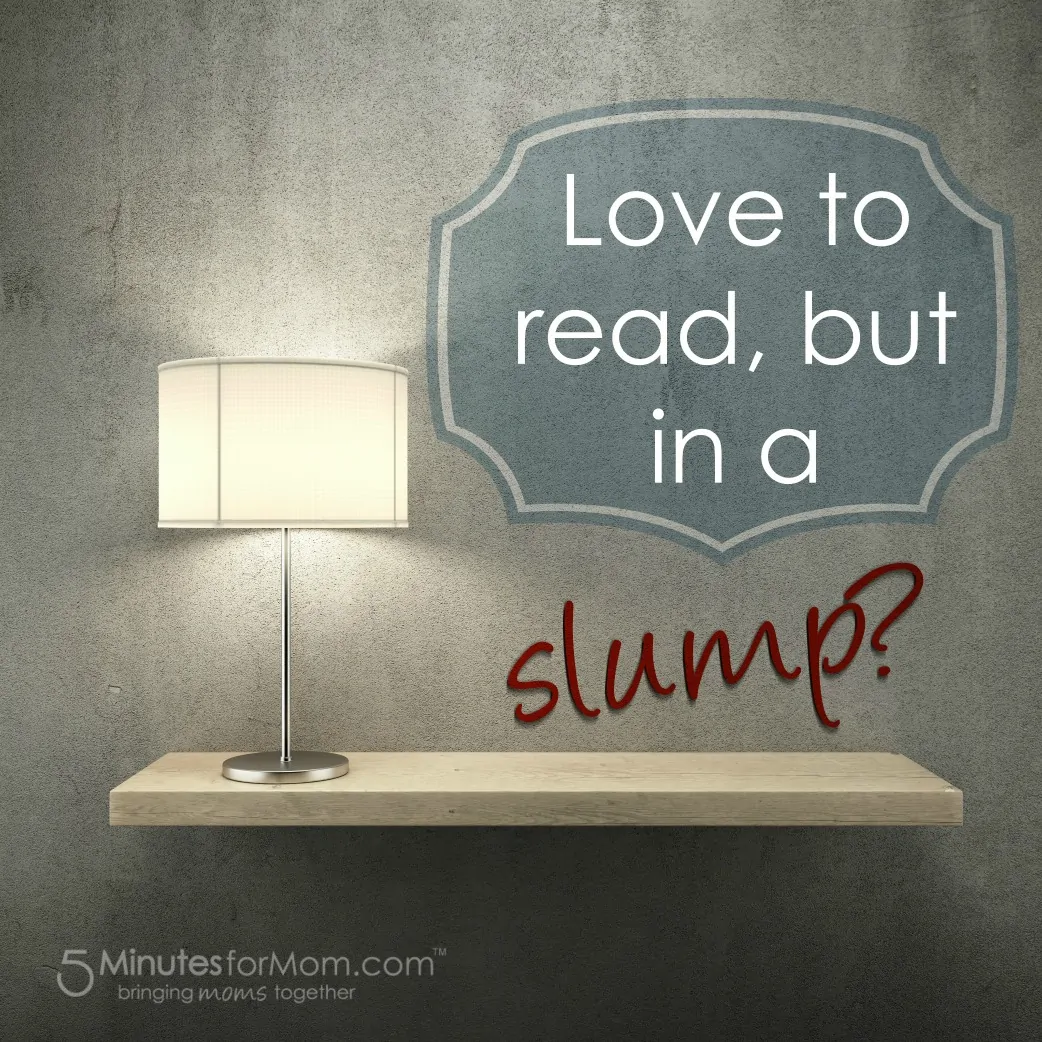 Ever since I can remember, I have been a reader. My mom filled my early years with Little Golden Books, and thanks to Scholastic book order forms, I came to know the girls of The Babysitters Club like they were my own best pals (and had a cat poster or two adorning my bedroom walls!). If I didn't have a book, I'd read whatever was nearby– the back of a cereal box, the bottom of a box of tissues, the back of a toothpaste tube. As long as there were words, I was happy to consume them.
Even as I grew older, books remained a major part of my life. High school reading assignments became treasured memories years later, as characters like Celie and Holden Caulfield came to live in my heart. I hope I never forget what it felt like to read Les Misérables for the first time, lying on my twin bed in my tiny college dorm room. Books were a savior during the early years of new motherhood, and breastfeeding one-handed was a skill I was thrilled to master so that I could have a few minutes of quiet reading time during otherwise wild and crazy days. Now as a reviewer for 5 Minutes for Books, I can say that I never have a shortage of reading material on hand. At any time, I should be going full throttle in a soon-to-be-released novel so that I can write a timely review.

So what's a book reviewer to do when a reading slump hits? I don't know why, but even as a life-long, avid reader, I still hit occasional periods in which I have no desire to pick up a book. It pains me to admit, but I find myself lost at these times, wondering what to do. Here's what I've tried.
Don't stress
The more I start to pressure myself to figure out why I'm in a slump, the harder it becomes to get out of it. If I've got a lot going on in my personal life, the last thing I need is to stress about something like this, so I try to relax and wait it out. I know that it comes, and I know that it passes.
Fill the gap
Even when I'm not compelled to grab a novel, I still want to read something when I'm eating a quick breakfast or find myself with an unplanned half hour in the afternoon. That's when I grab our town's weekly newspaper, or flip open the latest Reader's Digest, knowing that I can read short, simple articles that don't require a lot of me– reading for reading's sake. I'll likely be amused, entertained, or informed about a local happening, with no commitment.
Slow down
I know that my reading slumps hit when I'm being pulled in a lot of directions, and I take it as a warning sign that I might be trying to do too much all at once. We all have our list of roles that do this to us, between family and personal relationships and our various jobs, volunteer commitments, and day-to-day tasks. If I find that I haven't picked up a book in a couple days, that's a sign to me that I need to slow down and take a moment to assess how I'm spending my time. I'm sure people have all sorts of gauges that indicate an 'overload' like this, but my reading habits certainly do it for me.
It's okay to not finish
Sometimes you just have to say no to a book. It's a hard truth for me, because I want to finish what I've started, but every once in a while I realize that a reading slump can be cured by admitting to a particular book, "It's not me, it's you." I give my best effort to completing books, especially books that I've accepted in exchange for a review, but if I just can't get myself to turn another page, I sometimes have to wave the white flag. We generally post reviews on 5 Minutes for Books that are positive, indicating a recommendation, so it can be a challenge to admit that a book is just not doing it for me, but I never want to put my name on a review that isn't wholly authentic to my reading experience. If I'm feeling unenthusiastic about reading, maybe I'm just not reading the right book for that moment. If I give myself permission to quit a book and jump into something new, it can be like a switch gets flipped, and I'm back to my old reading self.
Grab a tried and true fave
Though I may have a long TBR list and books coming up on their publication dates that I should be getting to for reviews, sometimes the best fix for a reading slump is revisiting a beloved story. There are a few books that I could read again and again, and I do just that. Grabbing my dog-earred, 13-year-old copy of The Time Traveler's Wife off the shelf can be like hitting the reset button. I can spend a few days with Henry and Clare and be reminded of how amazing it can be to be swept away by a story.
Am I alone in this reading slump thing? Please tell me that I'm not. Avid readers out there, do you go through this? What tips do you have? Share your ideas in the comments, because I could really use the reassurance!