This post may contain affiliate links. Read my disclosure policy here.
Disney, Lucasfilm and ABC TV has invited 5 Minutes for Mom contributing blogger Dawn Cullo to Los Angeles, CA to attend the Star Wars: The Force Awakens and ABC TV media trip. Dawn's expenses have been paid for the trip but no other compensation were paid and all opinions are Dawn's.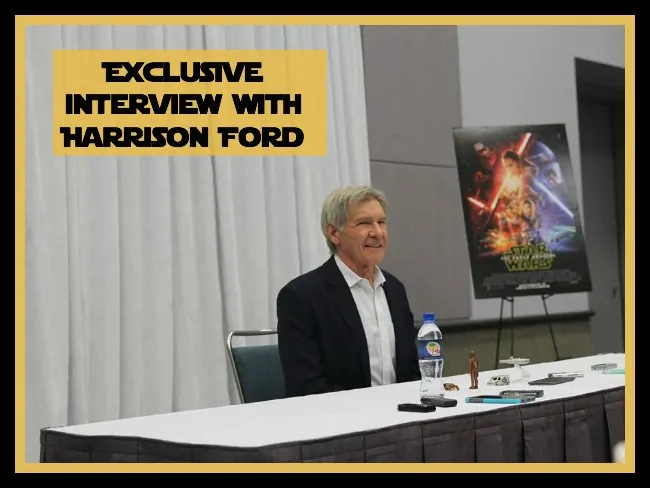 He needs no introduction as he enters the room, we all know the legend walking towards the interview table.  My heart was pounding as I saw him enter the room. This is a man that I grew up watching in movies with my family at the drive in and many times on DVD's. My parents are big fans of his work and so am I, he is an actor that transcends generations.
The amount of awesomeness he gave us in 15 minutes was beyond anything I could have ever dreamed.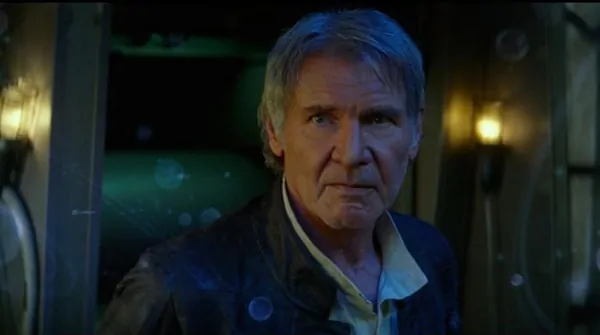 Harrison said that stepping back into the role of Han Solo after 30 years was the "same thing only different."  He feels that the script was good and the roadmap for Han Solo was worth coming back to. He also admires the work of J.J. Abrams from a previous film 20 years ago.  I am assuming he is referring to "Regarding Henry" from 1991 which starred Harrison with J.J. Abrams as a co-producer.
With Star Wars: The Force Awakens, if J.J. was trying to do exactly the same thing as before, or they dyed Harrison's hair to pretend that 30 years had not gone by, then he would have been less comfortable with the direction of the film.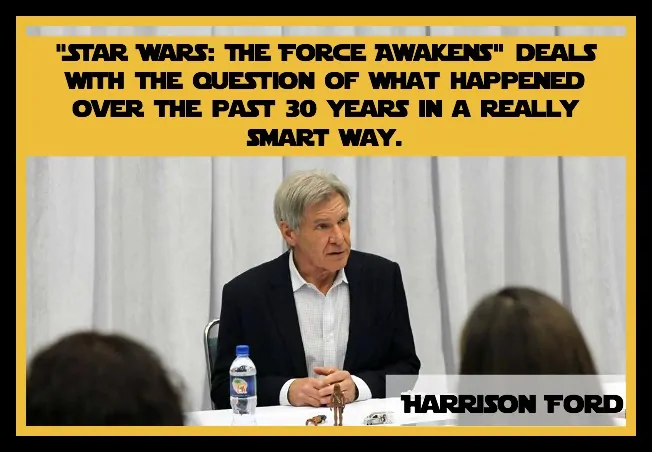 Many generations have been introduced to Harrison Ford and if it were not for the films being passed on by parents to their children at an appropriate juncture in their lives then he said that he would probably have a much different career.
He is very grateful that these were family films that have been passed on as though there were some nugget of useful information or at least entertainment in them and recognizing their value to the audience gives them significance to him.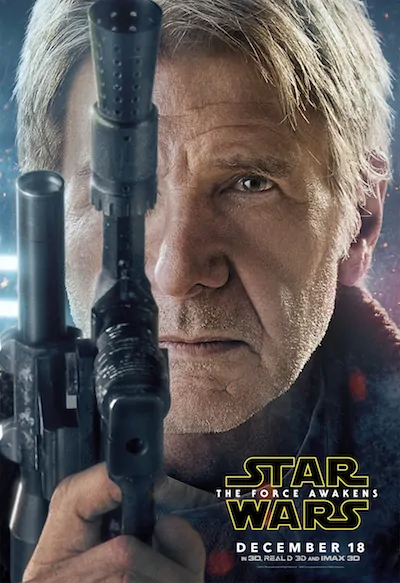 Harrison shared that is was great to work with Mark Hamill, Carrie Fisher and Peter Mayhew again. On the Force Awaken set there were crew from the earlier films as well as their sons or daughter who were now in the craft business and working on the set too.
He shared that the most appealing thing for Star Wars fans is the breath of the imagination involved in the films. Also, it is the questions that it generates in our minds about our own responsibilities and our own behaviors. He said that it's also the wiz, bang, flash, music and good stuff that appeals to Star Wars fans. 😉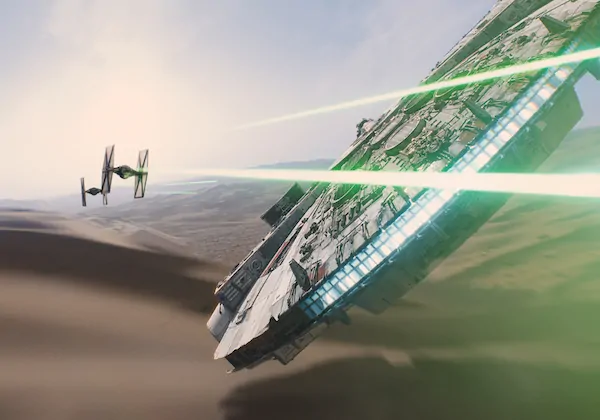 When he read the first Star Wars script he didn't have any concept of the legacy that it would become.  However, when making the first film he did recognize the utility of Han Solo in the telling of the story. Harrison also said that Han Solo provided really strong elements that people would be able to relate to. He also recognized there was a kind of fairy tale structure in the characters and in the story.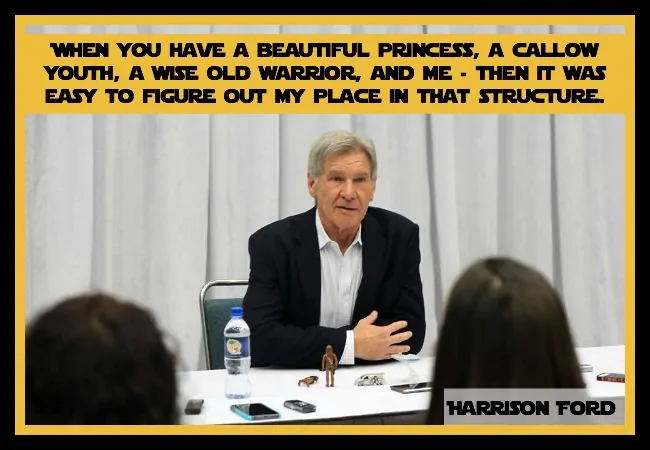 He said that it wasn't hard stepping back into the role of Han Solo. Once he put on the clothes, turned around to see Chewbacca then you know what the drill is. He has walked more than a mile in those shoes and it was a familiar path, he is happy to be back.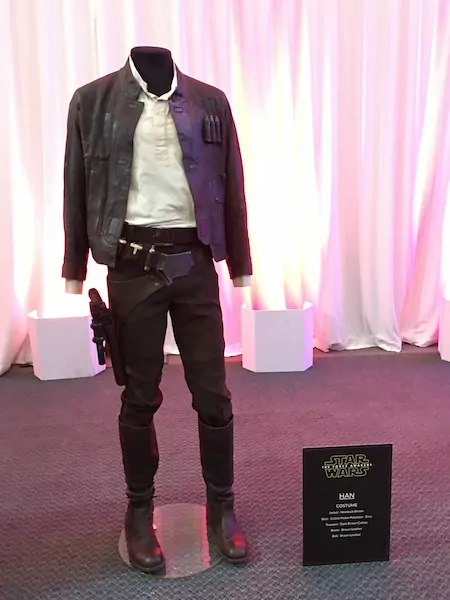 Making a movie is a collaborative process and collaboration is not one persons unilateral decision, it's a matter of agreement. Harrison explained that the process of film making is problem solving. Realizing that something is not working in the shot and working together to fix, this is something that he loves.
There is a sense of urgency to keep the ball rolling and doing the right thing because time is limited. A lot of people are standing around waiting for you to get it right. That is a compelling atmosphere in which to work.
The most challenging thing about the movie making process is when you don't see eye to eye and on the set of Star Wars: The Force Awakens they saw eye to eye. Harrison felt that it was a luxury to have that type of understanding on set and gives J.J. Abrams high praise for being a wonderful director.
Once the interview ended we gathered for our group picture with him.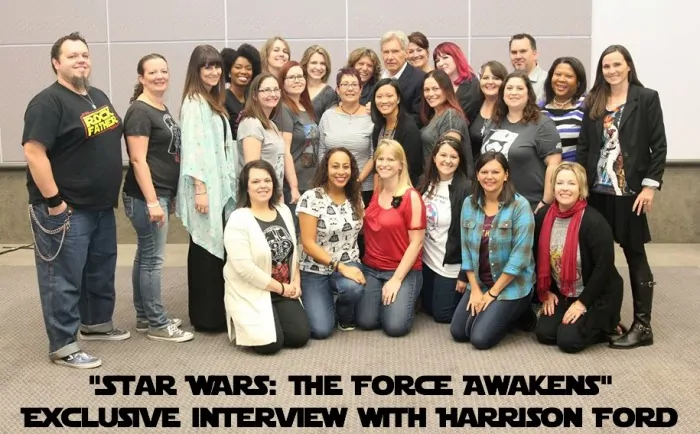 Star Wars: The Force Awakens Trailer
The film stars
Harrison Ford
,
Mark Hamill
,
Carrie Fisher
,
Adam Driver, Daisy Ridley, John Boyega, Oscar Isaac, Lupita Nyong'o, Andy Serkis, Domhnall Gleeson, Anthony Daniels, Peter Mayhew
and
Max Von Sydow
.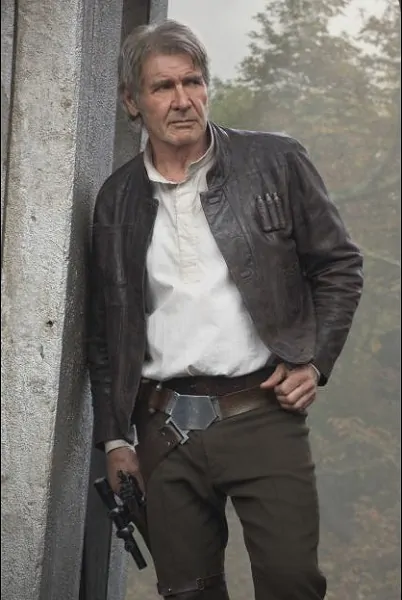 Kathleen Kennedy, J.J. Abrams and Bryan Burk are producing with Tommy Harper and Jason McGatlin serving as executive producers. The screenplay is by Lawrence Kasdan & J.J. Abrams and Michael Arndt.
Like STAR WARS on Facebook, Twitter, Instagram and YouTube
The film opens December 18, 2015!!!
Visit the official STAR WARS: THE FORCE AWAKENS website.
All interview photo credit to Louise Bishop of www.MomStart.com
Written by 5 Minutes for Mom Contributor, Dawn Cullo.