This post may contain affiliate links. Read my disclosure policy here.
Our books specialist, Jennifer Donovan, is here with a wonderful title suggestion for you and a giveaway. Samples and prizing were provided by St. Martin's Press.
I've been an avid reader — well, since I could read. I've gone through stages and phases of reading, but one thing that has never changed is my ability to enjoy a light, fun read. I have never read a book by Barbara Delinsky, though I've seen her books everywhere over the years. Blueprints looked interesting, so I was excited to partner with St. Martin's Press on this review and giveaway.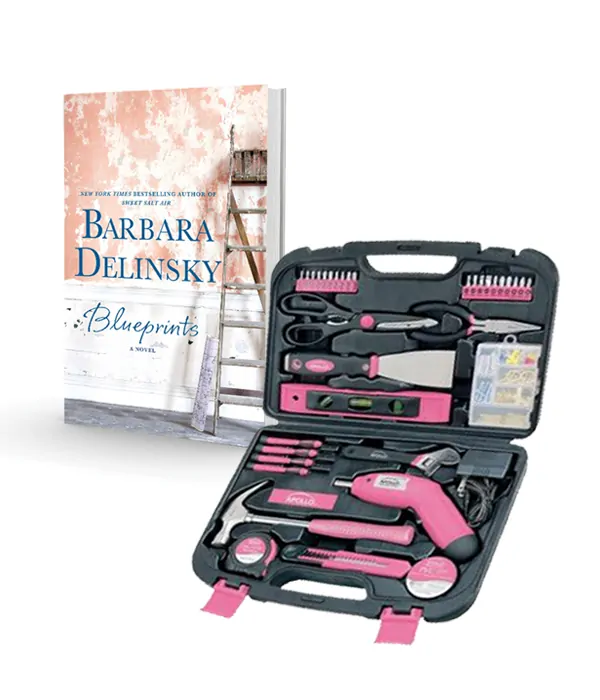 It's just the kind of book I enjoy, focusing on family relationships, big changes and women figuring out who they really want to be.
Publisher's Description:
Caroline MacAfee is a skilled carpenter, her daughter Jamie, a talented architect. Together they are the faces of Gut It!, a home renovation series on local public television. Caroline takes pride in her work, and in the way she connects with the show's audience.  But when she is told the network wants her daughter to replace her as host-the day after Caroline's fifty-sixth birthday-she is devastated. The fallout couldn't come at a worse time.
For Jamie, life changes overnight when, soon after learning of the host shift, her father and his new wife die in a car accident that orphans their two-year-old son. Accustomed to organization and planning, she is now grappling with a toddler who misses his parents, a fiancé who doesn't want the child, a staggering new attraction, and a work challenge that, if botched, could undermine the future of both MacAfee Homes and Gut It!
For Caroline, hosting Gut It! is part of her identity. Facing its loss, she feels betrayed by her daughter and old in the eyes of the world. Her ex-husband's death thrusts her into the role of caregiver to his aging father. And then there's Dean, a long-time friend, whose efforts to seduce her awaken desires that have been dormant for so long that she feels foreign to herself.
Who am I? Both women ask, as the blueprints they've built their lives around suddenly need revising. While loyalties shift, decisions hover, and new relationships tempt, their challenge comes not only in remaking themselves, but in rebuilding their relationship with each other.
It was honestly just the kind of book to get lost in during the summer. It was sort of over-dramatic at times, but the issues of mother-daughter strife, major changes affecting other relationships are things that we all go through. I also enjoyed the rich setting — the world of a construction firm, including carpentry, architecture and interior design, and a TV show on top of it.
The characters were genuine and engaging and written in a way that made me care about them. I'm glad I picked it up, and will read more when I'm looking for light women's fiction. It's a genre I'll never stop reading.
Learn more at BarbaraDelinsky.com
Follow Barbara on Twitter and Facebook
#Blueprints
Enter to win
You can win the book and awesome tool set pictured above (U.S. addresses only). Follow the instructions below to earn one or more entries.