This post may contain affiliate links. Read my disclosure policy here.
Anna here to inspire you to put yourself at the top of you "to-do" list. Many thanks to V8 for sponsoring this campaign.
As a large majority of us do at the beginning of a new year, in January I set goals to eat healthier & exercise, not only for my own health, but to be a good example for my children.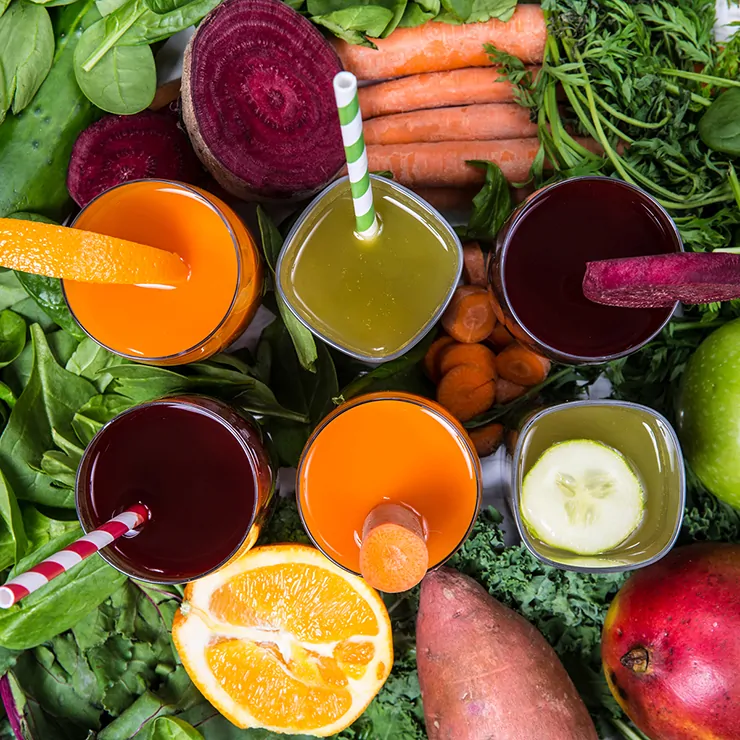 At first I was on a roll and doing great making healthier eating choices and working out at home regularly. But, as it always seems to do, life gets busy and there are days that just don't have enough hours for me to complete my "have to-dos" much less my "want to-dos" such as exercise and eating healthier.

But, that's not right is it? Eating healthier and exercising should be on my "have to-dos" list shouldn't it? I mean, keeping my body in the best health possible, for myself, and so that I can enjoy my children, husband, and other friends and family should be more important than say, folding and putting away the laundry?
I think we all know the answer to that one. The laundry is never ending, my kids childhood, my friends and family, my husband… they are more precious to me than many things I will always have on my to-do list.
So being in the best health I can be should be a pretty high priority for me, and it is. The best way for me to stay healthy is by eating healthy foods and exercising.
[Tweet "5 Reasons To Put YOU at the Top of your "To-Do List" with @V8Juice #V8VeggieBlends"]
5 Reasons To Put YOU at the Top of your "To-Do List"
It is crazy hard for moms like us to put our own needs anywhere on our to-do lists, much less at the top.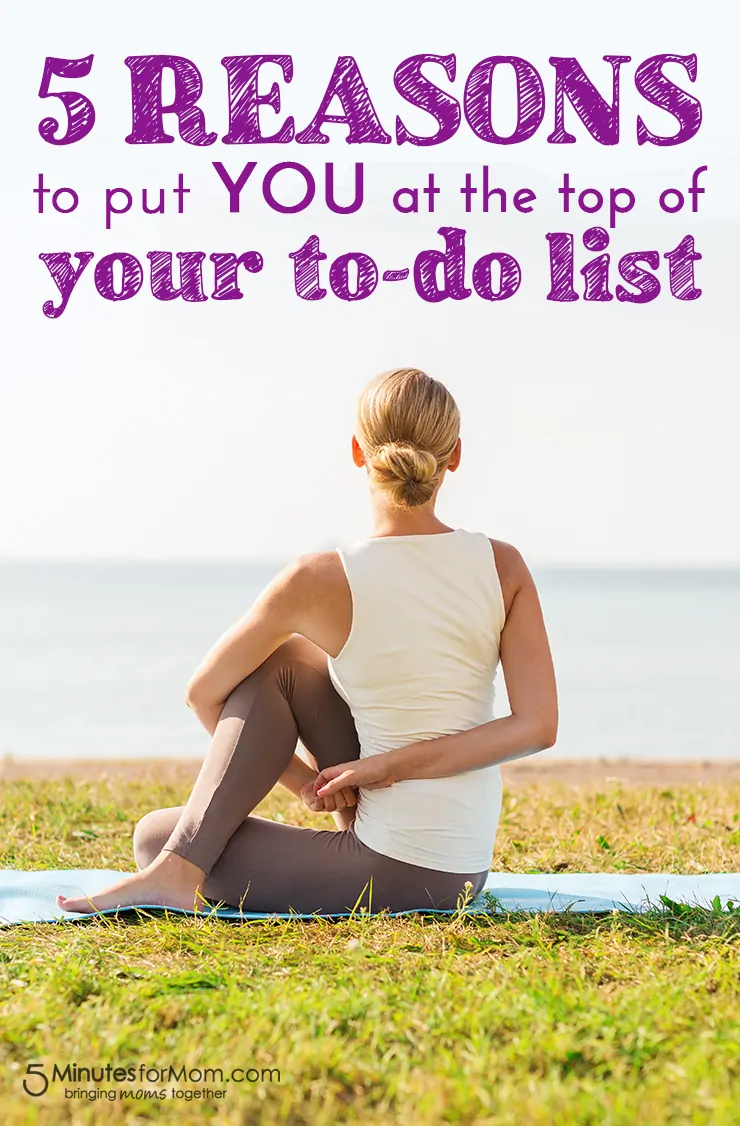 Here are five reminders for
why
you should…
The truth is that when we look after ourselves, we're looking after our families. So even if you can't handle the thought of putting yourself first, this is still another way of loving and caring for your family.
Busy moms usually cannot tick off every item on their daily to-do lists. When you put your own health at the top, you can't let it slip off the bottom.
When you look after yourself physically by exercising and eating right, you have more energy to get more done each day.
Children learn more by watching what we do than by listening to what we say. We all want our children to make healthy choices, so let them learn from you.
By shopping for healthier foods for yourself, you'll fill your fridge with smart food choices for your kids too.
An Easy and Tasty Way to Get More Veggies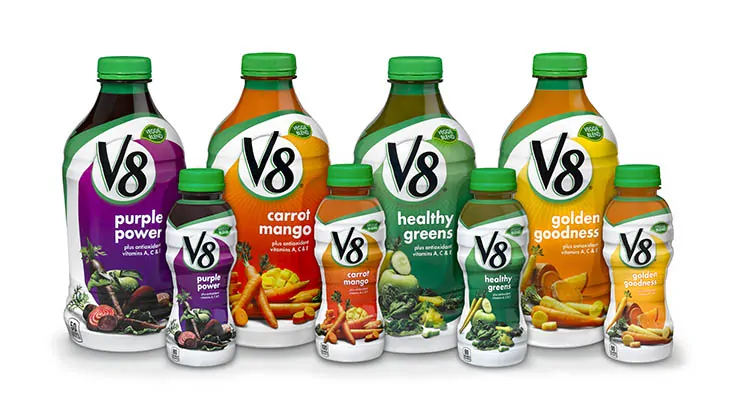 Getting enough vegetables in our diets can seem hard. But here's one simple and delicious solution…
V8® has created four new vegetable and fruit blend juices, and I was so excited to get to try them. I've always loved juice and being able to drink something so delicious and know that I am also getting a full serving of veggies in each 8 oz that I drink makes staying in good health easier than ever.
Best of all, these veggie blends have no added sugar, no artificial colors, flavors, or preservatives so I can feel good about what I'm putting into my body. Each juice blend is an excellent source of antioxidant vitamins A, C, and E, AND each 8 oz serving is only 60 calories OR LESS! THAT is a big deal to me!
And you want to know something else awesome? These veggie blends are truly DELICIOUS! I have always been very skeptical of green juices. I have always thought that people who drink green juices were only drinking it because it was the "in" thing. Well, let me tell ya, of the four new veggie blends from V8® the Healthy Greens blend was my favorite!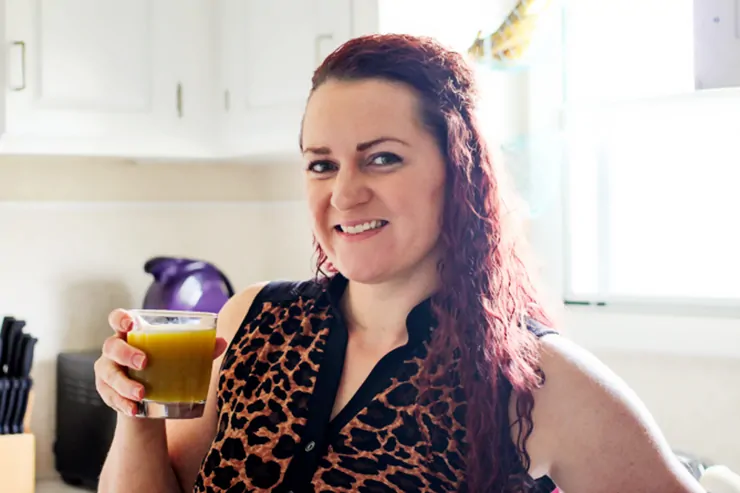 I like to drink these V8® veggie blend juices with breakfast, after a workout, or when I am feeling hungry during the day.
Here's a break down for each veggie blend:
Healthy Greens contains the juices of spinach, yellow carrot, apple, pineapple, cucumber, celery, kale, romaine lettuce, and green bell pepper.
Purple Power (my 2nd favorite) contains purple carrot, beet, & apple.
Golden Goodness contains yellow carrot, sweet potato, orange carrot, & orange.
and Carrot Mango is just that, the juice of carrots & mango.
V8® set out to meet changing tastes and to support healthier lifestyles of consumers by delivering juice blends that are delicious and affordable. I think they hit the nail square on the head!
Each of these four vegetable and fruit blend juices are available at major grocery stores nationwide. Visit V8® online & follow them on Twitter and Facebook to stay up to date on all the latest news and products.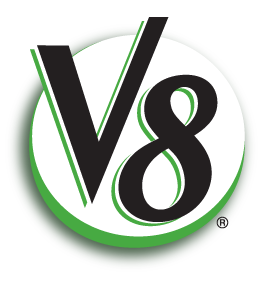 Thanks to V8® for sponsoring this post.
Written by Anna Hettick, managing editor for 5 Minutes for Mom and author of Green Eyed Country Girl.
Tweet this post:
[Tweet "Put YOU at the TOP of your "to-do" list. 5 Reasons Why You Should. #V8VeggieBlends"]
Pin this post: