This post may contain affiliate links. Read my disclosure policy here.
I was not even twenty years old when I was first exposed to the story of Les Misérables. My then-boyfriend gave me his copy of an international cast recording of the stage performance in its entirety, and I popped in the first CD to accompany me while I cleaned my dorm room. Having no idea about the story, I was listening simply to familiarize myself with the music, since we'd be going to see a production of it in Washington, DC, in a few months' time. By the end of the first disc, I found tears streaming down my face, even though I didn't understand everything that was happening in the story. The music itself had me overcome with emotion, and before the third and final disc came to an end, I was planning to get a copy of the book in my hands as soon as possible. Such began my decades-long love affair with this classic piece of literature.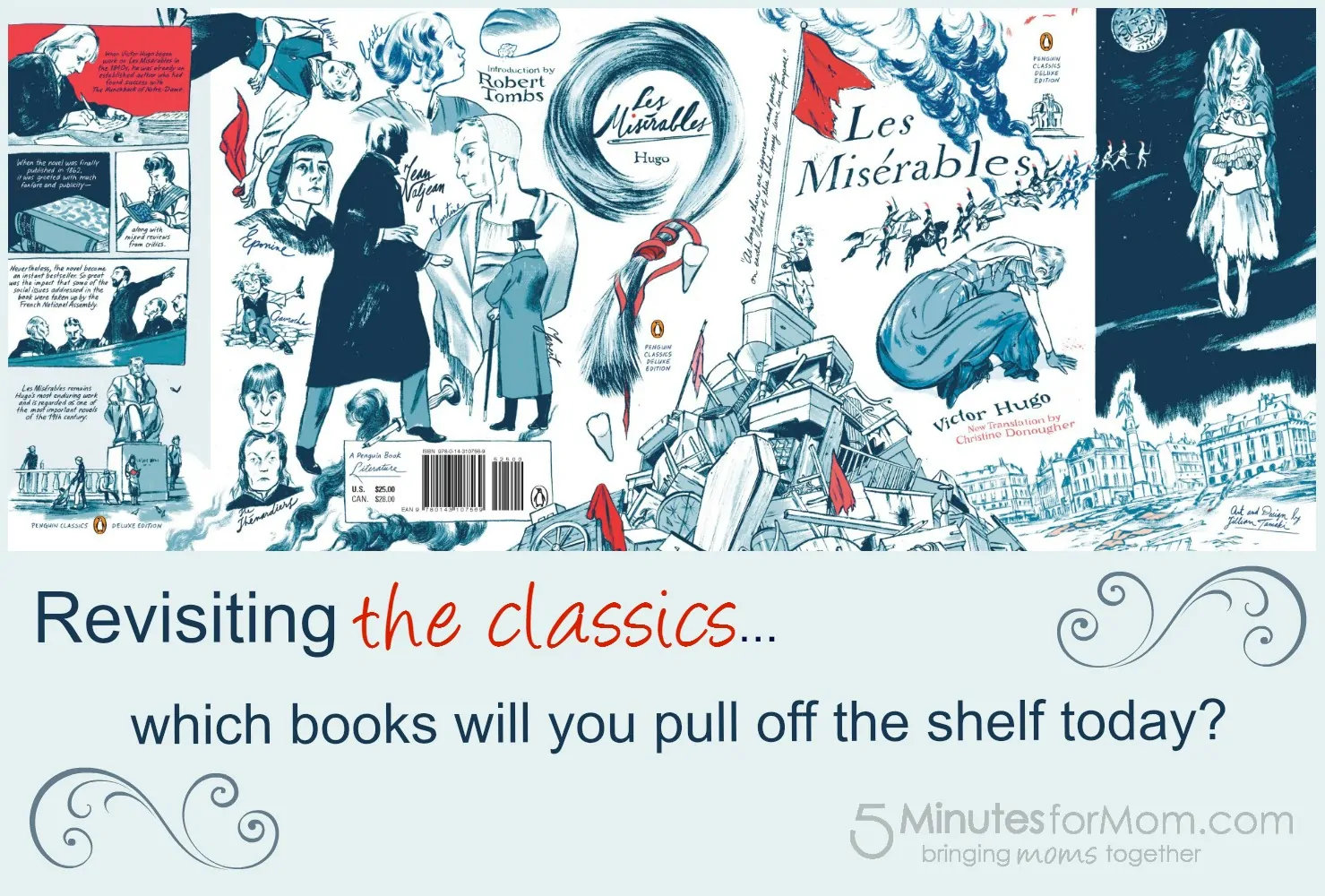 Meeting the Book for the First Time
The story of how I first came to read Victor Hugo's Les Misérables is one that I will always treasure. Yes, I got myself to my small college's library quite soon after first listening to that recording, and when I found it (after a trip to the card catalog, I'm sure… look it up, kids), what a surprise lay on that shelf. Rather than one large book, the adaptation my library held consisted of five books, with each of Hugo's sections bound separately, printed sometime in the 1920s. The antique book smell was heady, the pages were roughly edged, and inside the front cover was a pencil marked copy number. Limited edition! I'm fairly certain that I had no idea how rare and valuable those copies were at the time, but now, they remain the books I most long to find again!

I read those books nonstop over many nights. I'm pretty sure there was at least one early morning class that I attended in flannel pajama pants after staying up all night and reading in my bed. (I'm so glad I first read this book the year I had no roommate!) Blown away by emotion and pushing myself to understand as much as I could of this complex and long saga, I read and cried, read and cried for days. The most amazing part came when I got to some pages that hadn't been cut– after gently tearing the pages' edges apart, I was the first to lay eyes on those very pages! Finishing the novel for that first time was a huge accomplishment and a major marker in my literary life.
A New Translation
Though I've yet to come across those printings again, I'm happy to have a few other adaptations among my collection. I've read the full book twice over the last twenty or so years, and I hope to bring that number up to three times now that Penguin Classics has released a new translation of the classic novel. Translated with notes by Christine Donougher, an introduction by Robert Tombs, and a gorgeously designed cover by Jillian Tamaki, the newly released Les Misérables will not only look beautiful on bookshelves, but may also give some people the chance to revisit one of my favorite books of all time. See my post on 5 Minutes for Books for more information about the new translation.
Do you have a classic book that touched your life in a special way? Have you tried revisiting it later in life? Share your experiences with us in the comments!
Pin It For Later
Be sure to check out our Books Pinterest Board.