This post may contain affiliate links. Read my disclosure policy here.
Perfectly sweet, with a dash of savory, this Roasted Butternut Squash Soup takes squash to a whole new level of delicious. This is Janice here, with the most incredible Butternut Squash Soup I have ever tasted. And thank you to Kenwood for sponsoring this scrumptious post.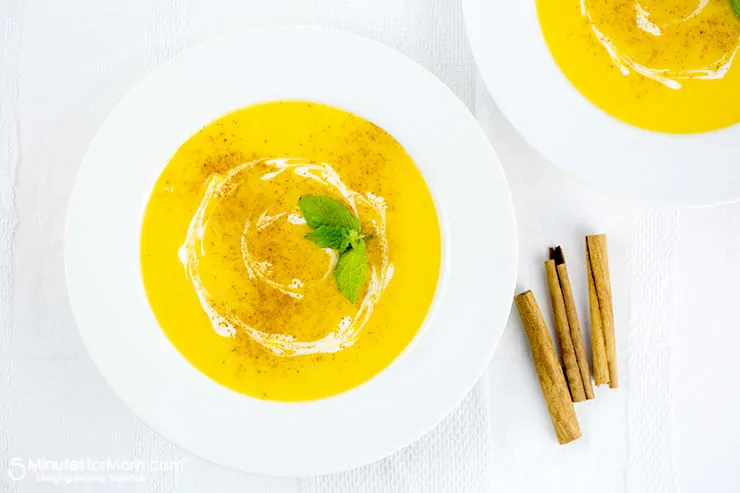 "What is that smell… that delicious smell?!?" my thirteen year old son asked me this afternoon as he looked around the kitchen. I think he thought I had cinnamon buns baking in the oven — it really did smell that wonderful.
And when I served up the steaming bowls, we weren't disappointed.
Even my seventy-four year old mother, herself both a lover of squash soup and the maker of all the best soups I have ever eaten, announced, "In all my life, that is the most delicious squash soup I have ever tasted."
Now THAT is something to hang my hat on.
I love creamy, thick vegetable soups, like squash, broccoli and celery. My mom makes a celery soup that I dream about.
But since I have a very sensitive palette, and don't like anything spicy, I have a hard time buying and ordering soups in restaurants. Often they are too spicy for me.
And buying canned soup is just not even close to having the real thing, homemade and simmering on your stove.
The great thing about this Roasted Butternut Squash Soup recipe is that it is really easy and doesn't require a ton of cooking time either. After, I made this batch today, I kicked myself for not making soup more often.

Perhaps the most important element to quickly and enjoyably making pureed homemade soups, is having a good IMMERSION blender. Having to pour soup in batches into a blender just makes me avoid the whole soup making process.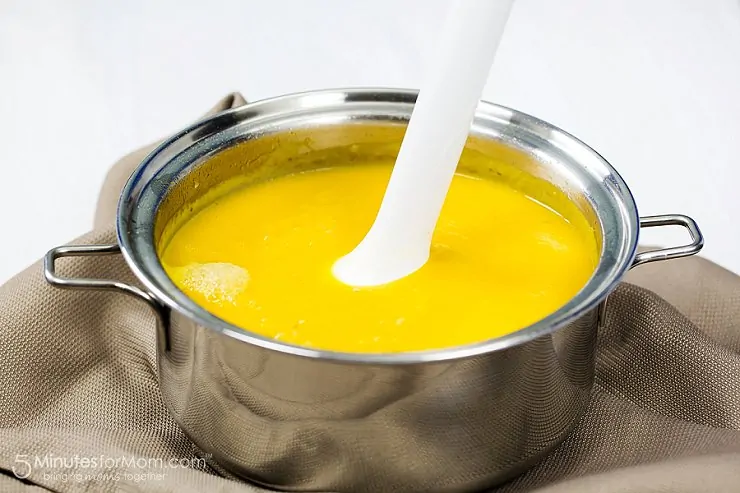 But, if you have an immersion blender, you don't have to dirty any other bowls or try to pour hot soup into a blender. You just stick that immersion blender into your pot of soup and within seconds you have a creamy, perfectly pureed soup.
I used to use an old immersion blender that I have had for decades. But this winter Kenwood sent me their Kenwood Triblade Hand Blender to test out and it is so crazy fabulous!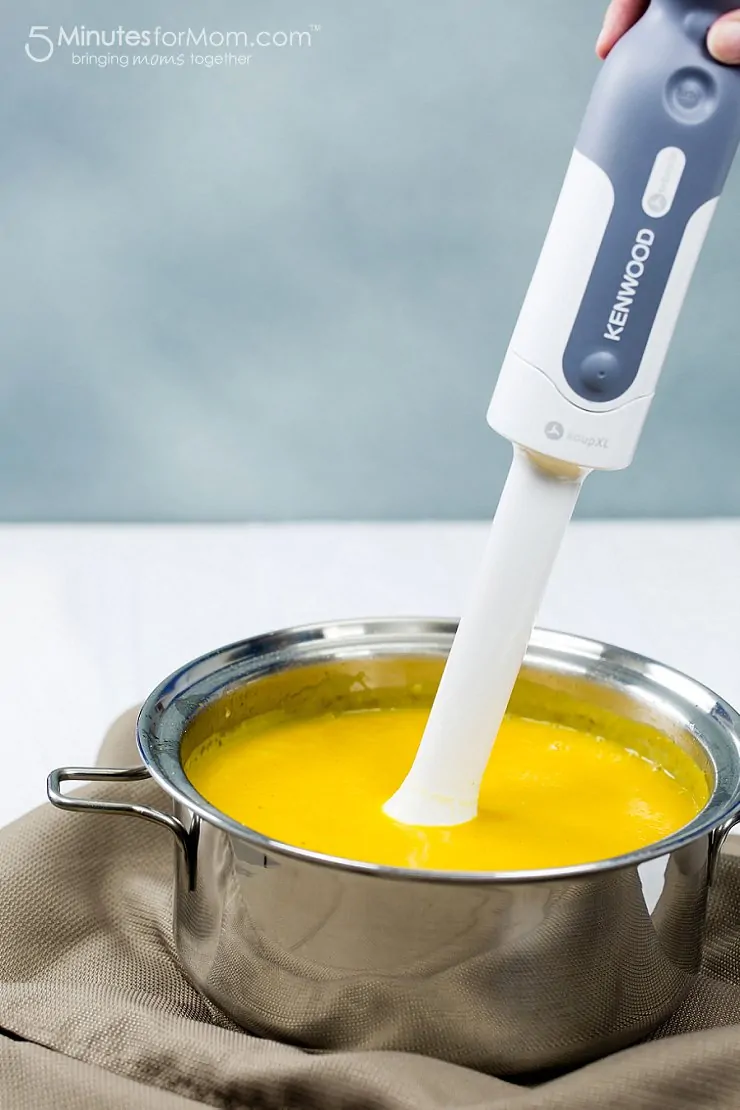 The Kenwood Hand Blender HB724 comes with different attachments for different tasks — a stainless steel TriBlade wand, SoupXL blending wand, Puree Masher, Metal Balloon Whisk, 16oz (2 cups) Chopper with lid and 25oz (3 cups) Beaker with lid.
For this soup, I used the SoupXL blending wand and it was just what I needed. I was concerned that my soup would splatter and that my pot was too full, but the wand easily pureed my soup with no mess at all. Within seconds, my soup was pureed.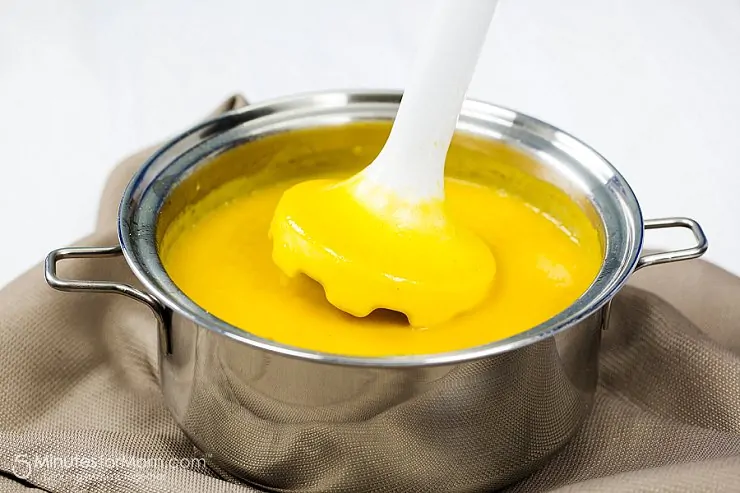 Then, I added some heavy cream and gave it one more quick blend and I was ready to serve.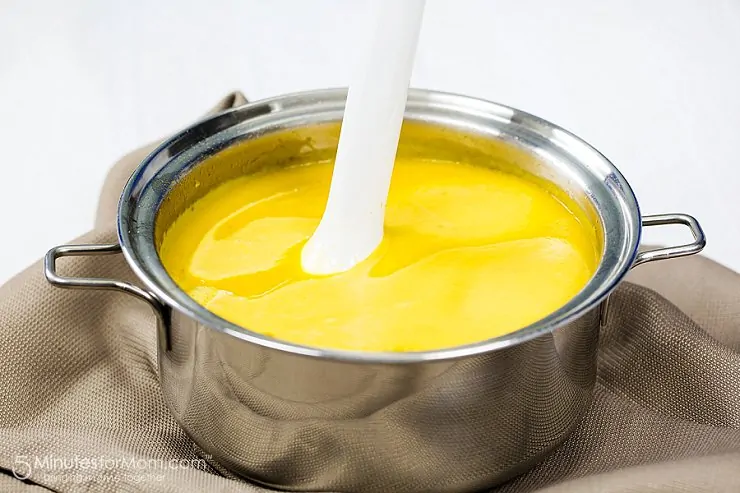 I love to top my squash soup with yogurt. I use either a plain Greek yogurt or a plain 2% yogurt.
For this batch, I put some 2% plain yogurt in a plastic squeeze bottle and dotted on some drops of yogurt. I used a toothpick and gently circled through the drops to create a nice pattern. Then I sprinkled on some paprika and garnished with a sprig of mint and I was ready to indulge. (Well, after I shot some photos of course.)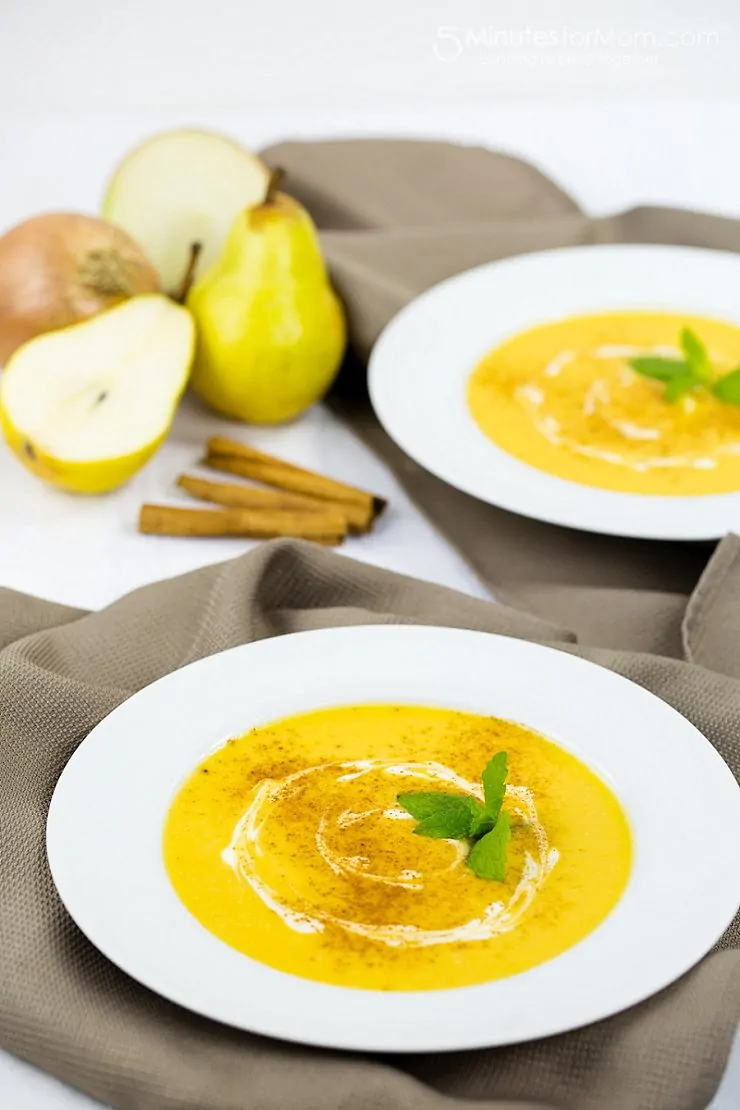 I promise you this was the most delicious bowl of Butternut Squash Soup I have ever eaten.
What makes this Butternut Squash soup so good?
I think this soup stands out because of the combination of roasting the squash verses boiling it and the sweet and savory mix of flavors.
I used butter, brown sugar and cinnamon when I roasted the squash and sautéed a fresh pear with the onion to make the base for the soup.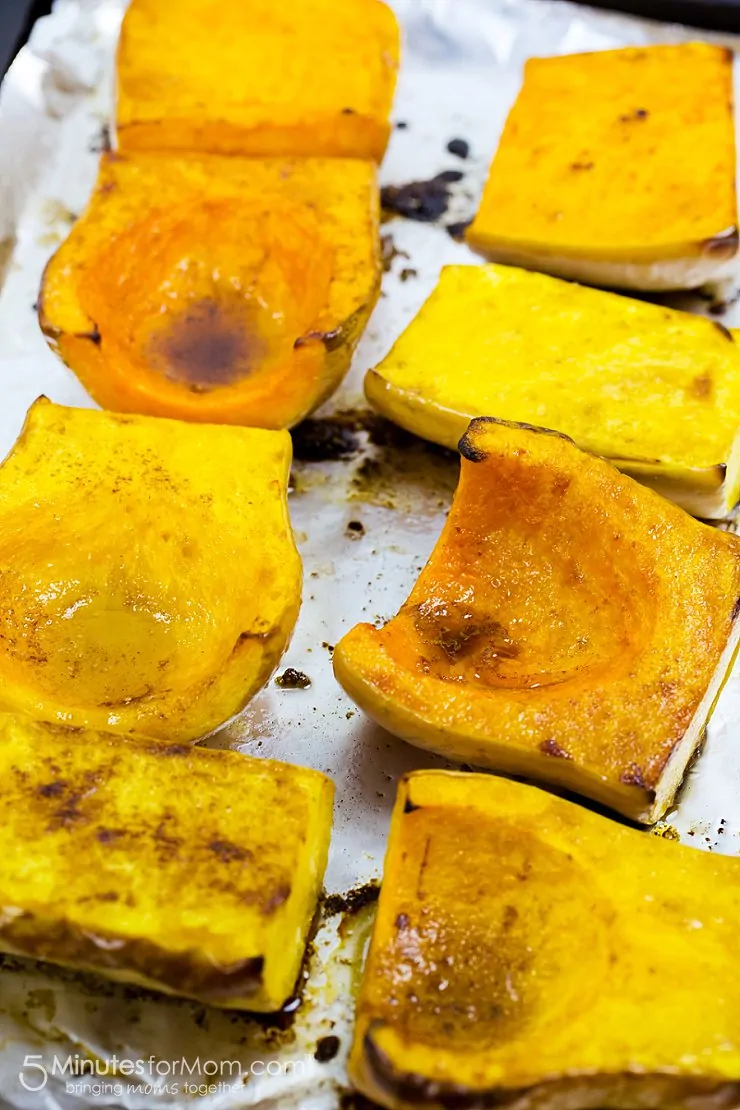 While the soup simmered, in addition to freshly ground salt and pepper, I added in ginger, nutmeg, paprika, and cinnamon. (If you like your soup with a bit more kick, then definitely add in some cayenne pepper too.)
Also, for chicken stock, I used an organic chicken bouillon powder that has no MSG and has a wonderful flavor.
And don't forget to add cream! Yes, you can use milk if you only have milk on hand or if you want to reduce fat. But that 1/2 cup of heavy cream really makes this soup heavenly.
If you are still battling some cold winter days, I hope you can whip up some of this butternut squash soup to keep you warm from the inside out.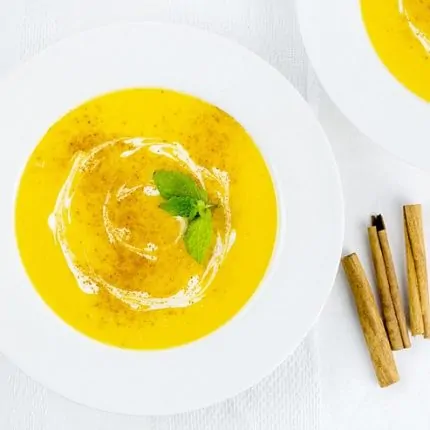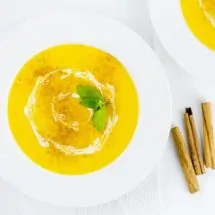 Roasted Butternut Squash Soup with Cinnamon
Perfectly sweet, with a dash of savory, this Roasted Butternut Squash Soup takes squash to a whole new level of delicious with fresh pear, cinnamon, ginger, and nutmeg.
Print
Pin
Rate
Servings: 6
Ingredients
2 small butternut squash or 1 and 1/2 medium
1 ripe pear
1/2 onion
1/2 cup heavy cream
2-3 Tbsp butter
1 tsp brown sugar
3 tsp of bouillon powder and 4 cups water or 2 cups of chicken broth and 2 cups water
1/2 - 1 tsp cinnamon
1/4-1/2 tsp ginger
1/4-1/2 tsp nutmeg
1/4-1/2 tsp paprika
salt and pepper or cayenne pepper to taste
yogurt for garnish
mint or parsley for garnish
Instructions
Preheat oven to 425*

Cut squash - cut off ends, slice in half lengthwise

Remove seeds and arrange on foil lined baking sheet

Brush with 1-2 Tbsp of melted butter

Sprinkle with brown sugar, cinnamon, and salt

Bake for 50 minutes or until tender

In a saucepan, sauté chopped onions and chopped pear in 1 Tbsp of butter for about 5 minutes

Remove from heat

When squash is cooked and cooled slightly, remove skins and cut into large pieces

Add squash to onions and pears in the saucepan

Pour in 4 cups of water and begin to bring to a boil

Add in organic bouillon powder, cinnamon, ginger, nutmeg, paprika, salt and pepper

After soup comes to the boil, reduce heat and simmer for 20-30 minutes

Turn off heat and allow to cool till the soup is cool enough to touch

Use immersion blender to puree soup (If you don't have an immersion blender, allow soup to cool and puree in a blender in batches)

Once blended, add in cream and reheat, but do not allow to boil

Serve hot with yogurt, paprika and fresh herbs to garnish (optional)

PIN FOR LATER: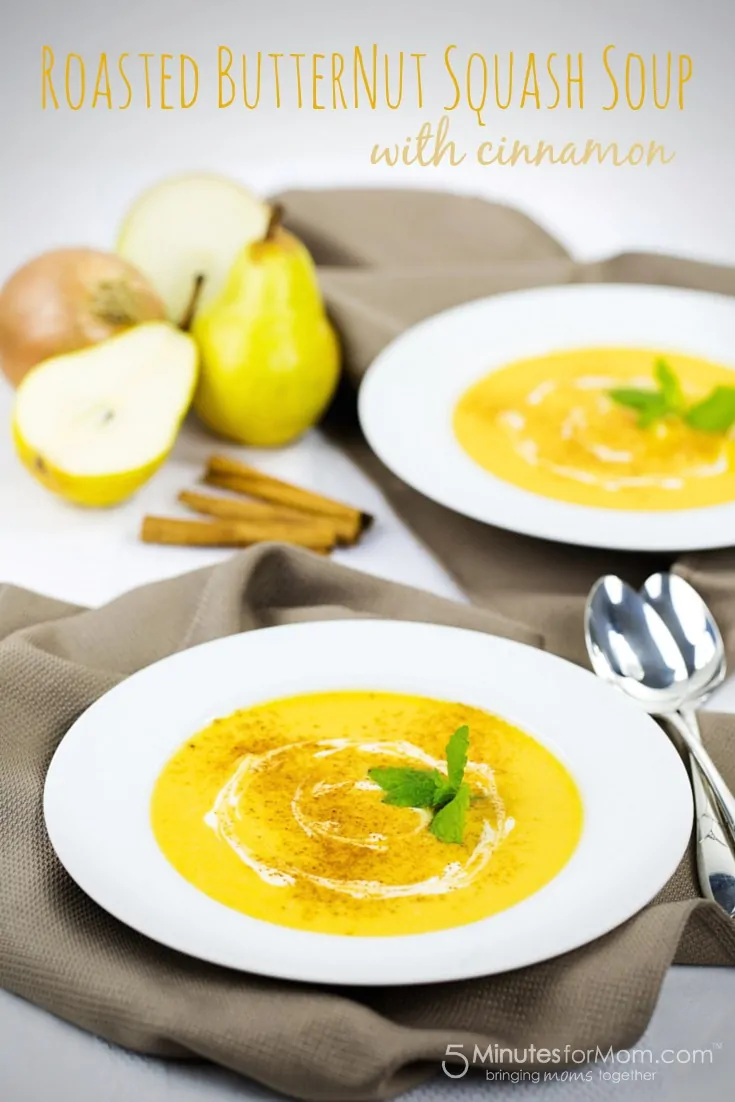 Written and photographed by Janice Croze, co-founder of 5 Minutes for Mom.
Please Note: I received product from Kenwood to review and test out in my kitchen, along with compensation for my time to create and publish this recipe. All opinions are entirely my own. This post is in compliance with the FTC and its regulations.