This post may contain affiliate links. Read my disclosure policy here.
Anna here with a look at Yoplait's makeover for New York Fashion Week. Thanks to Yoplait for sponsoring this post.
If you are a yogurt lover then chances are you are a Yoplait Yogurt lover. I know that Yoplait is my go-to when I want rich creamy yogurt.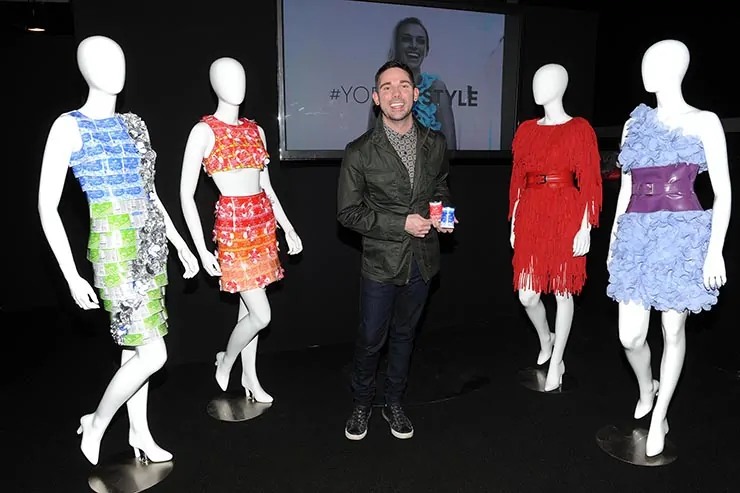 Just in time for New York Fashion Week Yoplait Yogurt was given a fun makeover with a signature collection that was styled by fashion designer Christopher Straub. This collection of fashionable cup designs showcase the personality of each flavors.

Christopher Straub said…
Yoplait's palette of colors and flavors really inspired me for this project. For me, fashion is more than designing clothing – it's about translating real-life textures and lines into statement pieces. I wanted to find the personality in each flavor and bring it front and center.
< rel="nofollow" a href="http://www.yoplait.com/target" target="_blank">The Yoplait Signature Collection is available exclusively at U.S. Target stores nationwide through February. Each and every cup is brightly colored, has bold designs that bring Straub's whimsical style to life.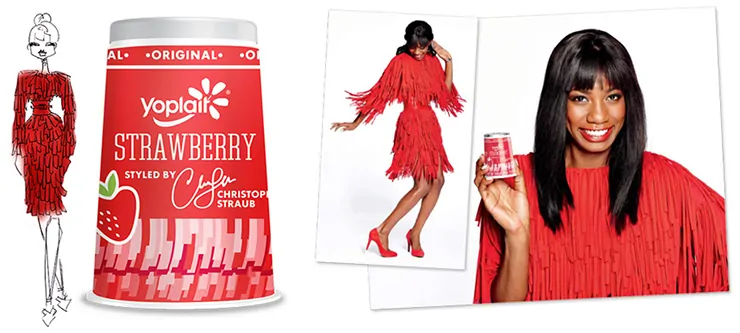 The Strawberry cup is inspired by Straub's Red Fringe Dress and the Key Lime cup is inspired by his edgy Sequin Dress. The Yoplait Signature Collection also includes Harvest Peach and Oragne Crème from Yoplait Original, and Blueberry Patch and Strawberries 'n Bananas from Yoplait Light.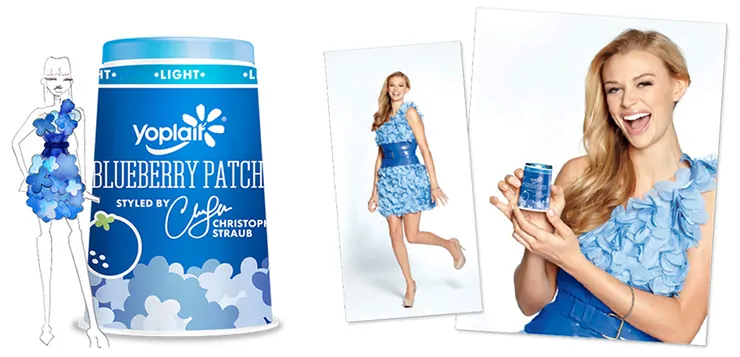 Yoplait Shopper Marketing Manager Andrew Lainsbury says…
Choosing a snack or meal can be a lot like choosing an outfit, you select each based on your mood, plans for the day and current inspiration. Both can help you look and feel confident inside and out.
To celebrate Yoplait took it's Signature Collection to Mercedes-Benz Fashion Week at Lincoln Center in New York on February 13th where the cup designs where showcased alongside the dresses and sketches that inspired them. There were also 2 custom gowns created by Straub using Yoplait cups and lids. How neat!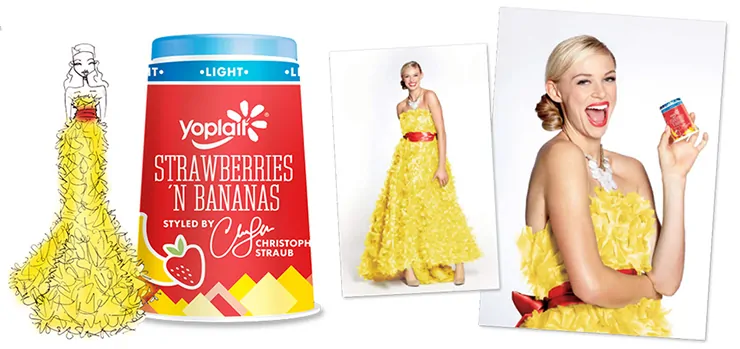 Fans who didn't attend Fashion Week can join the celebration via social media using #YoplaitStyle (subject to Yoplait's Community Rules).
Yoplait has more than 40 flavors to choose from combined! That is a LOT of delicious flavors to choose from! I love that Yoplait Original and Yoplait Light are an excellent source of calcium and vitamin D. Having healthy options makes choosing snacks a lot easier.
Yoplait is available nationwide. To learn more about Straub's design inspirations and the Yoplait Signature Collection you can visit Yoplait.com/Target
Be sure to follow along with Yoplait on social media! You can "like" them on Facebook and follow on Twitter and Pinterest.
About General Mills
General Mills is one of the world's leading food companies, operating in more than 100 countries around the world. Its brands include Cheerios, Fiber One, Häägen-Dazs, Nature Valley, Yoplait, Betty Crocker, Pillsbury, Green Giant, Old El Paso, Wanchai Ferry, Yoki and more. Headquartered in Minneapolis, Minn., USA, General Mills had fiscal 2014 worldwide sales of US $17.9 billion.
About Christopher Straub
Hailing from the Minneapolis area, fashion designer Christopher Straub is a former contestant on season six of Project Runway and the current fashion expert for the Mall of America. With a signature design aesthetic based on images and textures found in nature, Christopher's inspirations from his surroundings evoke fantasy and whimsy.
Disclosure: This post was sponsored by Yoplait and written by Anna Hettick, managing editor of 5MinutesforMom.com and author of Green Eyed Country Girl.