This post may contain affiliate links. Read my disclosure policy here.

If you're like me, when you think about the roles women played during war, you think about women like Rosie the Riveter, taking on the jobs the men usually held while they were off fighting in the war, or Clara Barton, providing aid to Civil War soldiers. While those roles were undoubtedly important, the women who were in the middle of a war zone were often playing roles behind the scenes, working against the enemy.  Their image as the fairer sex meant they could get away with things that men could not, and often younger women held the most dangerous roles as they were the most inconspicuous.
After writing up my review of Kristin Hannah's phenomenal new book about women in France during World War II, I was reminded of another book I reviewed last year. Deborah Lawrenson's novel is made up of three novelettes that appear to be distinct but are tied together at the end. One of those novelettes features other French women who defied the Nazis, and I began to wonder about other such stories. I did a search through the 5 Minutes for Books archive and found I'm not the only intrigued by these extraordinary women.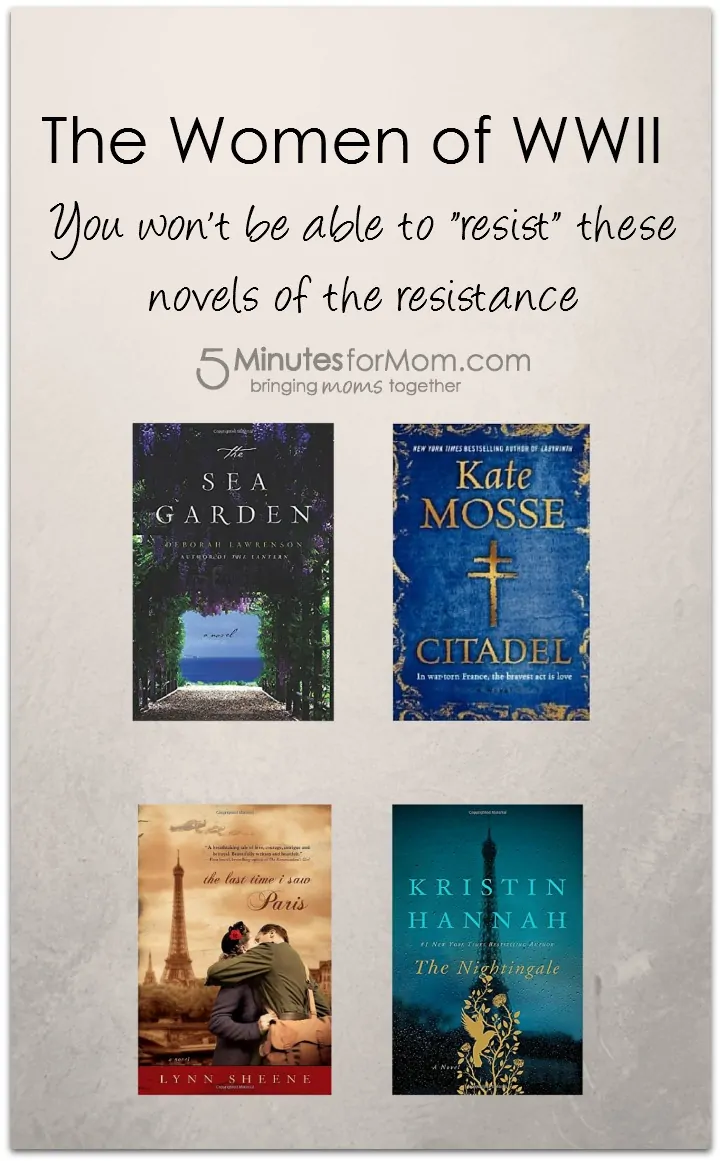 4 Novels About the Underground Roles of Women during World War II
The Nightingale by Kristin Hannah
Two sisters, one a rule follower and the other a rule breaker, are both drawn into the French Resistance. Viann is the elder, wanting to help her fellow villagers who are being sent away, but afraid of the Nazi living in her home and believing that her country will stand up for itself. Isabelle is young and impudent, determined to get involved in working against the Nazis in whatever way possible.
Both women are strong in their own ways but believes the other weak, a belief that each perpetuates in order to protect the other. It's a story with many layers and as I said in my review of The Nightingale (click through to read more), keep a box of tissues handy, especially at the end.
The Sea Garden by Deborah Lawrenson
The second novelette in The Sea Garden also features a young woman active in the Resistance. A young blind perfumer is first kept away from the activities of the Resistance, but when her knowledge of Braille is discovered, it becomes a useful tool for their part in guiding in Allied planes bringing supplies.
Part three of this book is also about a woman in war, but since England was never occupied by the Nazis, she's not working underground, but for British Intelligence. Her relationship with an operative who may or may not be a spy is the centerpoint of this story.
Citadel by Kate Mosse
Elizabeth reviewed this one and while I haven't read it, her description is making me want to run out and get it! Citadel is about a cell of the Resistance made entirely of women, and the meat of the story is how they came to be involved in such a dangerous activity.
Add in a mysterious codex sought after by the Nazis and an 800-year old man, and you have the makings of an action-packed novel that sounds like something I'd love.
The Last Time I Saw Paris by Lynn Sheene
The Last Time I Saw Paris is another one reviewed by Elizabeth, but in this one the main character becomes involved in the Resistance by accident when she finds herself in Paris with no papers. This is more of a romance novel, however, than a novel about the war, so if that's your thing, then you'll enjoy this one.