This post may contain affiliate links. Read my disclosure policy here.
Nancy, a 5 Minutes for Books staff reviewer, is here to share her plan to read more in 2015.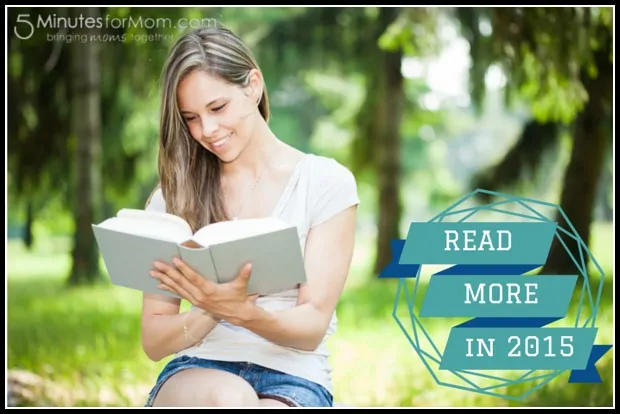 I've heard many people this month mention how they are hoping to read more this year. Would you like to? It can be hard to add something to our plates, but it can be done.
If you'd like to add some free books to your bookshelves, check out our current giveaways
on some great novels over at 5 Minutes for Books.
In 2014 I read 93 books. 49 of those were books I read to review, either here on 5 Minutes for Mom, or on our sister site, 5 Minutes for Books, which means I managed to read 43 books for my own personal reading pleasure.  And while I love getting books from publishers or publicists for the purpose of writing a review, I also have a long TBR (to be read) list over on Goodreads.
I'm sure that most of you don't read close to 100 books like most reviewers do, but anyone can make a plan to read a bit more than last year. If I don't have a plan on what I want to read, I either waste time trying to figure out what book will be next, or *gasp* don't read at all.
That's why I love challenges like the one Pop Sugar posted at the end of last year.  If I take some time at the beginning of the year to make a list of what I'd like to read, I find I not only read a higher quantity of books, but also enjoy what I'm reading more as I don't end up with some random book off the shelf at the library or at the top of the free Kindle book list that I may not really enjoy.
When I first heard about the Pop Sugar reading challenge — it was all over my Facebook feed so it was hard to avoid — I had no plans to do it: 52 books?  On top of my review books?  Not likely.  And for logistical reasons I can't really use review books for something like this (I did make one exception for a book I was going to read anyway but was lucky enough to also receive for review).
But I let myself loosen things up a little.  I went through the unread books on my shelves, both physical and Kindle, and easily found places for them to go.  You Don't Look Like Anyone I Know by Heather Sellers was an easy choice for a memoir; Waiting for Godot by Samuel Beckett, a book I borrowed from my mother-in-law long ago, was a no-brainer for a play. Some titles were harder to come up with and took some searching but luckily Goodreads is happy to provide lists for many topics.
I also allowed myself to repeat titles.  Donna Tartt's The Goldfinch works for both a book with more than 500 pages and a Pulitzer Prize winner. I picked Lois Lowry's The Giver for a book that became a movie, and it also happens to fit as a book set in the future.  And there are some titles I won't be able to fill in until I've read them — I don't know which book will make me cry or which one I'll read in one day, though The Giver may be the only three-peat as it's only 200 pages.
Forty-three of the non-review books I read last year were part of a similar challenge, where you read a book with a title starting with every letter of the alphabet. There are challenges to read all of the Pulitzer winners, or a book by an author from every state, or all of the banned books. I liked this challenge because there a wide variety of types of books and it's helping me clear off my bookshelves.
If you'd like to read the books I came up with for the challenge, click on over to my blog.
Are you participating in this challenge, or another one like it?  Link up in the comments below; I'd love to see your list. If you are hoping to read more in 2015, feel free to share our image on Facebook, Twitter, or Instagram, or pin it to your goals board.