This post may contain affiliate links. Read my disclosure policy here.
It is getting close to the big party – and we are celebrating with another contest!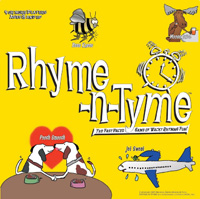 This week we are giving away Rhyme-N-Tyme – a fantastic, mom-designed, family game.
Rhyme-N-Tyme is easy to learn, but challenging and educational. Since it is for children over eight, and our kids are too young, Susan and I tested it out ourselves. We had a blast playing it. (For the record – I am smarter than Susan! 😉 Okay – Susan and I are both laughing so hard we are crying that I just wrote that!)
We think Rhyme-N-Tyme works well for any group – adults or families. It is a team game somewhat similar to Pictionary or Charades, except that you can use words to help your team guess the answer. As I said, Susan and I had a ton of fun playing it and we will be pulling it out to play again – even if our kids are still too young for it!
So we decided it would be a fun prize for a contest.
The contest rules will be the same as we have been doing. If you are new this week, this is the drill:
First – sign the Mr. Linky with your name and URL by Sunday, February 25th at 11:00pm Eastern. (If you do not have a blog, but would like to participate, leave a comment asking to be entered and email me at janice at 5minutesformom dot com with your contact information.)
Second – on your blog, link to this contest so that your readers can get in on the fun too. Gotta spread the smiles! If you want to link to Rhyme-N-Tyme as well, that is always appreciated. (If you don't have a blog – you obviously can't post about it. No worries. But if you want, you can spread some smiles by passing on the contest info to one or two of your friends.)
We will announce the winner on Monday, February 26, 2007. Good luck!
The winner is #72 – Becky from Blessed with Olive Plants around my Table. Congratulations!