This post may contain affiliate links. Read my disclosure policy here.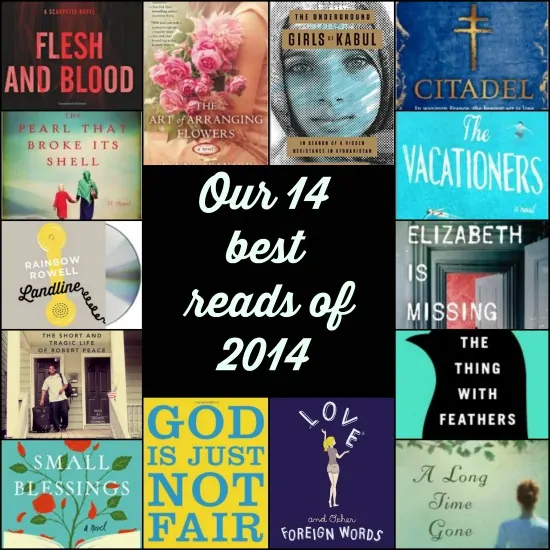 At the end of the year, the "best of" lists pop up everywhere. Opinions on the best will vary, certainly, but it never hurts to get lots of opinions, especially when it comes to making your next reading selection. We, the reviewers of 5 Minutes for Books, would like to share some of our favorite fiction, non-fiction, and young adult reads from 2014 in the hopes that you'll find something on the list that calls out to you. What better way to start the new year with a new-to-you book?
If the blurb piques your interest, be sure to click through for the full review. Also, check out our 18 other favorites that didn't quite make our top 14 over at 5 Minutes for Books today.
Dawn's picks
Small Blessings by Martha Woodroof — The wacky, but endearing characters in this refreshing and unpredictable story really got in my head, and they stayed there long after I finished reading. I recommended and shared this book with close friends, my mother-in-law, and everyone I know on Facebook, and all I heard back were overwhelmingly positive assessments.
The Vacationers by Emma Straub — A vacation taken when several family members are at crossroads in their lives makes for a heady read, full of emotion and reflection. If delicately woven, character-driven novels are your thing, this one needs to be on your to-be-read list.
The Underground Girls of Kabul by Jenny Nordberg — Nordberg was unintentionally exposed to a practice with a long and quiet history when she visited Afghanistan as a reporter. Bacha posh ("dressed up like a boy") became her area of interest, and she shares the stories of several females who were raised and treated as males during their childhood years. Riveting and affecting, this piece of nonfiction exposed me to a culture of which I know very little, and made me examine how my own views of gender relate to others' experiences in a different society.
The Thing with Feathers: The Surprising Lives of Birds and What They Reveal About Being Human by Noah Strycker — A series of fascinating essays about the lives of birds, with much focus on their social and communal existence, this book excited me as a casual bird observer. You don't have to be a serious avian enthusiast to enjoy this, for the connections made with the lives of people have wide appeal.
Jennifer's Picks
The Short and Tragic Life of Robert Peace is as the title promises, no surprises there. Jeff Hobbs writes the story of his Yale roommate Rob Peace, an incredibly bright young man who came from the streets of Newark. This audiobook had me thinking about socio-economic issues, race, class and privilege, and ultimately the gravity of our own choices.
Love and Other Foreign Words by Erin McCann is a young adult novel that I loved so very much. It was funny — like laugh out loud funny in places — with an interesting setting (well, if Josie's genius brain is considered a setting). It's great realistic fiction, and I recommend it without reservation for teens and adults who love teens.
God is Just Not Fair is the first book I've read by Jennifer Rothschild, and it hit all the right notes with me. It combined her own experiences with scripture to give me a much fuller picture of who God is, especially through the lens of a trial. I loved this book so much that I've purchased at least 5 copies for other people in the last six months.
Nancy's Picks
A Long Time Gone by Karen White — Using what I call the past-and-present technique, White weaves together a story with themes of anger, resentment, racism, and forgiveness in this novel set in the deep South.
Landline by Rainbow Rowell — What would you do if you picked up an old rotary phone, dialed a number, and found yourself talking to someone in 1998? That's what happens to the protagonist in this fun novel full of pop culture references and sitcom-wacky characters.
Elizabeth's Picks
Elizabeth Is Missing: I enjoy books that stand out, that are unusual in some way, and Elizabeth is Missing, written from the point of view of a woman descending into Alzheimer's, is both humourous and heart-breaking. The author does a fantastic job of making reality clear to the reader while maintaining the protagonist's own confusion. It's a lovely book, filled with love and family and even a decades-old unsolved murder mystery.
The Pearl that Broke its Shell: It's funny that Dawn recommended a non-fiction version of this story, about a girl in Afghanistan who dresses as a boy in order to be allowed to attend school and shop unmolested. This book goes on to tell her later story, married off young, but unusual in her ability to read and write and the doors that opens for her, albeit in a limited way because of her circumstances. It also looks at another bacha posh ("dressed up like a boy"), the current girl's ancestor, and what she faced in her quest to live a peaceful life. Truly an inspiring book.
Citadel: Set in the Languedoc region of Southern France during WW2, Citadel tells the story of a cell of the Resistance composed almost entirely of women, but what makes it more than simply a war story is that it tells how these women came to be involved in the first place. On top of that there's this mysterious Codex which must be found, which adds a sort of Raiders of the Lost Ark feel to things. It's a great read, long but that quickly becomes an asset as you don't want it end.
Michelle's Picks
Flesh and Blood by Patricia Cornwell is her latest foray into the life of Dr. Kay Scarpetta. I can't even count how many books there are in this series now, and I'll be honest that I hadn't read many of her recent books. This mystery picks up with the characters I'd grown to know and love though they've grown and changed over the years, as well. I loved having them not be cookie cutter characters who are stuck in time, and the mystery of who could possibly be behind the expert marksman shootings in Boston is, as always, a joy to discover along with the characters in the book. The plot is never a straight path, and the flaws and foibles of every character come into play, making them that much more human as they attempt to determine what really happened and – once again just as important – why.
The Art of Arranging Flowers by Lynne Branard was one of those books I expected to be nothing but literary fluff. I could not have been more wrong as the heartrending emotional connections created within the book drew me into it much more deeply than I ever would have imagined. Ruby Jewell never intended to become a florist, but the flowers healed her from her gut-wrenching grief, and she uses them to provide solace and answers for all those in her small town who come to her. Bad things happen in the book, and characters make the wrong choices, all of which only makes the book that much more real and appealing. You feel as though you are in Creekside with Ruby, Will, John Cash, and Don, and that's exactly what I want from a book.
Don't miss all our great reads of 2015
Subscribe to our 5 Minutes for Books feed. Follow us @5M4B on Twitter or on Facebook. Check out all of our 5 Star Reads.