Print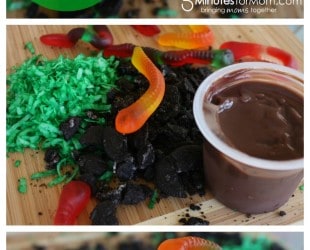 Dirt Cups for Earth Day
A chocolaty fun, hands-on treat for kids
1

four-pack Jello chocolate pudding

10-12

Oreos

¼

sweetened shredded coconut

Green food coloring

Gummy worms
In a small bowl, add a 2-3 drops of green coloring to shredded coconut. Mix until well coated and green. Set aside.

Add Oreos to a Ziploc bag and smash with mallet until crumbly. Add crumbles to chocolate pudding.

Top Oreo crumbles with green coconut. Add a one or two gummy worms to "grass", burying the tail into the Oreo "dirt".