Print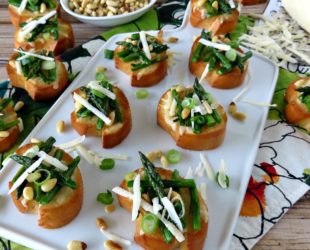 Roasted Asparagus and Parmesan Crostini
An easy appetizer recipe that will impress your family and friends.
Preheat the oven to 500F.
For the butter:
Add the butter, one tablespoon of olive oil, and the garlic cloves to a small pan.

Place the pan over medium heat until the butter is melted, and then turn the heat down to low.

Let this hang out over low heat while you continue with the rest of the recipe.
For the pine nuts:
Pour the pine nuts into a small pan over medium heat.

Let them cook for 2 to 3 minutes, stirring frequently. Be sure to watch them carefully because they can burn quickly.

Immediately remove them from the pan, and place them in a bowl to cool.
For the asparagus:
Trim the tough ends off of the asparagus and discard.

Cut the asparagus into 1" pieces, and place on a baking sheet.

Drizzle with one tablespoon of the olive oil followed by the salt and pepper.

Toss to combine, and place the pan in the oven for 3 to 5 minutes or until the asparagus are tender.

Remove from the oven, and set aside to cool.
To prepare the baguette:
Turn the oven up to broil.

Slice the baguette into rounds, and arrange on a foil or Parchment lined baking sheet.

Remove the garlic cloves from the butter and pour the butter through a strainer to remove any small pieces.

Liberally brush the garlic butter over each piece of bread followed by a little Parmesan cheese.

Place the pan in the oven about six inches under the broiler.

Cook for one to two minutes or until the edges of the bread just begin to turn golden brown.

Remove the pan from the oven, and set aside to cool for a minute or two.
To assemble the crostini:
Arrange the pieces of bread on a serving platter.

Top each piece of bread with a few pieces of asparagus followed by some pine nuts, green onion, and extra Parmesan cheese!