This post may contain affiliate links. Read my disclosure policy here.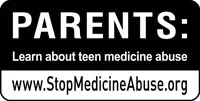 Today Janice and other bloggers on behalf Consumer Healthcare Products Association (CHPA) on behalf of the leading makers of over-the-counter (OTC) cough medicines and the award-winning Five Moms campaign are meeting with staff members on Capitol Hill to discuss medicine abuse among teens and the many ongoing efforts to educate parents about the issue.
So I thought we should continue the conversation here at 5 Minutes for Mom.
Last year, Jennifer and several other bloggers and journalists attended the Not In My House awareness launch in New York City.
Here is an excerpt from Jennifer's post about the event…
When it comes to drug and alcohol abuse, most of us firmly abide by the mantra, "Not in my house." Not only do we prohibit the dangerous and illegal behavior under our roofs, but we also don't think that we could ever be the parents of a child who gets involved in substance abuse.

Yesterday I had the opportunity to get together with some other bloggers and other journalists in New York City at the Not In My House awareness launch. This campaign is sponsored by Abbott Labs and the Partnership for a Drug-Free America. My eyes were opened to some habits and parenting practices that might be interfering with preventing the spread of a new drug that is gaining popularity among teens.

You may think that because your children are pre-schoolers that you don't have to worry about this yet. To that objection, I would pose a question to you: Do you ever have teenagers in your home?

As I was learning about the abuse of prescription drugs that has been on the rise in the last five years and continues to increase, I was thinking about my daughter, who will enter Intermediate school next year, but I immediately thought about the babysitters who come into my home, and even my daughter's friends who spend time here. Even if it's not your child, there may be someone who comes to your home trying to obtain some of your prescribed drugs for their own illegal use.

Did you know that prescription drug abuse is the drug of choice for many kids, ages 12 – 17? One in five teens admit to taking prescription drugs that were not prescribed to them.
What Is Happening At Your House?

Sharing and learning from each as parents is key to helping our children.
Please share your experiences and the lessons you have learned.
Have you talked to your children about prescription and OTC medications? What was their response?
Written by Susan, co-founder of 5 Minutes for Mom
Make sure you've got our feed in your reader!