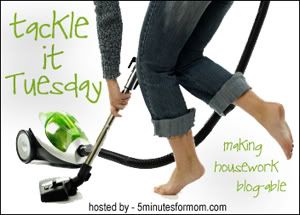 Does playing taxi for Julia and Jackson count as a tackle?
Janice is out of town (she's in Washington, DC helping spread the message about OTC cough syrup abuse) and so I'm here playing school-bus driver.
I REALLY wish we HAD a school-bus that took our kids to school. But no such luck.
Jackson and Julia go to different schools (Julia is still in preschool) in different neighborhoods and at different times. So, while Janice and I both pay for childcare for our 2 year olds, our work days are still very interrupted by driving to school. And when Janice is away, I do double duty.
Anyway, so I'm blaming my lack of a tackle on being a taxi driver with far too much work to do and not nearly enough time at my desk. LOL.
Have you been a better housekeeper than I? (It's not hard to beat…)
Tell me what you're up to with all your other tackles… housework and otherwise… add your link to your tackle in the Mck Linky below!
Each week on Tuesday, we are posting before and after pictures of a project or trouble area that we tackled this week.

Find out more about Tackle It Tuesday here.
The project can be little or big – whatever you want.

Basically, Tackle It Tuesday is about giving ourselves incentive, deadlines and satisfaction in getting our household tasks done.

(It doesn't even have to be housework… just whatever is on your To Do list.)
If you tackled a project this week, just add a comment and add your link below.
Happy tackling ladies…
Written by 5 Minutes for Mom co founder, Susan Carraretto.
Do you have our feed in your reader?
By the way, do you know that Janice own two online toy stores — a Pedal Car store and a Rocking Horse store.