This post may contain affiliate links. Read my disclosure policy here.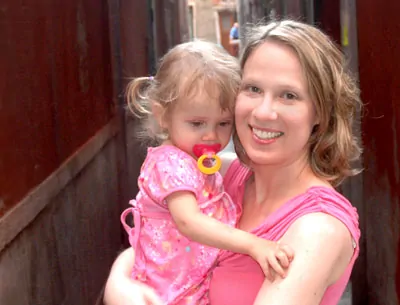 Sophia is 2 and I haven't even started thinking about taking away her paci (or soother as we call it).
But I was over at 5 Minutes for Parenting and read this post by Rachel.
At 2 years and 3 months old, Rachel decided it was time to take away her little girl's paci. But surprisingly… it was Rachel that had second thoughts…
… [Her daughter] went to sleep happy, with no problem…

I, on the other hand, had second thoughts.

A couple hours after bedtime, I started missing the paci.

I missed the cuteness, the ability to quickly bring her comfort, the availability to give her a paci on a car trip and her to know immediately that it's time to go nite-nite in the car, our conversations about paci, the way she removed her paci every night before giving me a kiss, I missed it all.

Why am I taking away her paci again? Because it was all I could do to keep from running into her room, waking her up, and begging her to take the paci back.
And that is exactly how I feel now… I don't want my Sophia growing up. I want her to stay a baby who is soothed by a pacifier and snuggles up to sleep next to me.
But, I know it can't go on forever… one of these days I'm going to have to help her give up her soothers. But WHEN and HOW???
Please tell me when and how you and your child let go of pacifiers?