This post may contain affiliate links. Read my disclosure policy here.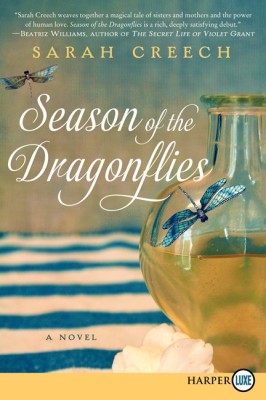 Serena, promised to a man she doesn't love because it's a good business decision, runs away to Borneo with another man. After bearing two daughters and relishing their life in the jungle, they are forced to return when the stock market crashes. They bring with them a variant of a gardenia that reaches for Serena when she is nearby, launching a perfume company using the mystical plant.
100 years and 3 generations later, the Lenore family business is thriving. Their special perfume is sold only to women who use it to nurture their talents – actresses, politicians, corporate heads and others are successful because of the Lenore fragrance. Lenore Incorporated is run by Willow, Serena's granddaughter, who has been having difficulty with her memory. Willow's eldest daughter, Mya, has been groomed to take over the company, but she's rash and headstrong. Younger daughter Lucia, who ran away at the age of 18 to become an actress, has returned to their home in the Blue Ridge Mountains on the heels of a failed marriage and career.
Lucia doesn't know what she's coming home to. The gardenias are suffering from some kind of disease and the year's crop is in danger. Mya has made a mistake that could expose the business's secret. And Willow's memory issues are worse than they appear.  Lucia also runs into Ben, the high school boyfriend that she left behind, bringing up forgotten guilt and resentments.
As the Lenore women try to figure out what's wrong with their gardenia, they have to do damage control to fix Mya's mistake, which brings down the curse threatened by Serena if the formula is altered. They also have to deal with issues with their men – Mya's boyfriend wants more than she does, Lucia has to deal with her feelings for Ben while still grieving her recently ended marriage, and Willow runs into an old flame who increases her desire to retire.  And the more time Lucia spends around the business, the more she realizes that she does want to take over for Willow.
Season of the Dragonflies by Sarah Creech is a wonderful novel with strong women and a rich setting that the reader can see and smell. The magical realism works well and the flower's powers are believable.  This is a story of love, forgiveness, and family, and one I recommend.
Win it!
Follow the instructions below to get one or more entries (U.S. residents only):
Find More
Find more great book suggestions on our Books Pinterest Board.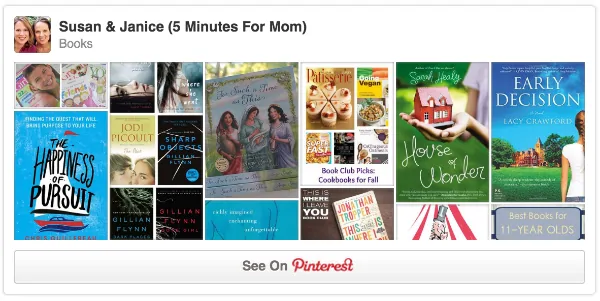 Follow all our Pinterest boards at pinterest.com/5minutesformom