This post may contain affiliate links. Read my disclosure policy here.
Janice here with three quick, tasty and healthy breakfast ideas for Back to School. Even with our rushed routine and my picky eaters, these morning meals are a hit.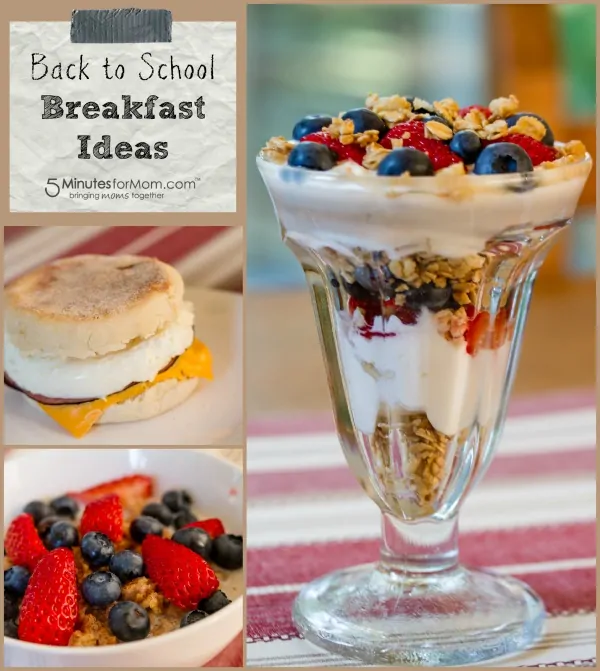 I am not a morning person.
In fact, if it were up to me, school would start at 11am. I would get my kids up at 10am, have a leisurely breakfast and then walk to school.
But school does not start at 11am. It starts at 8:30am. And I do not get to do anything leisurely in the morning. I have to get two kids up, fed, lunches made, dog walked, and all of us out of the house by 7:50am so I can drive my son to his school fifteen minutes away before dropping my daughter at her school, which is actually only one block away from our house.
So, breakfast has to be fast. Everything has to be fast. But I also want my kids to have a good breakfast before they start their long school day.
This year, as I get ready for back to school, I thought I would share a few FAST back to school breakfast recipes in case you need your mornings to move quickly, but want some breakfast for kids ideas that are healthy and delicious.
Breakfast Parfait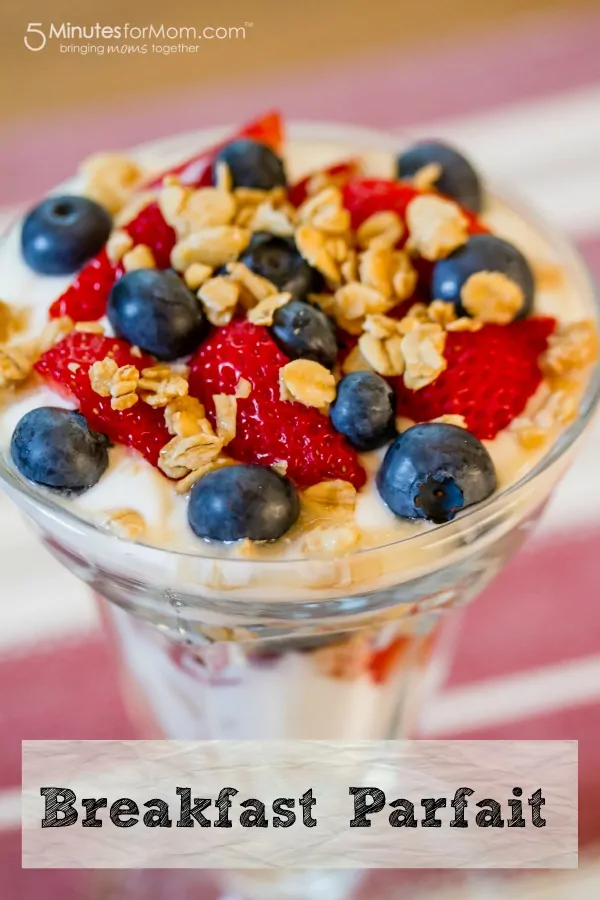 We eat a ton of yogurt in our house. But guess what? We eat PLAIN yogurt! I only eat plain yogurt, and as often as possible, I serve my kids plain yogurt versus the sugar-filled flavored varieties.
If you are wondering how I am able to convince my sugar-loving children to reach for plain yogurt instead of flavored, I have a few tricks. First, I started them on plain yogurt early, so they got used to the taste. Second, if they want more flavor, I add fruit and/or granola. And third, if they are in a mood for "sweet" yogurt, and I don't have any fruit handy, I put a little jam in their yogurt and stir it up.
To make breakfast a bit more special, try a Breakfast Parfait. It doesn't take much more time to layer yogurt, granola, and fruit in a parfait glass, but it sure makes breakfast more exciting.
And for First Day Back to School fun, you could top it off with a dollop of whip cream too!
For this parfait, I used plain Greek yogurt – but just a warning that I find that plain Greek yogurt needs the extra flavor of fruit and granola. When we eat plain yogurt by itself, it is usually not Greek-style, but rather a 2% or low fat plain yogurt. Also, I am picky on which brands I like. If the first plain yogurt you choose isn't your favorite, try again. Different brands and different amounts of fat can change the taste considerably.
Skip-the-Sugar Cinnamon Oatmeal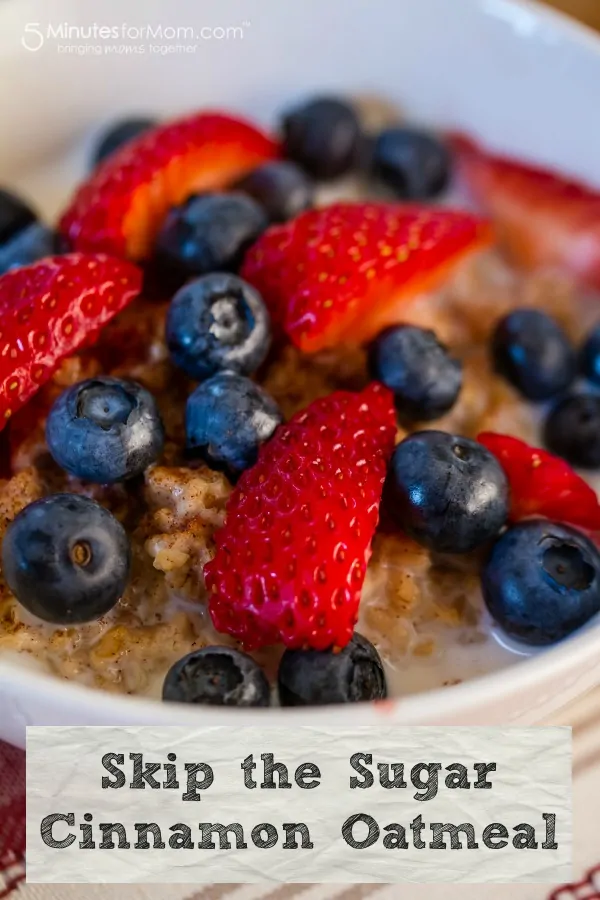 Another staple in our kitchen is Instant Oatmeal. Only, I rarely buy the individual, flavored packages. I save money and unnecessary sugar by buying the big bags of Quaker Instant Oats.
When it comes to making oatmeal, I no longer measure. I go by "feel" and habit. (Remember — I am moving FAST in my kitchen in the morning. But no worries – Quaker lists measurements on the bags.)
I add a bit more than a cup of water to a bowl, about a 1/3 cup of oats, a heavy pinch or two of salt, and a few pinches of cinnamon.
The KEY to making oatmeal that your kids will eat without a ton of added sugar is SALT! Yes, if you add in a bit of salt when you cook the oatmeal, it brings out the flavor of the oats. To me, oatmeal cooked without salt is unpalatable and I am tempted to dump in brown sugar to compensate.
I stir together the oatmeal, water, salt, and cinnamon in the bowl and then pop it in the microwave for one minute.
Please note that oatmeal can have a tendency to "blow up" in your microwave. Now, it doesn't really blow up, but it gets super hot and bubbles up "with intensity" all over your microwave.
To keep my microwave clean, I put a small plate over top of the bowl while I am cooking it. By using a small plate, I avoid using plastic wrap.
After cooking, I stir and let it set for a minute while I add sliced fruit or blueberries. I top with milk and sometimes a dash more cinnamon.
Breakfast Sandwich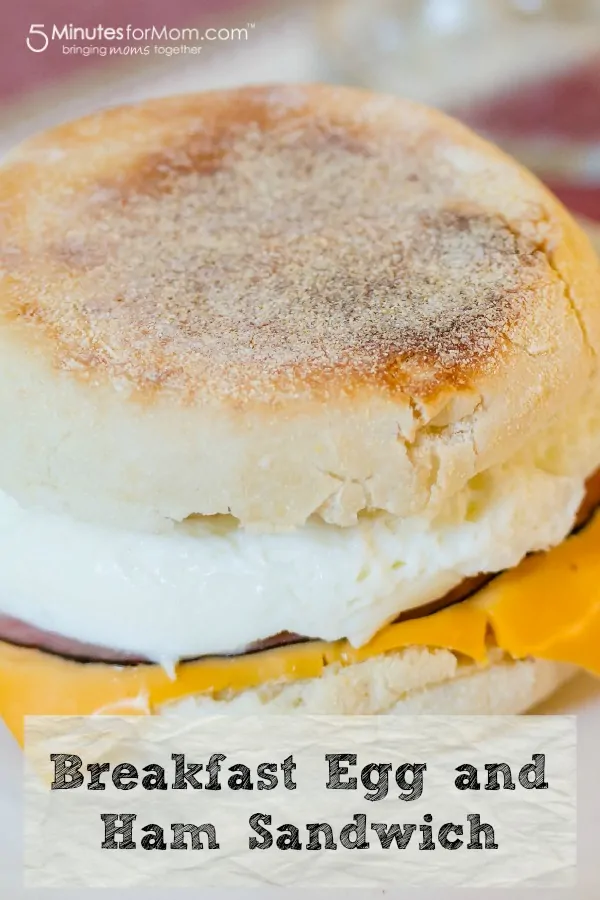 When it comes to eggs, I usually make mine on the stove. The great thing about eggs is they cook so fast, that even the stove-top methods are quick enough for me.
But, if you are in a hurry and your microwave is your friend, you can cook your eggs in one minute in the microwave.
I added two eggs to a small, glass bowl, gently broke the eggs with a fork, covered the bowl with a plate, and microwaved for one minute.
Then I simply served the cooked egg on a toasted English Muffin with a slice of cheese and some ham. If you want to melt the cheese, just pop it all back in the microwave for 10-15 seconds.
Here is a quick video I made about these back to school breakfast ideas for those of you out there watching YouTube for your recipe ideas…
More Back To School Video Posts
Check out the following videos from our blogging friends to find more favorite tips, tricks and trends for back to school.
{5 MUST HAVE APPS FOR BACK TO SCHOOL}
by Corine Ingrassia
____________________________________
{TWEEN BACK TO SCHOOL STYLE}
by Jo-Lynne Shane
____________________________________
{AFTER SCHOOL SNACK IDEA}
by Kristin Swenson
____________________________________
{FIRST DAY OF SCHOOL BREAKFAST IDEAS}
by Susan Carraretto & Janice Croze
____________________________________
{ORGANIZING 5 BACK TO SCHOOL SPACES}
by Molly Gold- Organization
____________________________________
{BOYS BACK TO SCHOOL FASHION}
by Audrey McClelland
____________________________________
{BACK TO SCHOOL SUPPLY FAVORITES}
by Melissa Chapman
Find More Recipes
Join us on our Recipes Pinterest Board for more recipe ideas…
Written by Janice Croze, co-founder of 5 Minutes for Mom
Talk with me: @5minutesformom and Facebook.com/5minutesformom
Pin with me at http://pinterest.com/5minutesformom/