This post may contain affiliate links. Read my disclosure policy here.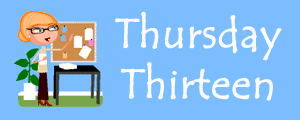 13 Reasons I Need My Twin
I can wake her up at midnight because I can't get my mister linky code to work. (Yup, drove over to her house in my pj's at midnight and got her out of bed. It is currently 1:08 am and she is working away on my post while I type this. LOL)
I can get her to watch my son so I can nap cause I was at my computer all night.
Twice the wardrobe.
Her daughter is the closest thing to a "sibling" my son has.
I have a baby girl to buy cute pink clothes for.
I have someone to talk to anytime about anything.
To do all the techie work for our business.
For her husband's advanced technical support.
To proofread. (She's no editor, but better than nothing.)
To Tivo "The Office" for me.
For a reality check when I am obsessing.
To fight with.
To be the ultimate Auntie for Jackson.
Get the Thursday Thirteen code here!
The purpose of the meme is to get to know everyone who participates a little bit better every Thursday. Visiting fellow Thirteeners is encouraged! If you participate, leave the link to your Thirteen in others comments. It's easy, and fun! Be sure to update your Thirteen with links that are left for you, as well! I will link to everyone who participates and leaves a link to their 13 things. Trackbacks, pings, comment links accepted!
View More Thursday Thirteen Participants