This post may contain affiliate links. Read my disclosure policy here.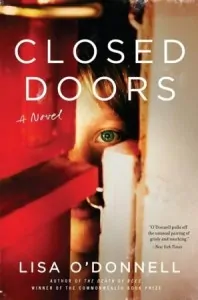 Things aren't so great in 11-year-old Michael Murray's life at the moment. His dad has been out of work for a while, which makes things strained between him and his mom. And then one night, Michael's mom comes home upset and bloody. Michael listens behind a closed door but can't quite figure out what's going on. Finally his dad and grandma tell him that she ran into a flasher in the woods. But is that all it really was?  Michael is determined to find out, so he keeps listening at Closed Doors
I listen at doors now. It's the only way to find out stuff. No one tells me anything (page 19).
The entire story is told from Michael's point of view, which is an interesting device at times and slightly repetitious at others. It really takes one back to the thinking and actions of 11-year-olds. That said, if you think that it makes it a clean novel, you'd be wrong. There is plenty of cursing, which is not too far off the mark for boys from  working-class families in a small Irish town.
In addition to trying to figure out what really happened — and if there's anything he can do — he's busy with neighborhood friends Fat Ralph and Paul, trying to impress his crush Marianne and stay away from his enemy Dirty Alice. He's practicing keepy uppies with his soccer ball in hopes of blowing the other kids out of the water at the neighborhood talent show.
What I liked most about this was the look at a family from the eyes of a child. He's old enough to make assumptions, to be able to express his fears and worries and observations, but throughout — even in the midst of real trouble — he's self-centered in an age-appropriate way.
Kids are mostly not allowed to know anything about grown-up stuff. Marianne's ma an da are probably fighting about it every night but Marianne will be asleep or pretending it's just a normal fight (page 62).
This book shows us the life of a family, the life of a town, and in particular the life of one boy.
Find out more at the TLC Blog Tour page for Lisa O'Donnell and follow her on Facebook or Twitter.
Looking for great summer reads for you or your kids? Stay connected with 5 Minutes for Books: Check out our current giveaways. Subscribe to our feed. Follow us @5M4B on Twitter or on Facebook.
Enter to Win
One of you can win a hardcover copy of the book. Follow the instructions in the widget below.