This post may contain affiliate links. Read my disclosure policy here.
Our girls LOVE to play "spa". Pretending to pamper and be pampered at a spa ranks as one of their favorite activities, so here's how we host a DIY spa day for girls and/or boys…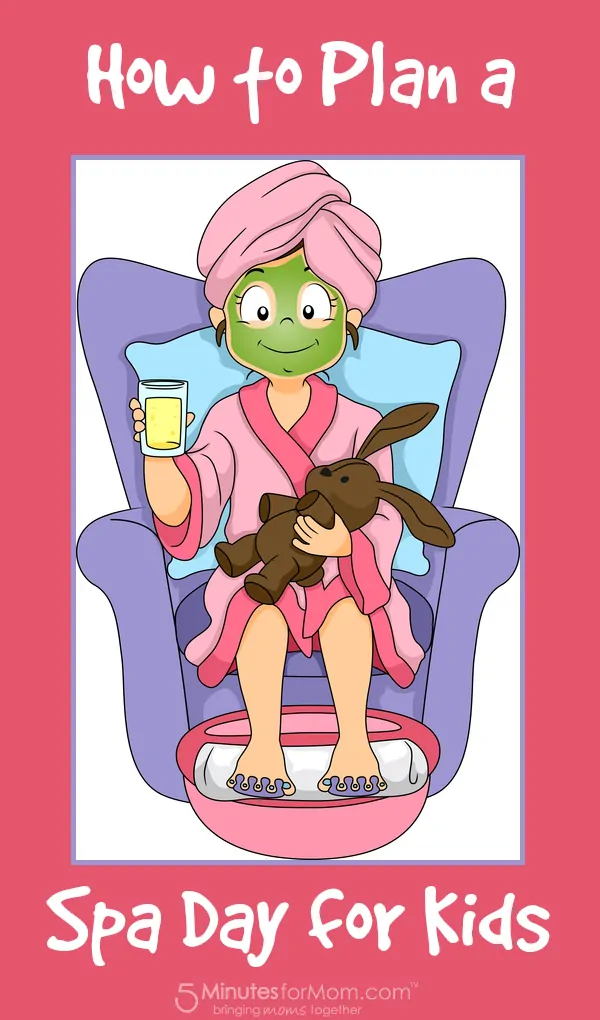 While they've been playing spa for a couple years, now that Julia is 9 and Sophia and Olivia are almost 7, all three girls are super into it.
Often they'll just do a simplified spa by themselves but, some days, I help out and we make it a bigger affair.
Here are 10 steps for hosting a DIY spa day for girls…
Prepare Your Salon
We lay out pink beach towels so each girl has her own "salon bed". Some days the girls put out umbrellas next to their towels to pretend they are at the beach or at an outdoor spa. You can keep this really simple or add a few extra touches like rolling up extra towels to make the scene look a little fancier.




Select Nail Polish
Have each girl pick out their preferred polish color for their nails and their toes. I like to keep the fingernail polish a lighter shade, but I give them freedom in their choice.

You'll want to remind kids that they can't use real nail polish without an adult helping. Explain to them how nail polish does not come out of carpet and clothes.




Make Lemonade or Tea
Your little spa girls will want to sip on a beverage as they relax before, during or after their treatments. I serve their drinks in cups with lids and straws to prevent spills.

Make a Homemade DIY Facial Mask
Our favorite mask is a simple combination of avocado, oatmeal and honey. There are an endless number of DIY mask recipes on Pinterest.

Put on Relaxing Music
I usually just pull up an Enya song or something like that on my iPhone. Or you could stream soothing classical music for kids. Playing soft music is such a great tip for a fabulous spa day for girls at home. (And the music helps "Mom" relax too.)

Apply Face Masks
The girls may choose to apply the masks to each other, or you can apply it for them. Our girls also love to place cucumber slices over their eyelids. Have a handheld mirror nearby or the girls will likely jump up and run to a mirror to see how they look. They may get such a laugh at how they look that they'll want to take a selfie. It's all part of the fun!

Massage Feet and Hands
Using a nice lotion (possibly lightly scented), massage the girls' hands and feet while their masks dry. The massage will help calm them back down after any giggles from face mask photos.

Remove Face Masks with Warm Cloths
My girls love how it feels when I use a warm cloth and a basin of water to remove their masks while they're laying on their "salon mats". If you've had a facial at a salon before, think of how the esthetician places the warm towel on your face to loosen the dried mask and then gently wipes and washes the mask off.

Have Manicures and Pedicures
The best part of an at home spa day is having your nails painted. Even if you don't consider yourself a pro at painting nails, your kids will love having you give them manicures and pedicures. Our girls love to laugh as we place rolled up tissue between their toes before painting. Just take your time, and don't worry about it being perfect.




Relax While Polish Dries
You may want to read a book to the girls while their nail polish dries, or if you need a break, put on a movie for them and YOU take a turn relaxing.
I hope you have fun hosting a spa day with your kids!
Kids Spa Party Ideas
As well as having many impromptu spa days for our girls, we also hosted a kids spa party for one of Julia's birthdays and one of Olivia's birthdays.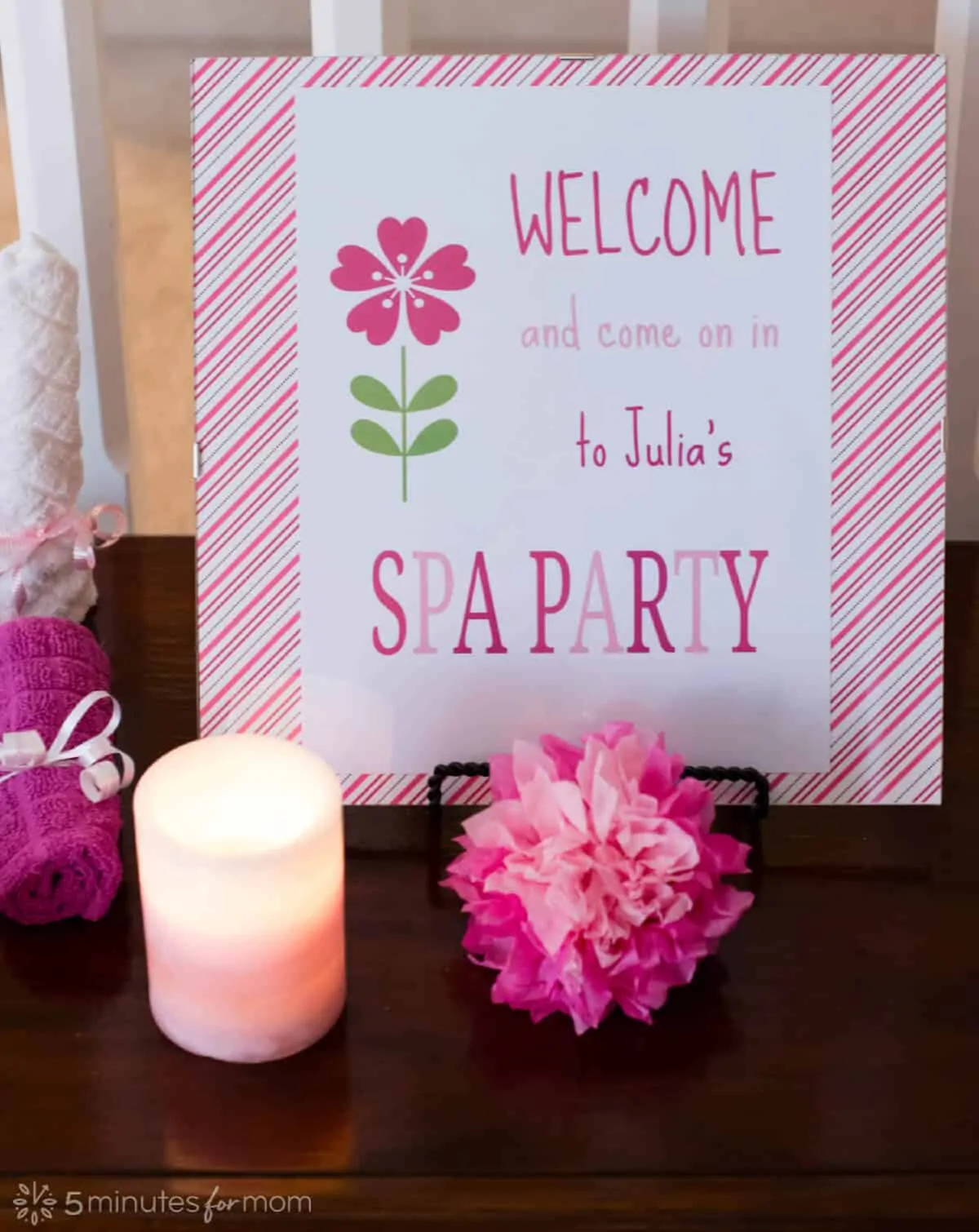 To make the spa day extra fancy for a party, we decorated and printed out a "Welcome to our Spa Party" sign.
If you're having several girls at the spa day party, you may want to have extra adults available to help paint their nails and give massages.
UPDATE: With the current stay-at-home orders, you may not be able to have friends over for a big party. But you can still host a fantastic little spa day party with your family at home.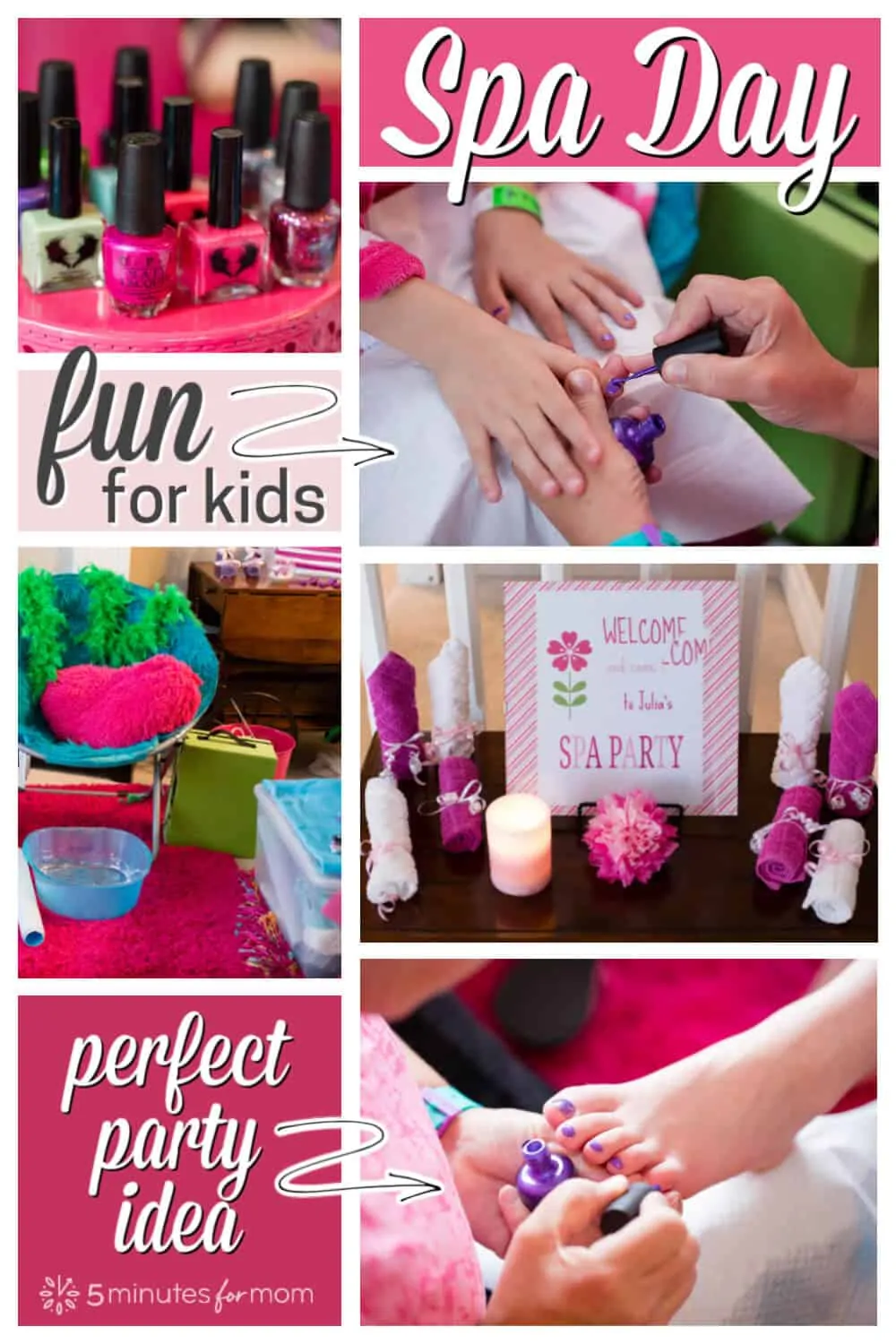 We also had a craft station set up where the girls who were waiting for their "spa treatments" could craft. You could have each child make a DIY lip balm or a DIY aromatherapy neck pillow.
Our girls had so much fun. We hope these kids spa party ideas help you and your children also have a lovely time celebrating and relaxing together.
Pin It For Later
Be sure to save these ideas for a spa day for girls and/or boys to your Pinterest board…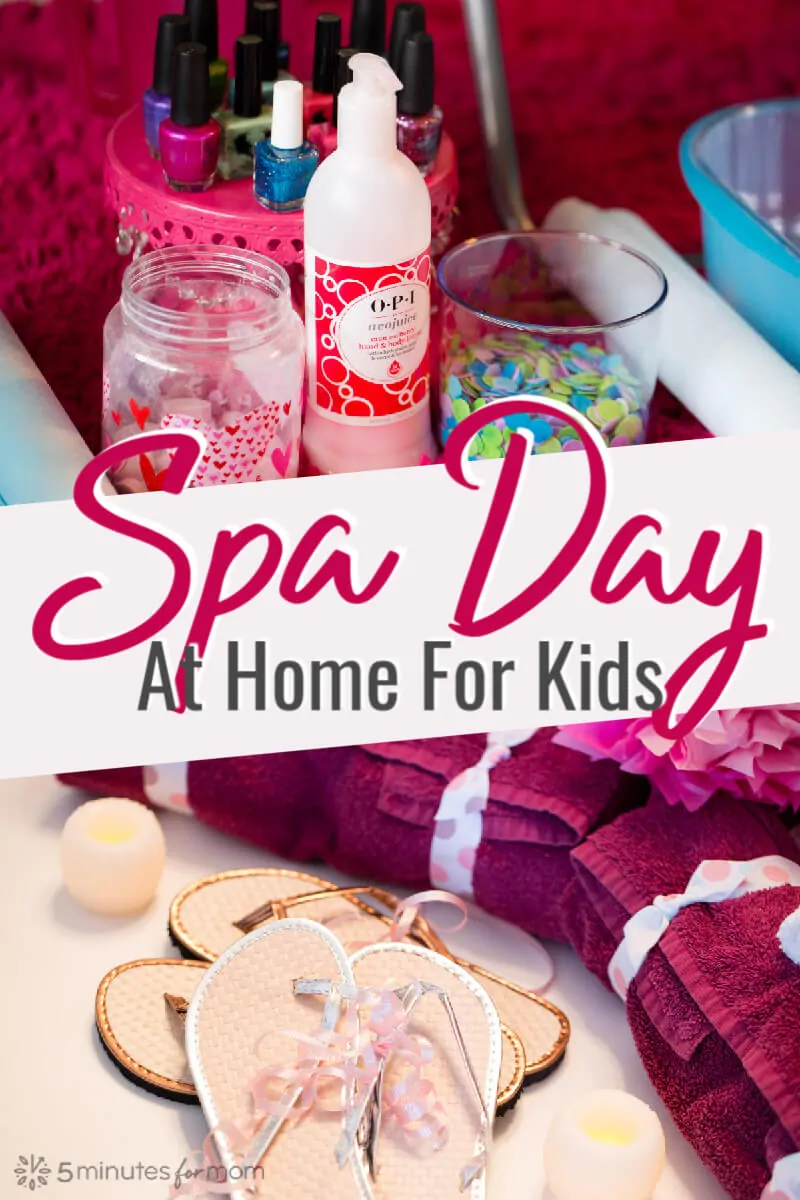 More Fun For Kids (That's Relaxing Too!)
If you're looking for another fun activity for your girls and boys that's also relaxing… try playing with Kinetic Sand. You can keep kids happily playing for hours and you'll also enjoy how soothing it is. It's the perfect calm activity to end your at-home spa day.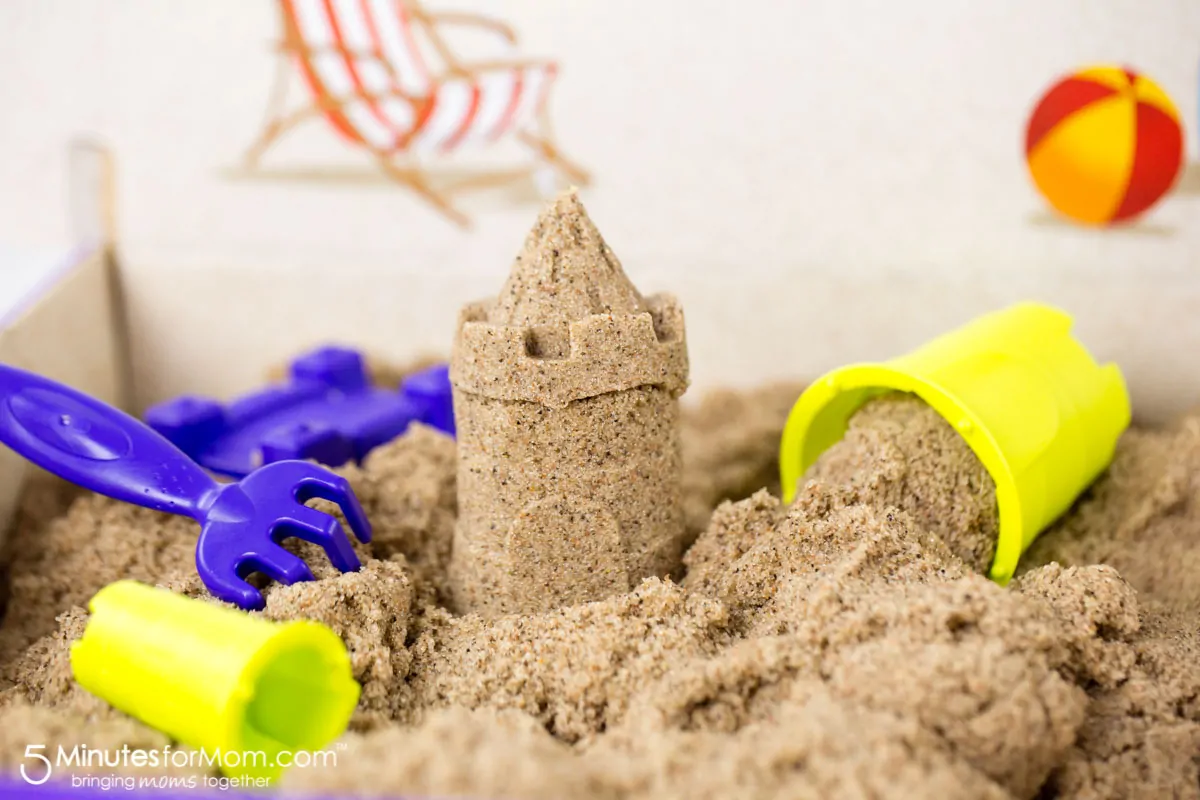 Find More DIYs For Girls
For more fun ideas, check out our other crafts and DIY blog posts and Kids Activities Pinterest board.
Written by Susan Carraretto, co-founder of 5 Minutes for Mom
Talk with me: @5minutesformom and Facebook.com/5minutesformom
Pin with me at pinterest.com/5minutesformom