This post may contain affiliate links. Read my disclosure policy here.

I'm sneaking in this "Works for me Wednesday" just before the end of the day…
I was doing my evening blogosphere rounds, and I found Chaotic Home's brilliant idea for this "Works for Me Wednesday" post started by Rocks In My Dryer.
I just loved Chaotic Home's tip – make sure you check it out – and after reading it, I quickly hopped over to Rocks in my Dryer. Totally inspired by these ladies' wisdom, I decided I must share their ideas with you in case you hadn't already seen them.
As for my idea – well I phoned Susan (techie twin and the other half of 5 Minutes for Mom) and asked her if she could think of anything that worked. So she suggested her daughter's favorite "toy."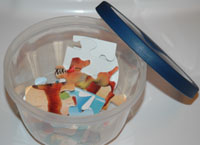 Yes, 11 month old Julia has
a house full of toys, but her favorite toy – the one item sure to fascinate, entertain and calm her down, even in the middle of the night – is a plastic bowl, complete with lid, filled with puzzle pieces.
She will shake, open, remove and replace for endless entertainment.
Go figure… but it works for us.