This post may contain affiliate links. Read my disclosure policy here.
Tackling Susan's Kitchen Chaos
Today Jackson and I were over at Susan's house. Susan and I share looking after Jackson and Julia so that while one of us is with the kids, the other one can work (or sleep if we worked till the wee hours of the night.) We hop back and forth between our houses – fortunately we live only two blocks apart.
Susan's home is a townhouse and doesn't have a ton of space. We also have the office for our business there, so it is a constant battle to keep the house under control and find places for everyone's stuff.
But the biggest problem we have keeping the house tidy is our lack of time. We are all crazy busy! Our Mom works in our office at least 14 hours a day and Susan's husband's job requires him to work insanely long hours and lately he is rarely home. So Susan and I mind the kids and try to get some work done. We are both so constantly behind and desperately trying to make our way to our computers that our houses can get very messy!
We try to purge our messes regularly so that we can keep things under control, but lately Susan's house has been getting really crazy!
Today, as we tried to find room for Jackson to eat his dinner at the kitchen table, he said, "You really should clean up this mess."
"Yes, Jackson we really should," we all agreed.
"Why don't we tackle it for Tackle It Tuesday?" I suggested.
So after we ate our dinner, I started to tackle. (Wow – I am a nice sister or what?!?)
And you know when you start tackling and the adrenalin starts going? Well, I not only tackled the mess in the kitchen, I sorted two other big bins of mixed up toys, moved the toys into smaller containers, found homes for those containers and put away the infant toys into their garage.
I washed the highchair (that served only as a catch all for clothes and other misc. items people would pile up as they came in the house) and Susan's husband and I folded it up and added that to their garage as well.
If you were wondering about the filing box on the table, my mom had been doing some of the business's filing at the table the other day and still hadn't finished. (I put the box under the table so that she can finish up later.)
Finally, once I was finished at their house, I headed home in my messy van. Now I have tackled it a couple times, but it needed a quick purge too. So at 10:30pm, in the freezing cold, I tackled my van! Yes – when you are on a tackling role you just have to go with it! If only I had more time and energy – I have so many tackles to do at my house – but they will have to wait.
It felt so great to get Susan's kitchen back under control. There is still a ton of sorting and tackling to do over there, but hopefully by the time this baby comes I will have both of our houses (temporarily) under control!
So – do you want to see the kitchen ? Be careful… this is frightening…
Here it is before. (Our poor children!!!) It is hard to see because of the filing box, but there is a bunch of stuff on the table that we pushed back so Jackson could eat.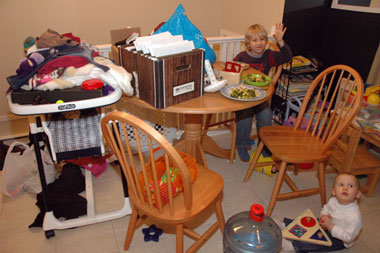 And here it is now. (I know – I am the greatest sister ever!!!)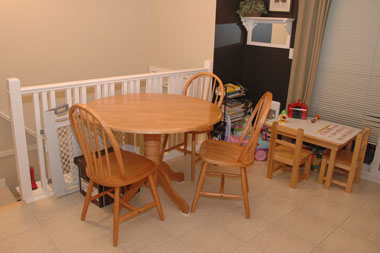 One important note:
Last week went a little bit off schedule. I am not sure if you heard my great news, but with all the craziness I didn't get to visit your tackles. In the entire history of Tackle It Tuesday, I don't think I have ever missed visiting you awesome tacklers. But this last week has been so busy. (And life just does not slow down when we need it too!) I have tried so hard to visit all you wonderful women who sent your screams of congratulations hurtling through the blogosphere, (you all are so awesome – I LOVE you) but I still have some more visits to go. As well, I have been trying to visit all the sites from the comments for the Ultimate Blog Party. I am still behind there too, but I am slowly getting there! And then today, due to a doctor's appointment and looking after the kids, I didn't touch my computer until now – and it is after midnight! I had hoped to get at least a couple hours of blog visiting in, but I am going to have to go give in and go to bed soon.
I am so sorry. I wish there were more hours in the day – or that I needed much less sleep! I constantly feel like I am failing in the blog visiting department. I try to visit everyone every time they comment. But lately, that has become impossible. I appreciate you all so very much – and I will be over to your place very soon!
So post those tackles girls – I will be over there asap!!!
Join Us For Tackle It Tuesday

We're making housework blog-able!

Each week on Tuesday, we are posting before and after pictures of a project or trouble area that we tackled this week.

Find out more about Tackle It Tuesday here.

The project can be little or big – whatever you want. Basically, Tackle It Tuesday is about giving ourselves incentive, deadlines and satisfaction in getting our household tasks done.