This post may contain affiliate links. Read my disclosure policy here.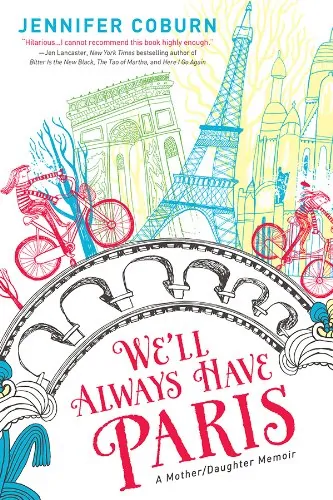 I love to travel. Last year I was able to spend a long weekend in Los Angeles with my 14-year-old daughter. It was SO much fun. I would love to travel the world with my daughter, but since that's not probably going to happen, reading about someone else doing it is probably the next best thing.
Jennifer and her daughter Katie take a trip to Paris when Katie is only 8 years old. A couple of years later, they take a longer trip to Italy, then one to Spain, and then they visit Amsterdam and Paris once again. We'll Always Have Paris: A Mother/Daughter Memoir isn't a travelogue, and it's also not an in-depth exploration of character either.
Jennifer has her reasons for wanting to travel. Because she lost her father when she was a young adult, she fears that she'll leave her daughter behind as well. She wants to give her the education and perspective that traveling abroad imparts, so she makes it happen. Over a span of 8 years, they visit some amazing places. I loved the balance they struck between sightseeing and sitting back and becoming part of the city. They had the luxury of taking extended trips, one of a whole month, which gave them the opportunity to do that.
I probably would have enjoyed getting to know a bit more about Katie or hearing how her travels affected her or their relationship, but this is really Jennifer's story. She flashes back to her time with her father as she was living in the present with her own daughter.
Anyone who has lost a parent will relate to Jennifer's years-long process of coming to terms with it and perhaps her trips with her daughter will inspire those who would love to do the same. I know that I'm hoping that I might be able to celebrate my daughter's sweet 16 with another trip.
Win it
I have a copy of We'll Always Have Paris to offer to TWO of you, US and Canadian residents.