This post may contain affiliate links. Read my disclosure policy here.
Susan here… I'm excited to share how Janice and I are using the Post-it Products Evernote Collection for a project we recently started. We have been compensated for our time preparing this post, but as always our opinions are our own.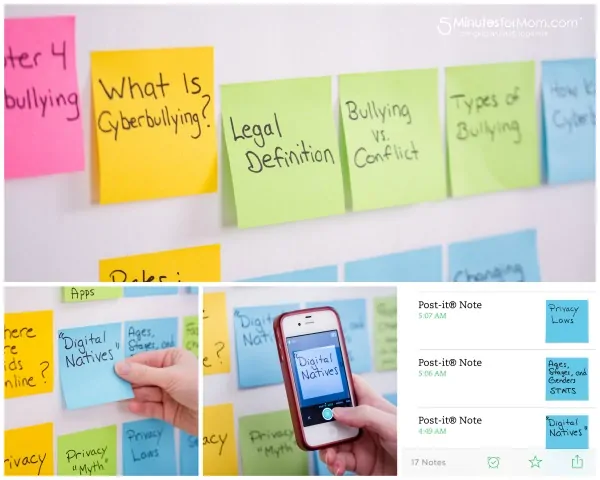 Janice and I work as a team. We share all sorts of jobs from carpooling our kids to managing this blog. And we are now embarking on another project together… we are writing a book!
While Janice and I may work together continually, we are rarely physically together. So we need to find clever ways to collaborate and brainstorm remotely.
Now that we are collaborating on writing our new book, we're loving using Post-it Notes along with Evernote to brainstorm topics, visually layout our table of contents and still stay in sync with each other remotely.
Here's exactly what we're doing…
Tools
Post-it Note Holder Quad, Post-it Super Sticky Notes, Evernote Premium, Smartphone and a black marker.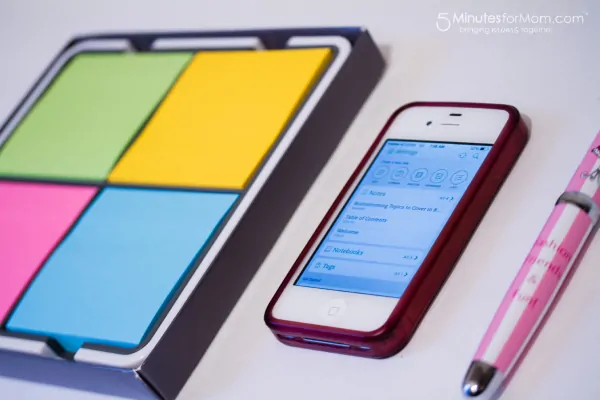 Look for Post-it Brand and Evernote logos on product packaging in stores to receive a limited-time subscription for Evernote premium service. Visit Post-it.com/evernote for more information.

Our Project
Janice and I are writing a book about "Internet-Proofing Your Kids For Life". Thanks to Angela England for suggesting the title.
We're using Post-it Notes to brainstorm topic ideas and lay them out visually to form our Table of Contents. And using Evernote's Post-it Note Camera feature, we capture and save our topic ideas in Evernote where they are automatically organized by color into the appropriate notebook and tagged with a keyword for future reference.
Step 1
We started out together at Janice's kitchen table with a few large white boards and lots of Post-it Super Sticky Notes. We got started brainstorming chapter names, sub-sections and topic ideas and then sorted them visually into the Table of Contents.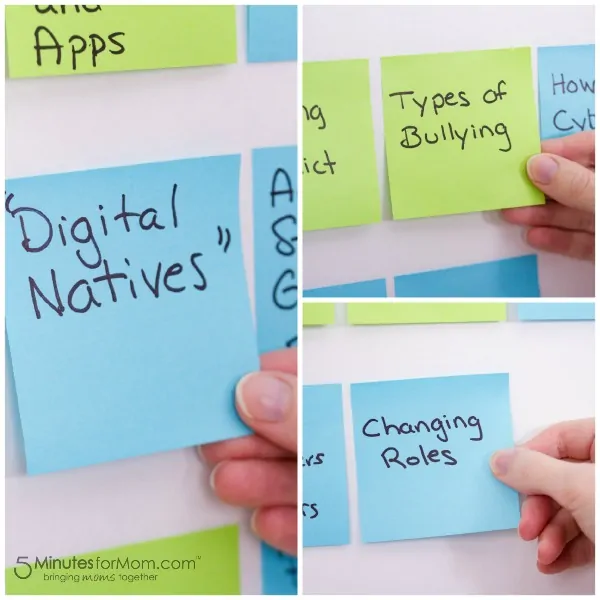 Since this will be a long process, we'll continue working separately but stay in sync through Evernote and I'll update the board as we go.
Step 2
Before snapping the photos to capture into Evernote, we changed a few settings to automatically sort based on color.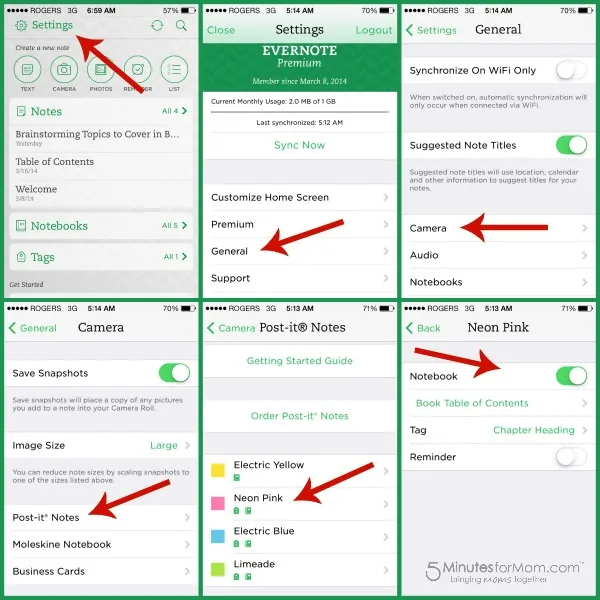 Neon Pink are Chapter Headings, Electric Yellow are Sub-Sections and we set both to go to a Notebook called "Book Table of Contents".
We set Electric Blue to go to "Book Topics – Susan" and Limeade to go to "Book Topics – Janice".
Step 3
We captured, uploaded and saved our notes into Evernote, by simply opening the Post-it Note Camera feature, and snapping images of the individual Post-it Notes. Like magic, our ideas were sorted and saved for us in the correct Evernote Notebooks.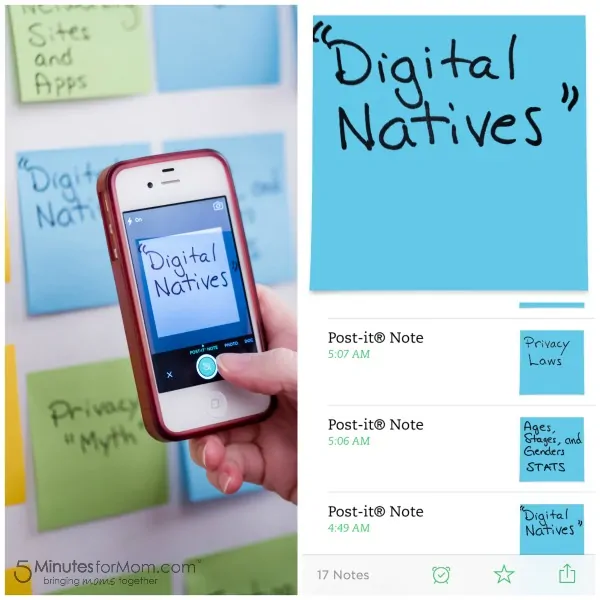 I love that with the Post-it Brand Evernote Collection everything is searchable, even our handwriting.
Sharing ideas and collaborating as we develop our book outline is so much easier with the Post-it Products Evernote Collection.
Now It's Your Turn
How would you use the Post-it Products Evernote Collection? Find tons of fun and helpful suggestions at Post-it.com/evernote and following Post-it Brand on Twitter (@postitproducts) and Facebook (http://facebook.com/postit).
UPDATED: Read Part 2
Read our follow up post…
Collaborating Remotely and Staying in Sync
Written by Susan Carraretto, co-founder of 5 Minutes for Mom
Talk with me: @5minutesformom and Facebook.com/5minutesformom
Pin with me at http://pinterest.com/5minutesformom/