This post may contain affiliate links. Read my disclosure policy here.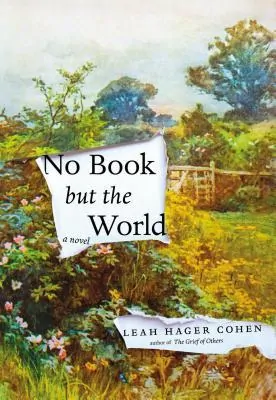 As I became pulled into the world of Leah Hager Cohen's newest novel, No Book but the World, I quickly discovered the type of character development that appeals to me the most– emotionally revealing, honest depictions of characters with layers to be peeled away as the pages progress. Soon, I discovered that the primary setting, that of the childhood home of the protagonist and other important characters, could almost be viewed as a character itself, for the important role that it plays both in the development of plot and the understanding of the other characters.
Raised by an idiosyncratic father and a subdued mother, Ava and her brother Fred didn't experience a typical childhood. Living on the grounds of the defunct school run by her father, their early education consisted of being sent out of their house and into the woods to seek out their own experiences. For years, Ava struggled with the feeling of being an outsider– among the larger world outside her community, as well as within her own family unit. Fred, though never diagnosed with a specific condition, has obvious developmental differences as he goes through childhood, and his differentness is absorbed by Ava as well, as both a physical and emotional responsibility that she must assume. She must be watchful for his physical safety, but she feels her duty truly lies in protecting him from a deeper emotional harm.
In adulthood, Ava finds some success integrating into the "regular" world that she longed for as a child. She marries, she works with young children as a music teacher, and she develops her own life outside of her parents' realm. But when she finds out that her brother has been arrested and charged with a harrowing crime, her life is put on hold. Ava longs to find the truth, but it is elusive, as is much of Fred's recent history since the death of their parents. In her heart, she wants to believe that her brother would never be capable of doing what he is accused of doing, but she doesn't know how to explain Fred to the people who need to know.
I was undeniably taken by this novel, and I know I'll want to reread it at some point. Emotional connections and disconnections are at the heart of this story, and they aren't as simple as black or white, present or nonexistent. There are gradations to the ways in which characters formed bonds with other people in the family and in the community surrounding them that made deep and long-lasting impressions in them past their childhoods. There is so much to analyze in this narrative– unique and multifaceted characters, nontraditional educational and parenting methods, and interactions that alternately shock and intrigue. I highly recommend this, though it is not a reading experience to be taken lightly.
Enter to Win
We have one copy of this intense and gripping novel to give away to a lucky reader. Please enter using the widget below. Giveaway is open to U.S. residents.