This post may contain affiliate links. Read my disclosure policy here.
Blogging is all consuming I know, but I was wondering if any of you visit forums too?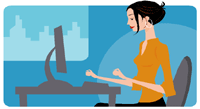 The first forum I visited, long before I began to work online, was a forum in Tracy Hogg's Baby Whisperer website. (I went to see if it was still active even after Tracy's passing and it is.)
I was using the Baby Whisperer Book
with my infant son. Exhausted and overwhelmed with the new world of parenting, I stumbled onto her site. The ladies on the forum, other moms with young children, were so helpful and encouraging. I remember retreating to the site late at night and finding comfort as well as helpful advice about how to get my nine-month-old son to sleep through the night. (He just wanted to nurse all night and I just wanted to get some sleep!)
Recently, I began chatting again on some forums.
My favourite forum right now is on Child Avenue http://www.childavenue.com/forum/ . It is a relatively small forum, which I like because you can get to know all the regulars really well.
I also visit another forum on Home with the Kids. This is also a small board and includes a lot of work at home moms.
I am new to Scrapbook.com, but I love it. They have a very active forum for scrapbookers. (I am so busy, I don't get there as often as I would like.) If you are a scrapbooker, check it out and don't forget to add me as a friend!
So do you chat and where? We would love to hear about where you like to hang out.