This post may contain affiliate links. Read my disclosure policy here.
Hello, 5 Minutes for Mom Readers! This is Sarah from Bombshell Bling, and I am excited to share with you today a recipe for Valentine's Day Marshmallow Dippers. Marshmallow Dippers are one of my favorite treats to make for holidays and parties because they look cutesy and impressive, but they are simple enough for your little ones to help make!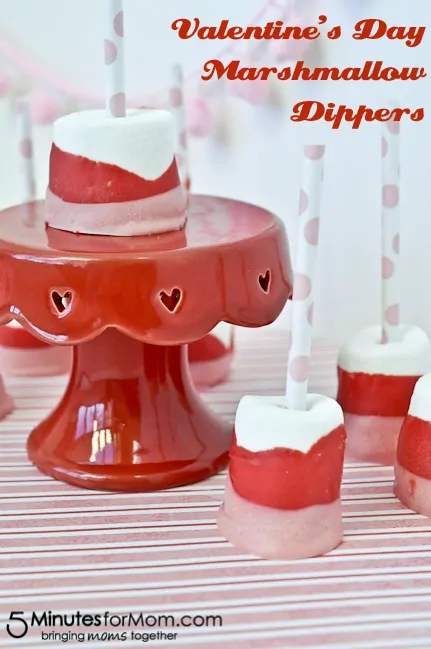 I love a fun cooking activity with my kids.  Cooking with my boy has always been one of my favorite things to do, and my daughter has recently started helping us as well, which I love.
Here are some of the marshmallow dipper variations that we have made in the past: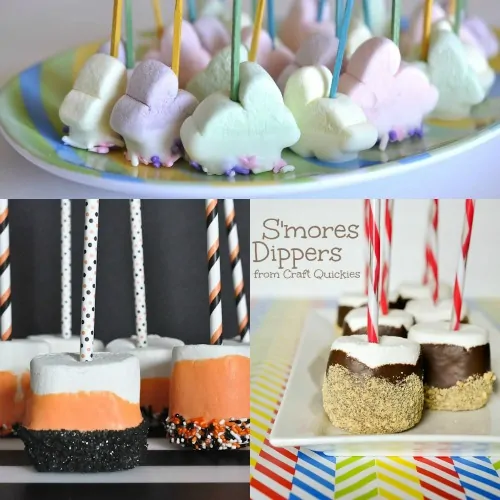 Bunny Marshmallow Dippers, Spooky Halloween Marshmallow Dippers, & S'mores Dippers (my favs!)
I told you….these are one of our favorite special event treats!  Let me show you just how simple these are to make.  Let's start with supplies and ingredients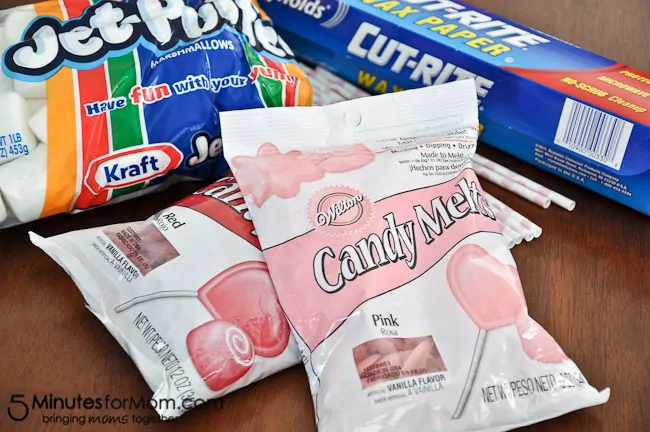 For this recipe you will need the following:
*  wax paper
*  cute straws (These straws are from Oriental Trading Co, but I also see lots of cute straws at places like Target, Scrapbooking or Craft Supply stores, or party supply stores.)
*  marshmallows (I love using the jumbo puff ones that are meant for toasting over a fire.  Lots of surface area to dip.)
*  red and pink candy melts (Found at craft supply or food specialty stores in the candy making / cake decorating aisle.)
Start by sticking your straws into the marshmallows.  This is a great thing for kids to help with.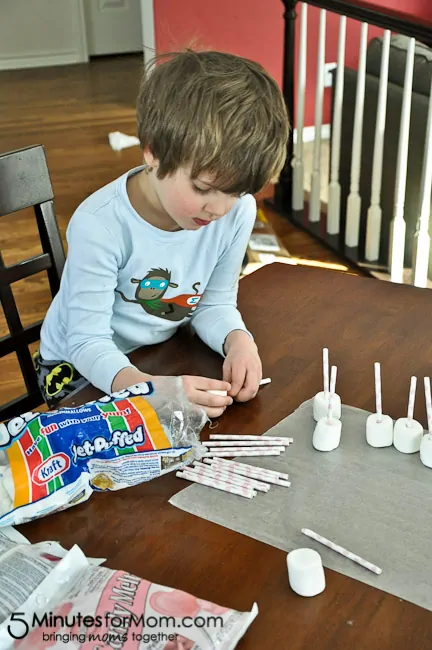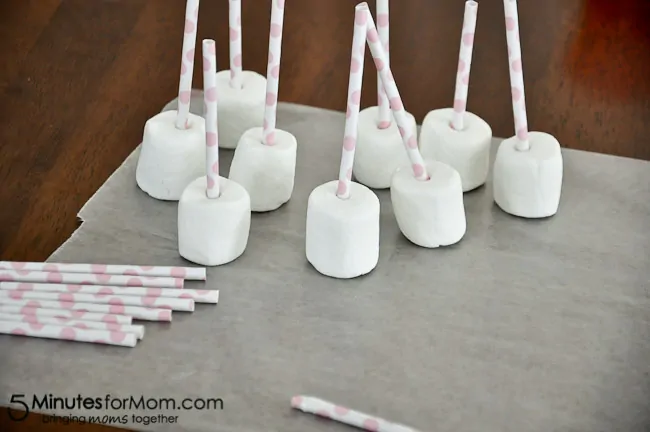 Next heat up the red candy melts by following the directions on the bag.  (I heated up about half of the bag and had leftover candy melt.)  Then dip the marshmallows into the melted red candies until the candy covers most of the marshmallow.  Allow some of the excess candy melt to drip off (you could even wipe it a bit on the side of the bowl), and then place the marshmallows on the wax paper to allow the candy to cool and harden.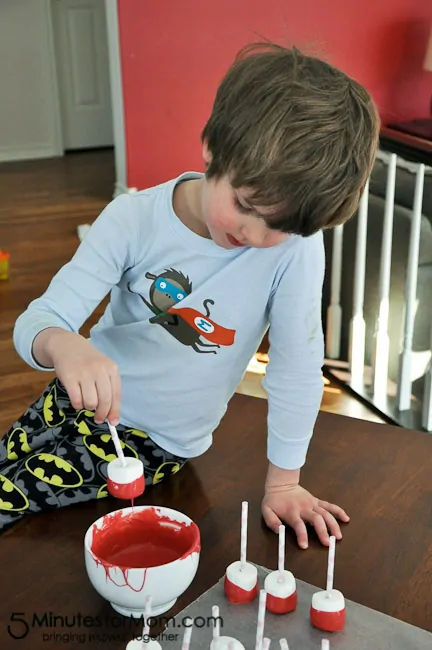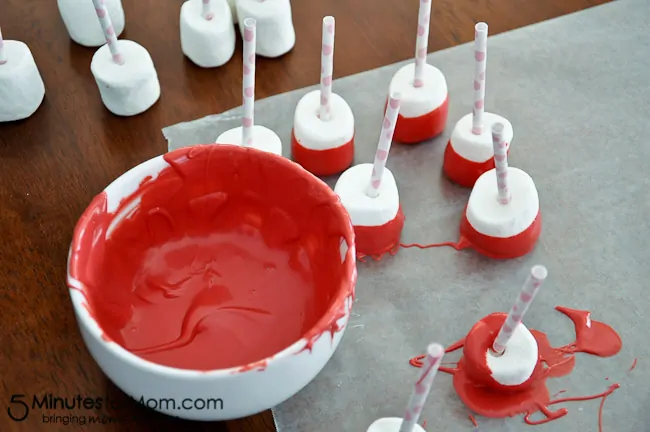 Once the red candy melts have cooled and hardened warm up the pink candy melts according to the directions on the bag.  Repeat the dipping process, but this time only dip the marshmallow about halfway.  Once again, allow them to cool and harden on the wax paper.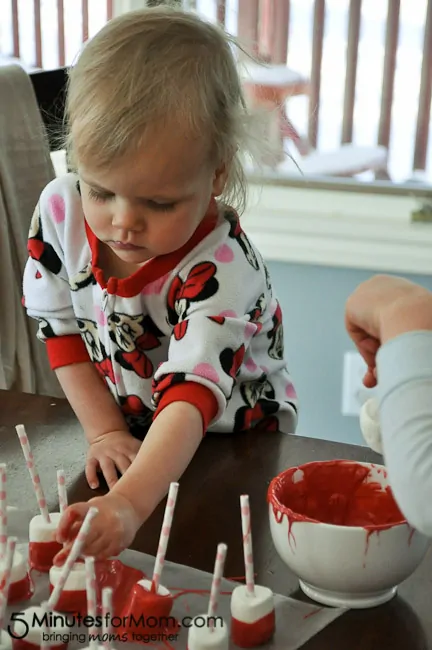 All done!  Super duper easy, huh?  And kids LOVE them, as evidenced by this sneaky little snook….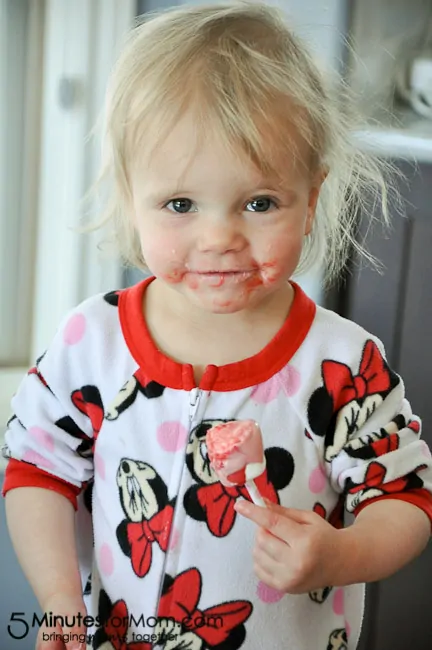 Cutie.
Now your Valentine's Day Marshmallow Dippers are ready to serve!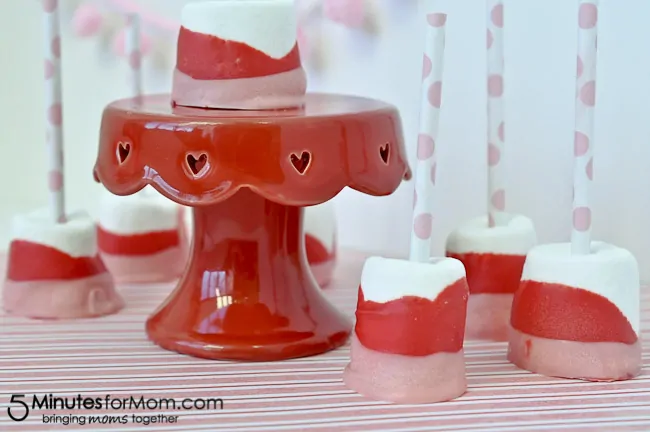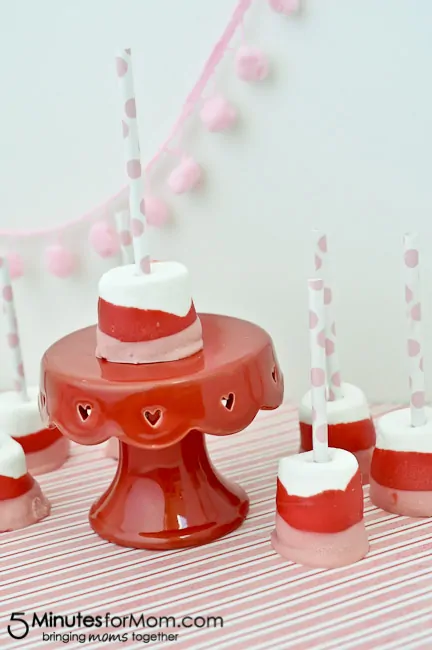 I hope that you are inspired by this idea, and be sure to check out my Valentine's Day Pinterest board for more inspiration!  Have a lovely day!