This post may contain affiliate links. Read my disclosure policy here.
Do you ever imagine what you want to say to your children when they reach those special milestones? 16th birthday… Graduating High School… Wedding Day… First Baby…
I do. So I'm excited to share with you a brilliant idea from LegacyBuilder.com – Creating Digital Time Capsules! We created this post as part of a promotional campaign, but my love for this idea is all my own.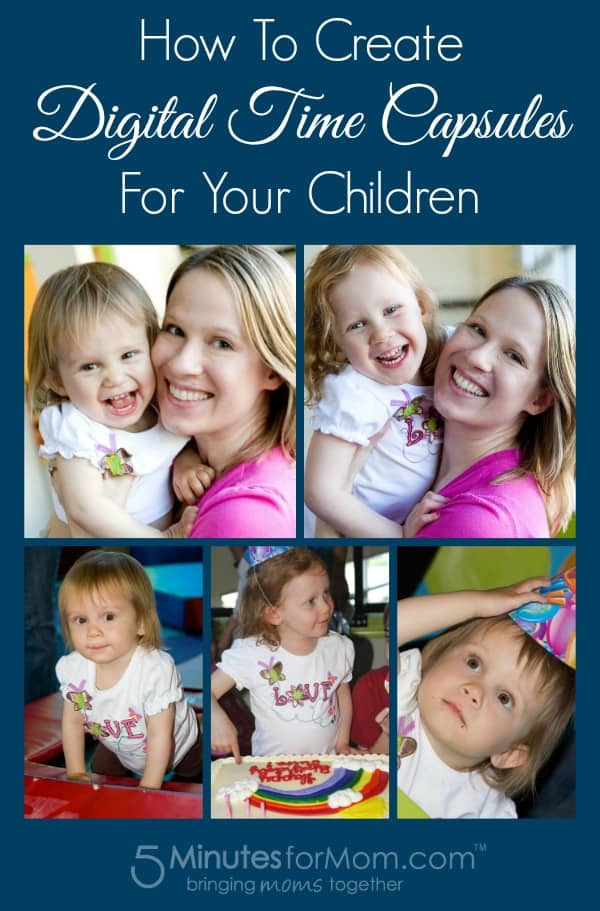 I sometimes imagine what stories I'd want to tell my children in the future about the moments we're living right now. But as weeks, months and years pass, I will likely forget what I want to say.
Life as a mother moves so fast and as our children grow and change it's almost impossible to remember what we were thinking and feeling at different stages.
I wonder if I'll be there when my daughter is changing her baby's diapers and struggling with sleep deprivation. I want to be able to share my stories of laughter and tears and the lessons I learned as a new mom. But even if I am nearby, chances are high, I'll have forgotten what it was really like.
So, I'm going to start making Digital Time Capsules for my girls.
Using the website LegacyBuilder.com you can create "digital time capsules" and include messages and videos for your children to open in the future.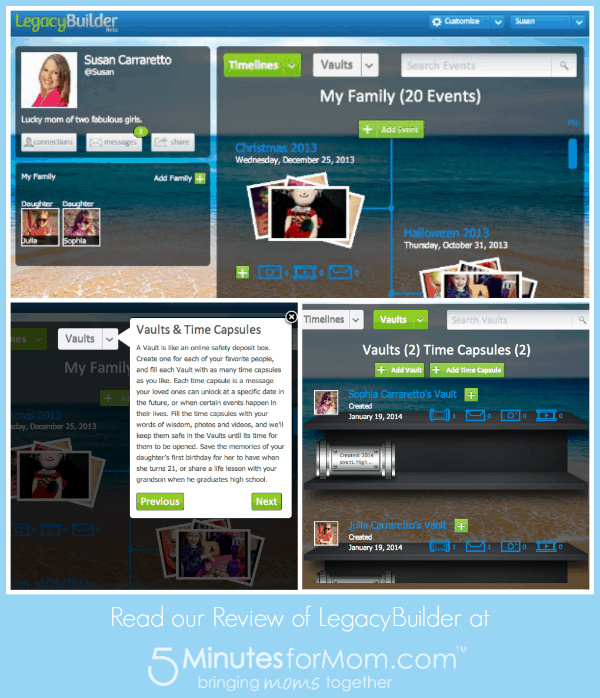 Can you imagine sharing your special, private messages of what you're learning as a new mom and having them delivered to your daughter when she has her own baby?
And it doesn't have to be so far into the future… you could save special messages for your children to open at any time… tomorrow, next week, their next birthday or when they graduate from high school.
As we grow and learn from parenting, our own memories, thoughts and perspectives change. So capture what you're thinking right now and save it in a Digital Time Capsule that will be automatically delivered when the time is right.
Get started with LegacyBuilder and start building your family's present and future story right now.
More About Legacy Builder
LegacyBuilder is a different type of photo and video sharing site… It's made for you to share with only those you love.
We've posted a couple times already about the site. You can read our previous posts at:
This unique websites allows you to connect with your family, privately share your memories and build your family story. You can start your children's stories for them, and then pass their stories on to them when they're old enough to continue on their own.
It's so simple… you can easily import all your photos and videos from your computer and from sites like Facebook, Flickr and Instagram. I got my account set up and loaded hundreds of photos in only a few minutes.
Get A Lifetime Premium Account for FREE
If you sign up right now, LegacyBuilder is FREE! All you have to do is visit THIS LINK and use the promo code 5MINMOM2 and you will get a free lifetime premium account.

Disclosure: We are working on a sponsored campaign with LegacyBuilder.
Written by Susan Carraretto, co-founder of 5 Minutes for Mom
Talk with me: @5minutesformom and Facebook.com/5minutesformom
Pin with me at http://pinterest.com/5minutesformom/