This post may contain affiliate links. Read my disclosure policy here.
Looking for something new to do with your child this winter? Here are five activities that are sure to cure your cabin fever!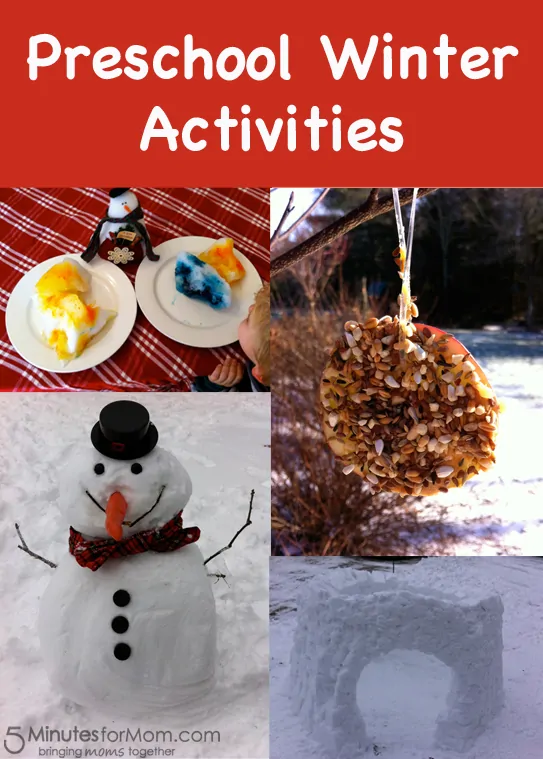 Homemade Bird Feeders:
A great way to teach children about science and nature while also enjoying the snow is to create a "Winter Tree" for your native winter birds. Recycle your Christmas tree or decorate a favorite tree outside with homemade bird feeders! Gather some birdseed, apple slices, peanut butter, and pine cones. Spread peanut butter on apple slices and pinecones and sprinkle with birdseed. Add string and hang on your "Winter Tree". Each day, go outside and spy which birds are enjoying the winter feast. You could also decorate a tree near a window, grab some binoculars, and watch from the warmth of your home.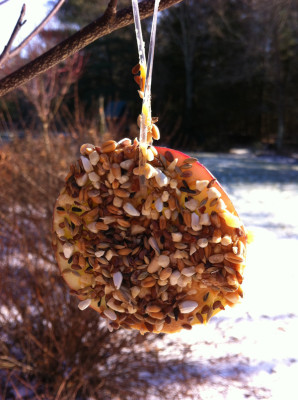 Literacy Link: Read Birds in Your Backyard by Barbara Herkert to teach your child about various birds.
Igloo Building
After making a snowman, why not build an igloo? Use either a snow block or containers you have around the house. Kitty Litter buckets or plastic food containers work great. Fill the buckets with snow; add some water to make sure your blocks of snow are extra hard. Draw a large circle in the snow, and help your child place the blocks of snow around the circle, stacking them to make walls. Don't put on a roof unless you have an expert-you don't want your snow to cave in on your little one. If it's too cold to build an igloo outside or if you live in a warm environment, you can also build small igloos inside with sugar cubes.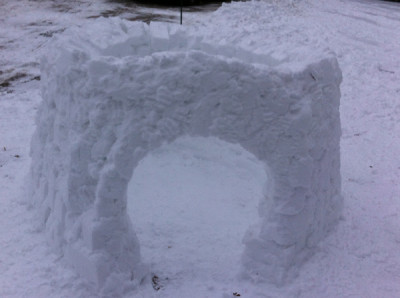 Literacy Link: Read The Three Snow Bears by Jan Brett to learn more about igloos.
Spy Animal Tracks
Put on your snow boots and snowsuit and go out animal track hunting! Look around the yard to see if you can spot any animal or bird tracks in the snow. Make your own by using a large stick to draw tracks in the snow. Notice your own tracks too, and compare the size of your child's boot print to your own. Bring snow inside or make your own snow and place in a large baking tray. Use long sticks to make your very own unique animal tracks.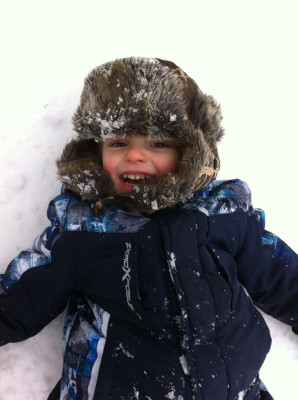 Literacy Link: Read Big Tracks Little Tracks: Following Animal Prints by Millicent E. Selsam and Marlene Hill Donnelly to learn more about animal tracks. Try drawing the tracks you learn about in the book.
Snow Science: Melting Experiment
Freeze 3 containers of snow or water in your freezer. Remove the snow/ice blocks from the containers when solid and place the blocks on a large baking tray. Have your child sprinkle salt on one block, sand on another. Do not sprinkle anything on the third block. Ask your child which block they think will melt first. Provide cups of water colored with food coloring and eyedroppers. Have your child drop the colored water onto the ice blocks. This will help your child see the cracks and crevices in the blocks as the snow melts.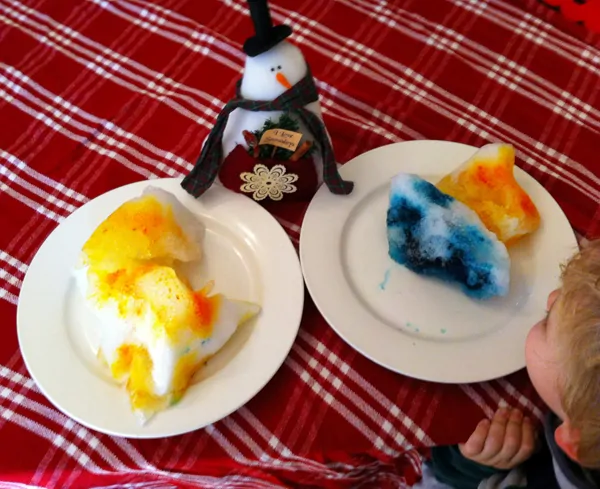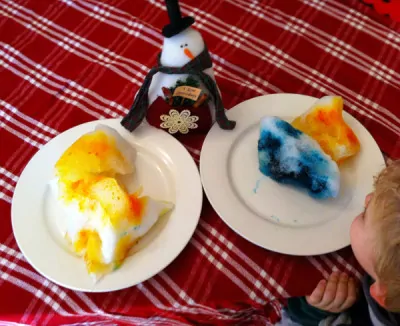 Literacy Link: Learn more about how snow and ice melts by reading Why Does Ice Melt? By Jim Pipe.
Ice Wreath
Make your own special outdoor wreath out of ice! Take a cake Bundt pan and have your child place items such as frozen cranberries, pine branches, pine needles, small twigs or other natural items you gather in the pan. Fill the pan halfway with water. Set it outside overnight to freeze. When frozen, gently remove from the pan and tie a ribbon around the wreath. Hang it on your deck or in your favorite tree outside! If you live in a warm climate, freeze in your freezer and hang outside. You can predict how long it will take to melt!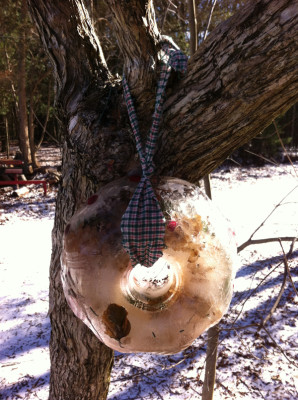 Literacy Link: After making the ice wreath, read Stopping by the Woods on a Snowy Evening by Robert Frost and Illustrated by Susan Jeffers. It's never to late to introduce your young child to poetry. Hang your ice wreath at twilight and observe your own snowy evening!
Ready for More?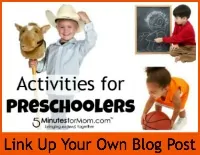 Find more fun ideas on our new Activities for Preschoolers Resource Page.
Also, if you've published a post with your own activity ideas, link it up on that resource page.