This post may contain affiliate links. Read my disclosure policy here.
With the holidays comes family time, and, as always, the perfect opportunity to share stories of past, present, and future. Your parents' memories of Christmas when they were growing up, how much your kids did NOT like the mall Santa, what antics the Elf on the Shelf has been up to this year – all just part of what makes the holidays so special. What if there was an easy way for all those awesome stories to be saved together?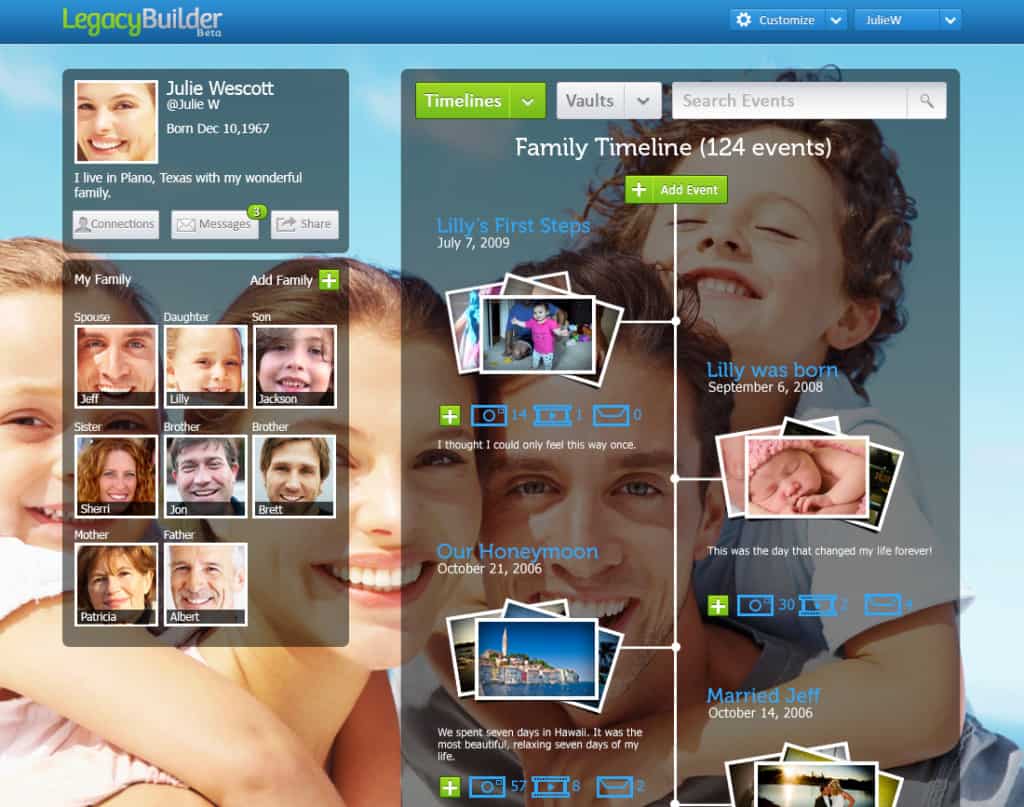 I posted a few weeks ago about LegacyBuilder, a new site that makes it easy to save your family's stories and share privately with just the most important people. Well, they can help you keep the family connected to the stories that make you a family.
I know, I know. You're thinking who has time right now?! It's the holidays! All that lovely family around means shopping, meal planning, activities, decorating, baking…the list is long, I understand. LegacyBuilder just makes the whole process easy.
Go sign up (don't forget our special promo code 5MINMOM1)

Answer a few questions about you and your family (all private!)

Load your photos and videos
Done. LegacyBuilder will automatically set up events on a timeline that tells your story based on your answers and the dates of the photos you load. The more photos and videos you load, the more of your story comes to life!
Then, you can connect to family on LegacyBuilder and see each other's events and timelines. You can even set up pages for your kids to keep track of all their milestones and events separately (and when they're older they can take over telling their own stories).
 So, take a little time to get setup. You'll be glad you did when the family is gone, the tree is packed away, and you've got 500 new photos of the buffet spread and kids opening presents. Just load them to LegacyBuilder, and your Christmas memories will all be saved together to share with the family and enjoy anytime.
Don't forget to use the code 5MINMOM1 to get a free lifetime premium membership with up to 25 GB of storage for your photos and videos.