This post may contain affiliate links. Read my disclosure policy here.
I was given the Little Green Pouch product to review. All opinions are my own. 
There are few things that make my heart flutter as much as something designed for kids with something that is eco-friendly.
Ok, maybe that's not entirely true, but those things are pretty high up on my things-I-love list.
As a busy mom, I am a huge fan of anything you can pack and go with, and healthy food is my go to choice over convenient but less healthy options.
You've seen disposable purees and pouches at stores and there are even the convenient grab and go pouches.
But now, there's a way to put your own healthy snacks into a reusable pouch.
Little Green Pouch is a reusable food pouch for babies, big kids, and grown ups.
Not only is this pouch convenient, but it allows you the control of what you are feeding your little one. You are no longer limited to the limited choices of pre-made pouches at the grocery store. Now you can put your very own purees in your little one's little green pouch and enjoy the ease of healthy food on the go.
The Little Green Pouch is easy to fill with a resealable zipper. They are made of durable, BPA-free, PVC-free & phthalate-free plastic, meant to last through rough toddler handling and washing. To make it even easier, they are are dishwasher and freezer safe, so prep and cleaning is easy. And the best part? They are cute and squeezable, meaning your little one will love feeding themselves. 
The bright green color is adorable and appealing, and my four year old son said, "This is SO COOL!" That's a pretty fantastic review!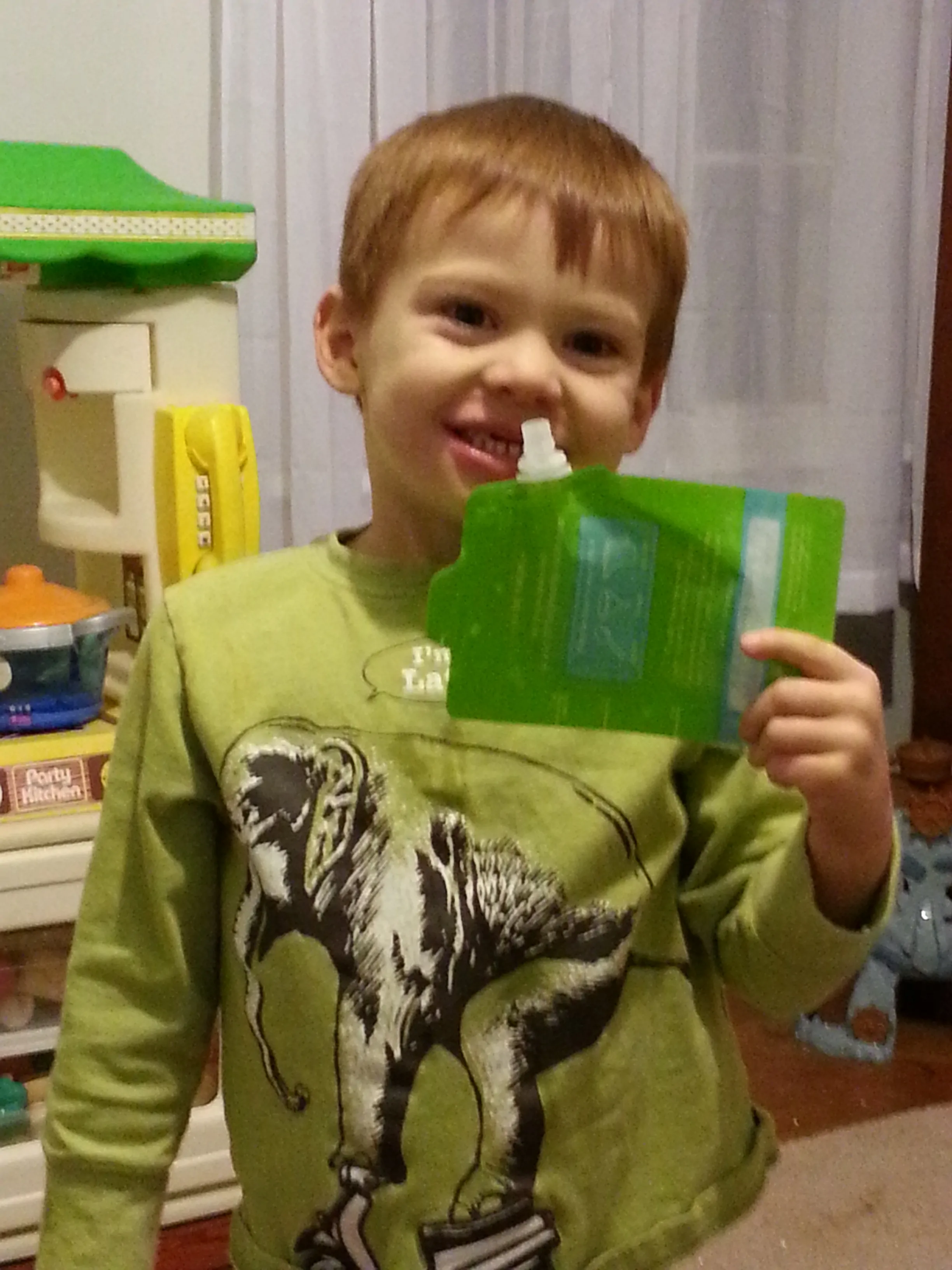 The Little Green Pouch has been featured in The Wall Street Journal, Real Simple magazine, and multiple blogs. Parents love the ease of traveling with the little green pouch and the piece of mind you will have knowing exactly what foods your little one is eating.

We have out grown the baby stage, but my four year old is still in love with the Little Green Pouch and it is his favorite thing to take into preschool for snack. 
Love the idea but not sure what you would put in the pouch? Try fruit and veggie purees, applesauce and smoothies. If you still need inspiration, the Little Green Pouch website has a variety of yummy recipes for you. 
Would you like to learn more? Like the Little Green Pouch on Facebook, follow them on Twitter, or get inspired on Pinterest. 
Now one lucky winner can win a Little Green Pouch Starter Kit; everything you need to get started loving your very own Little Green Pouch. Kit includes a 4 pack of Little Green Pouches, a Mini Collapsible Funnel for easy filling, a bottle brush, and (one of my favorites) Dissolvable Labels.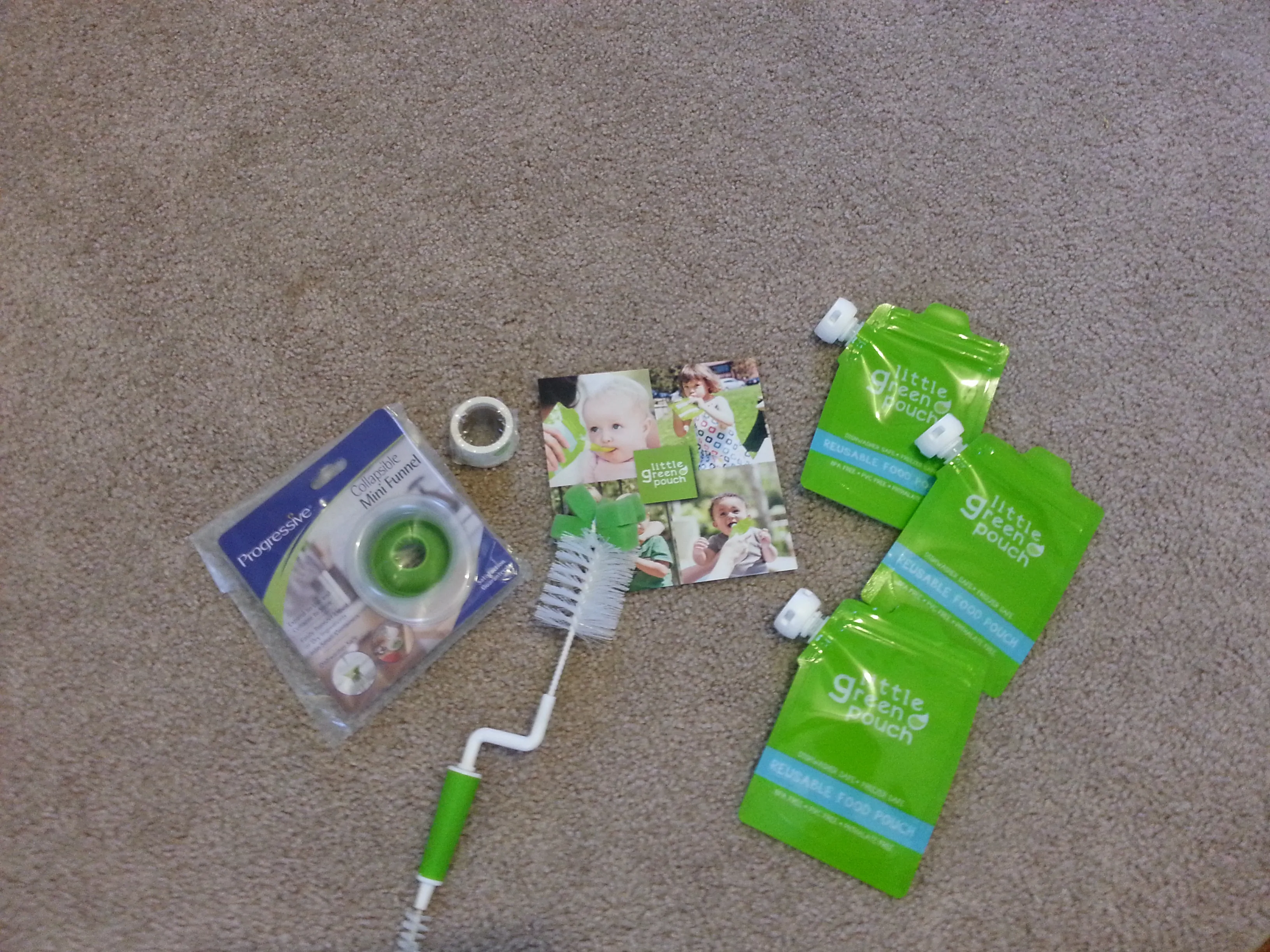 Enter below to win. Good luck and enjoy your eco-friendly reusable food pouch from Little Green Pouch! 
Julia is a full time mommy and part time writer who thrives on Starbucks, chocolate, and toddler kisses. When she is not chasing a toddler around, you can find her at her personal blog, http://www.elatedexhaustion.com, or playing on Twitter @juliahembree.