This post may contain affiliate links. Read my disclosure policy here.
Our writer Jennifer D. received a copy of the new Blu-Ray, DVD, and Digital version to assist her in writing the review.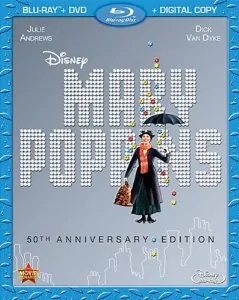 It is definitely going to be a Mary Poppins Christmas for us. I am looking forward to taking my teen daughter to see Saving Mr. Banks (linked to my review), and I'm excited to watch the DVD with my kids and possibly extended family while we're all relaxing.
The movie needs no review. It's a classic. But what I realized is that even though I know my son saw it multiple times when he was a preschooler (because his older sister and I enjoyed it), I guess it's been a while since he saw it. At 9 1/2, it's time to remedy that!
I did take a look at the special features included on the Blu-Ray:
I loved the featurette "Becoming Mr. Sherman" which is composer Sherman and the actor who plays him in Saving Mr. Banks, Jason Schwartzman, talking about composing the music for the movie, and also Sherman's thoughts on the movie which portrayed him. And here's a hint — he liked the movie, and so did I. The movie opens wide December 20, but you can read my review of Saving Mr. Banks here.
Another fun new feature is Mary-Oke featuring the original songs with delightful visuals that accompany the words. Younger viewers (or parents who might like to avoid listening to the movie's dialogue over and over again might go to this feature on the Blu-Ray time and time again.
The DVD disc contains pop up facts and commentary from Julie Andrews, Richard Sherman, and Dick Van Dyke, as well as facts about the music.
I love movies like the Mary Poppins 50th Anniversary combo pack that have a DVD (which we plan to take in the car) Blu-Ray (for viewing at home) and digital copy (which I can load on my daughter's ipod touch or my tablet).