This post may contain affiliate links. Read my disclosure policy here.
This post has been written by 5 Minutes for Mom contributor, Teresa. We were compensated to write this post, however all opinions listed are my own.
I have had the AT&T Unite mobile hotspot for approximately six months now and have a good feel for using a mobile hotspot.  For years, I depended on spotty internet access at local establishments and thankfully am over those frustrating connections that caused many a headache.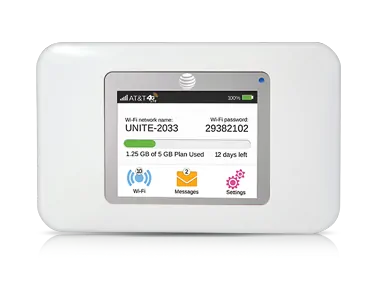 Whenever I visited my family in rural Iowa, I was tethering through my cellular phone, but it was frustrating and really consumed the life of my phone's battery. My brother is still tethering through his cellular phone whenever he wants to use his laptop and usually just ends up going blind searching on his cellular phone. My aunt and uncle are still using a dial-up connection (I honestly didn't think they existed any longer).
Fortunately, I have my very own dedicated hotspot through AT&T. I love the service and I love the AT&T Unite.  The device itself is compact and easy to carry. I usually have it in my back pocket.
The AT&T Unite has a touchscreen that is very easy to navigate and offers useful information on the strength of the AT&T 4G LTE signal. The unit also tells me the amount of data we have consumed and the number of days left during our service month. Additionally, I always know how many devices are connected at one time.
When you first connect the AT&T Unite mobile hotspot there is a simple tutorial on how to use the unit itself and how to configure it. There is even the capability to allow guests on your unit. You simply setup with a temporary password to allow a family member (who has no internet connection in their home) to access through your mobile hotspot. There is no need to expose the main password and you can delete this when they are finished sampling the mobile hotspot.
The battery life is fantastic. I have yet to ever run out of battery on our unit. There is the option to purchase a replaceable battery if needed, but I do not have a need for an extra battery at this time.  The battery also charges quite quickly. My unit will detect when there are not any devices connected and go into sleep mode. The unit states there is a 10 day battery life, and I can attest this to be very true.
There are times when I am at home that I actually prefer the AT&T Unite mobile hotspot internet connection over my home wi-fi connection. It is that good! There is a specific time during the day when I simply cannot get anything to load on my laptop. I quickly log off my home wi-fi, log on to my mobile hotspot, and enjoy a much faster loading time than the DSL connectivity I'm stuck with at home.
My family is extremely happy with the AT&T Unite mobile hotspot, and I really can't image life without it!
AT&T Unite is currently $0.99 with a 2-year contract and only $20 per month that can be added to your family mobile share plan. Get your device today and be ready to enjoy it.
For more information, you can visit att.com/Unite or connect with WiFi Family on Facebook.
Teresa is a family lifestyle photographer who is happy homeschooling her three children in the Christian classical education theory in the suburbs of Chicago. You can find her on her blog Tiaras & Tantrums or on Twitter as @tiarastantrums.