This post may contain affiliate links. Read my disclosure policy here.
Michelle of Honest & Truly!, a 5 Minutes for Mom contributor, shares her thoughts on I Even Funnier by James Patterson and Chris Grabenstein in this video book review.  She was compensated for this article.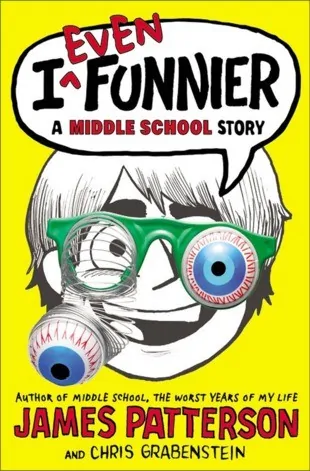 I remember middle school fondly, though I know I'm in the minority.  As the wee ones start to approach that milestone – only one and a half years left for Mister Man – I have noticed that there is a plethora of books out there that we both enjoy reading.  I Even Funnier by James Patterson and Chris Grabenstein, the second book in this middle school series, falls directly in that genre (you can read my review of the first book, I Funny, at 5 Minutes for Books).
The book is hilarious, following Jamie Grimm as he attempts to win the "Planet's Funniest Kid Comic" contest at the regional level.  The book is filled with jokes and laughs, but it also addresses serious issues from responsibility to serious illness to bullying and more.  It addresses this without being preachy, making it more palatable to (hopefully) sink in with kids.
I enjoyed both I Funny, which I reviewed on 5 Minutes for Books, as well as I Even Funnier, the second book following Jamie Grimm.  But why write about it when Mister Man and I can share our thoughts on James Patterson's most recent foray into kid lit?
About the book
I Even Funnier is the side-splitting second installment in James Patterson's hilarious #1 New York Times bestselling series for kids!
Middle Schooler Jamie Grimm has big dreams of being a stand-up comic and he's not about to let anything get in his way of making his dreams come true! In this second book in the series, Jamie is off to the state finals in the Planet's Funniest Kid Comic Contest, but there's another kid who thinks he's a million times funnier than Jamie…who will win?
Filled with hilarious jokes and plenty of heart, this is the perfect book for boys and girls (psst…even those who don't like to read!)
Visit the Official Site
Follow author James Patterson on Twitter and Facebook
#IEvenFunnier in stores December 9.
Click here to read the first few chapters of I Even Funnier for free!
Enter to win
One U.S. reader could win copies of both I Funny and I Even Funnier. Start off by entering your name and email address in the widget below to see multiple ways to earn entries.