This post may contain affiliate links. Read my disclosure policy here.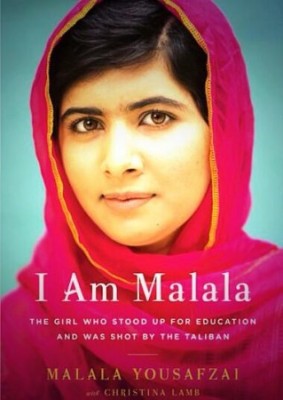 When the young Taliban swung himself up over the tailboard of the school bus and leaned in to the terrified school girls, he demanded "Who is Malala?" No one said anything, although there were inevitably some who glanced at Malala, the 15 year old high school student who was already well-known for her outspoken support for girls' education in a place where that was not always welcome. The Taliban fired 3 shots that miraculously didn't kill anyone, but he left Malala badly injured.
Most of the world knows this story. Malala was eventually flown to Birmingham, England, where she spent several months recuperating and undergoing surgeries in a hospital there, and she and her family now live there, for safety reasons. She addressed the UN on her 16th birthday with the inspirational words "One teacher, one child, one book and one pen can change the world." She was recently on Jon Stewart promoting her book, and he was rendered speechless by her.
I Am Malala
takes us behind the scenes to Malala's family, childhood, and nation. She's from the Swat Valley, a gorgeous area tucked up near the Himalayas and home to waterfalls, lush rivers, flowers and fruit in abundance. She was a happy child, adored by her parents. However, the area is poor and undeveloped, and Malala's clear-eyed take on Pakistan's history shows clearly the marks of corruption and ineptitude, and the price paid for those things by the ordinary citizens.
Malala's father is an exceptional man. Born in a poor valley bounded between two high mountains, growing up with a stutter, his dream was to open a school and bring education to children. He has a real fight to get an education, and soon afterwards he does all he can to start a school, even though that means bringing a new wife to share a single-room apartment he shares with his fellow teacher and business partner. But Ziauddin Yousafzai is a determined and fearless man. He speaks out at every chance about the importance of education, and he unabashedly adores his firstborn daughter, Malala. Malala grows up like him, and together they speak out against injustice, and do all they can to provide free education to those who need it, even though that sometimes means they are in need themselves. Malala's mother feeds whoever stops by at mealtimes, and Malala's two younger brothers keep things lively.
I Am Malala
offers, too, a look at life from "the other side." I put that in quotes because it's not necessarily accurate to describe us as being on opposite sides, but I did appreciate reading about Pakistan's recent history from the viewpoint of a young Pakistani girl. Everything from Benazir Bhutto's assassination to the CIA operative's shooting of 2 unarmed men to the capture and execution of Osama Bin Laden affected her view of her nation and the world around her.
Malala and her family watched in dismay as the Taliban came to Swat Valley in 2007, following a pattern in which they first seduced the people through providing aid after a devastating earthquake, then preaching to the masses their own skewed view of the Qu'ran. Soon the girls' school run by her father was under threat. He fought back, clearly defending himself against false accusations and pointing out the inaccuracy of their teaching. He received death threats several times but refused body guards, because he knew that an attack where there are guards means more people hurt, more people killed.
Malala herself began to gain notoriety. She wrote a blog for the BBC Urdu website on life as a young schoolgirl under the Taliban, using an assumed name. Since they didn't have internet access, she would dictate her thoughts by phone to a journalist who would type them up for her. The blog gained a lot of attention in Pakistan. Malala writes, "I began to see that the pen and the words that come from it can be much more powerful than machine guns, tanks or helicopters. We were learning how to struggle. And we were learning how powerful we are when we speak."
In spite of this, the power of the Taliban grew and more and more girls stayed home from school, either out of coercion on the part of their family members, or out of fear. At one point, most people evacuated the valley so that the army could come in and roust the Taliban. Although on their return the family found that things had improved somewhat, the threat of extremism remained an everyday reality. Yet Malala and her family continued to speak out about the importance of education for girls.
Malala is an endearing personality. She's sweet and kind but very competitive at school and is bitterly disappointed when she doesn't place first in her class. She loves school and reads any book she can get her hands on, and she compares the Taliban to the evil vampires in the Twilight series coming out of the woods, which I thought apt. But above all her courage and fearlessness stand out. I Am Malala
is an inspiring book, and reminds us all that everyone deserves an education. In his book Half the Sky, New York Times columnist Nicolas Kristof points out studies that show the number one way to decrease poverty is to educate women. With her fearless unending quest to ensure the right of education for all, Malala shows us that one person really can make a difference, even a poor girl from an obscure valley in the mountains of Pakistan.
Enter to Win
I'm really thrilled to announce that one of you can win a copy of this book. It's not only an important read, it's interesting and inspirational as well. It would also be a great read for your teenaged daughters.