This post may contain affiliate links. Read my disclosure policy here.
Christmas Clean Up
Considering it is half way through January, you'd think that I would have long ago tackled the Christmas clean up. But since we went away after Christmas and then got home just in time for me to throw together Jackson's Birthday Party, I had no plans of getting my tree down until at least the 9th of January.
But, since I am notoriously late for everything, I was late even for that plan. Last week I just didn't manage to get the tree down. So this weekend was it – time for the post-Christmas clean up!
The tree came down, the decorations disappeared and the new toys found homes.
For some crazy reason, I didn't take before pictures. You think I would be used to these tackles by now, but somehow I forgot and didn't grab the camera in time.
So I will paint the picture for you. The tree was up, the toys were scattered all around the house. Laundry baskets were piled high with clothes (they were folded at least) and the kitchen counters were cluttered with all that miscellaneous stuff that inevitable finds its way to the counter and then never moves.
Saturday we started. Yes – hubby pitched in on this one. We worked from 5-10pm. (Yes, quite an exciting Saturday night!) Then Sunday afternoon I finished with a few more hours of work. What a weekend!
The house is back under control, although many, many hot spots are still waiting to be tackled, including the big basement tackle which I must get back to.
When I started Tackle It Tuesday late last spring, I imagined by now my house would be conquered. I pictured myself living in perfect order. I didn't take into consideration that life keeps happening and new tackles keep springing up, along with maintaining order in old hot spots.
This New Year, Tackle It Tuesday is still very necessary in my house. So no worries to any of you new tacklers – Tackle It Tuesday is here to stay for a long while yet!
So here are the results of our weekend.
Order restored in the living room.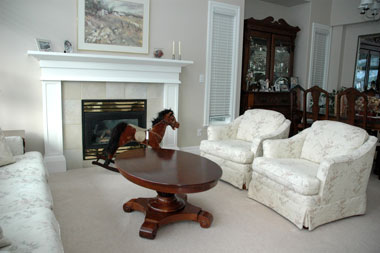 Next is Jackson's closet. Fortunately I had tackled Jackson's closet before Christmas in anticipation of the Christmas/Birthday rush of new toys. I want to get some plastic drawers to make the toys more accessible for him, but this is where I am so far. The rest of his new toys are in his cupboard in the family room. Since I didn't have enough little containers, I have used a ton of Freezer Ziploc bags to keep all the different toys and their pieces organized.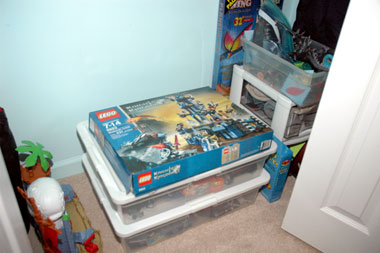 So – what are you tackling? Remember your tackle can either be completed earlier in the week and you just show off on Tuesday, or you can tackle on Tuesday. Either method is just fine! 🙂
Looking forward to visiting your place.
Join Us For Tackle It Tuesday

We're making housework blog-able!

Each week on Tuesday, we are posting before and after pictures of a project or trouble area that we tackled this week.

Find out more about Tackle It Tuesday here.

The project can be little or big – whatever you want. Basically, Tackle It Tuesday is about giving ourselves incentive, deadlines and satisfaction in getting our household tasks done.