This post may contain affiliate links. Read my disclosure policy here.
ONE and Heifer International have partnered up this holiday season to send goats to impoverished African families and you can help provide hope! Each goat can provide enough milk to provide a family enough income to pay for shelter, education, health care and more.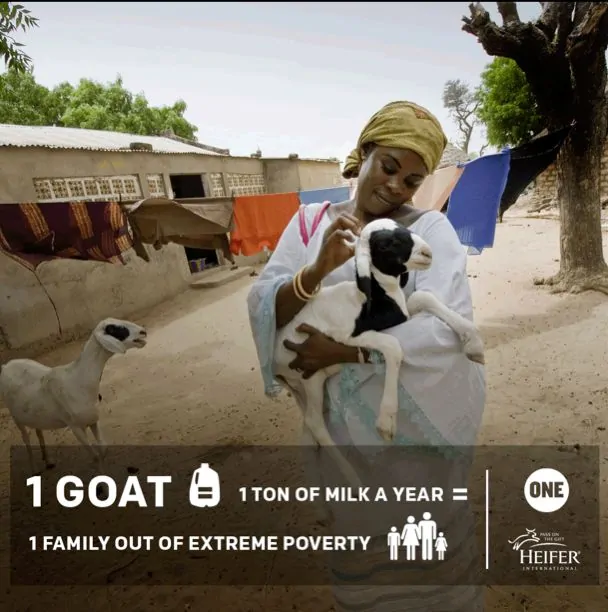 There are several ways that you can help this important cause.
Buy a goat. You can give a whole goat for $120 or give in a share of a goat which will be put together as a whole. You can help with as little as $10 which will buy one share of a goat.
Share the facts. Use your social media presence for good. Watch the #giveagoat hashtag for stories, graphics and information to share on your social channels.
[Tweet "Do something awesome this holiday season. #GiveaGoat to pull 1 family out of the cycle of poverty! @ONECampaign"]
You can also follow ONE on Twitter or Heifer on Twitter for the latest updates.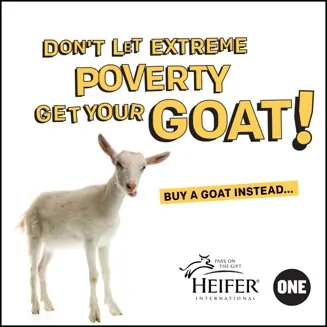 Follow Stella the Goat. You can follow the campaign mascot, Stella (seen above) on Instagram and Pinterest for interesting information and fun updates.
Check out real stories from African families who have received a Heifer goat.  Come back each week to read a new story!
Whatever it is that you can do to help will bring hope to a family in extreme poverty in Africa. Visit ONE today to share your gift!