This post may contain affiliate links. Read my disclosure policy here.
We were compensated for this post, but our opinions are always our own.
As an English teacher, I am always looking for fun ways to get my students writing. Living in the technological age that we do, has pushed writing to the back burner. The Playtown My Story Maker app, however, uses technology to spark kids' creativity and get them writing.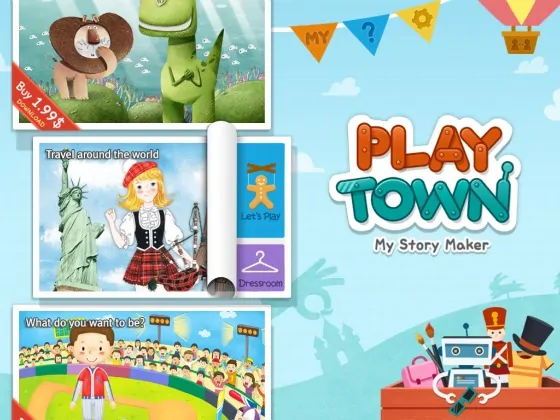 Using this free app, kids can create, personalize, narrate, and share stories.  Many students avoid writing because they can't think of ideas, but with the Playtown app, there are numerous ideas provided to jumpstart your child's natural imagination.
Kids can choose characters, stages, props, accessories, music, and can even use their own photos and drawings in their stories.
Personalize! Create!  Record!  Share!
The fun includes:
themed character play sets
multiple background
touch, drag, and adjust size of the characters in the scene
change character expressions
add accessories
narrate and record a story
add a musical background effect
title your story and add your name as director
play back and enjoy the story
share your story with friends
The story app also allows for personalization in some fun ways:
Add YOUR photo to the story
Draw YOUR own character and add it to the story
Change the characters' clothing, hair, accessories and more
This app is the perfect blend of technology and imagination.  It allows children to create from their heads or to use inspiration and follow a guide provided by Playtown and then gradually make changes as their creativity grows.
The possibilities are endless with this vibrant, fun, and educational app.
Find out more on their website.
Hi! I'm Jenny! I blog at www.thesweetstuff.blogspot.com all about my home, family (husband and sweet baby girl), being a mom, crafting, cooking, my faith in God, and more. I love the outdoors, living in a small town on the Central Coast and being a mom!