This post may contain affiliate links. Read my disclosure policy here.
Michelle from Honest & Truly! here to share with you about Medi-Weightloss protein bars and their Protein-o-Ween celebration. We were provided product samples to review, however all opinions remain our own.

I've been working hard to lose weight this year, and I've figured out a few things along the way. Obviously moving and exercising is an important factor, but my big ah-ha moment was when I realized how critical protein is. When I increased my protein intake, it made a huge difference not just in my weight loss but in my energy level, as well. The Medi-Weightloss protein products are a great option when it comes to fitting in more protein each day.
Medi-Weightloss offers both protein bars and a shake to go, all of which are portable, making them great snacks for when I'm running around or at home and need something to eat quickly. I received protein bars come in three flavors – Peanut Butter Temptation protein bars, Chocolate Celebration protein bars, Crispy Marshmallow Dream Bars, although there are other flavors as well ranging from blueberry pomegranate to cinnamon pecan.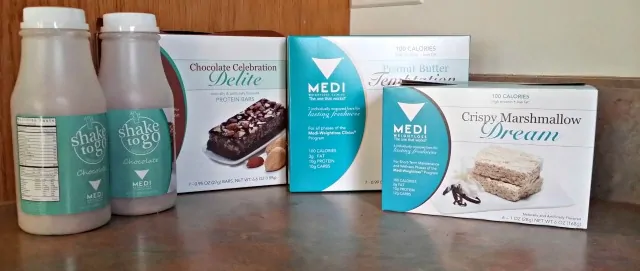 The protein bars contain contain just 100 calories, making them a great snack, and have 10 grams of protein. Each box ($16.10) contains 6 or 7 bars, enough for a week of snacks. The bars I received satisfy your sweet tooth well. The Chocolate Celebration protein bars are soft and chewy with almost a chocolate frosting, something you definitely wouldn't expect to contain just 100 calories.
The Peanut Butter Temptation protein bars are crispier and have a definite peanut butter flavor for something a little more savory while still having a peanut butter drizzle that makes it feel like a treat. The Crispy Marshmallow Dream Bars were my favorite though. They reminded me of the crisped rice marshmallow treat I used to make all the time as a child. The texture was slightly different, but the taste was there.
The chocolate Shake To Go comes in a pack of six bottles with the powder measured out. All you need to do is add water to the fill line and shake. I'll be honest that I couldn't figure out what the fill line was until I'd measured out the recommended 8 ounces and poured it in. As the water reached the top of the bottle label, I realized that was the fill line and confirmed it when I twisted the bottle around and saw the text, though an arrow would have made it easier for me to identify the first time.
The shake definitely had a chocolate flavor and was slightly chalky as many protein shakes are but definitely something I would drink again. At only 80 calories for the protein shake (but 15 grams of protein), this is not a meal replacement, but it's a perfect thing to keep in the car for after workouts or when I want a quick snack on the go. They come in a convenient 6 pack ($15.00) with vanilla as an additional flavor option.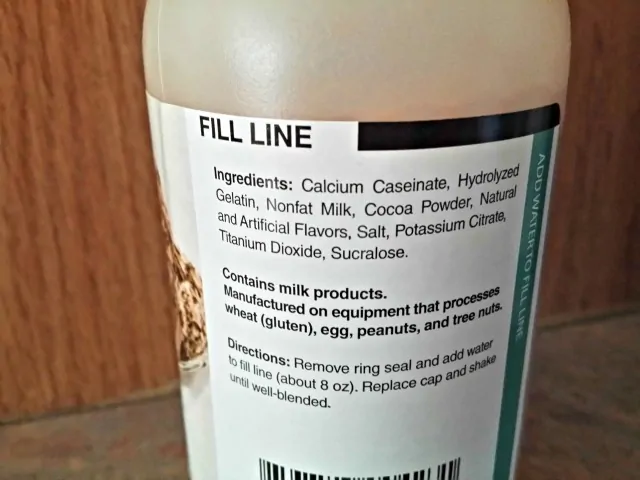 Even better? Right now, you can enjoy 15% off protein products from Medi-Weightloss through October 31 with promotion code PROTEIN15. This includes all products except the Signature Nutritional Shakes.
Or join in Medi-Weightloss's Protein-o-Ween fun! On Facebook October 28-31, there are fun and prizes each day. Simply visit the Medi-Weightloss Facebook page to join in Protein-o-Ween and see what that day's contest is, and keep an eye out for other fabulous deals, as well!
Michelle may never stop running around Chicagoland, but she always makes time for the important things in her life – her wee ones, cooking, reading, and spending time with friends – and of course, writing. You can see what she's up to on her blog Honest & Truly! or on Twitter where she tweets as @HonestAndTruly.