This post may contain affiliate links. Read my disclosure policy here.
Hi, I'm Bonnie, a contributor here at 5 Minutes for Mom, excited to share my experience of Tree Top's NEW Apple Sauce Pouches with you!
My daughters love snacks.  In fact, they often tell me (around 4 pm) that they want a snack instead of supper.  Of course, I'm always looking for healthy snacks for them.  And often, if we're on the run or I'm busy, I want their snacks to be quick and easy and mess-free.  Tree Top Apple Sauce Pouches fit all those descriptions.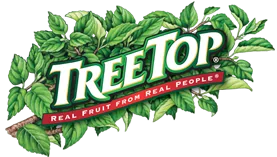 Both Sunshine (5) and Lily (3) were super excited to try one of the Good-to-Go Apple Sauce Pouches.  We all agreed it was delicious.  They would have promptly eaten another pouch, but I told them they could have more apple sauce in their school lunches.  The next morning when I was packing their lunches, they reminded me to include the apple sauces!  I appreciated the fact that I didn't have to worry about packing a spoon too—they just unscrew the top and start eating!
They both raved about their apple sauces when they got home from school.  Sunshine said she had part of her apple sauce for her morning snack and then saved the rest for her lunch.  She was quite pleased that she could put the lid back on the apple sauce and finish it later.  I was pleased that they were excited about a healthy snack.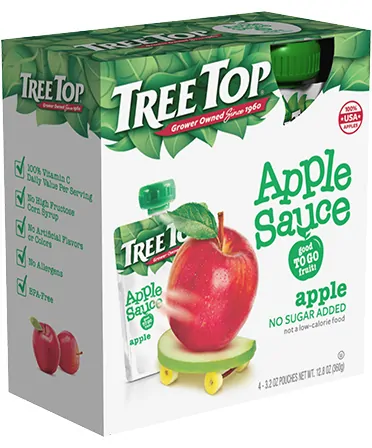 These are also great for road trip snacks because they don't make a mess or require a spoon.  Often, Sunshine and Lily want to finish their lunches on the drive home from school, but they know some snacks are messy and not allowed in the truck.  Snacks have also helped to keep our girls busy on long road trips to see grandparents and these are easy to use, won't spill if dropped and won't leave crumbs all over my vehicle.
Tree Top apple sauces come in four flavours: apple, cinnamon (my favourite!), strawberry and mango.  They are made from 100 percent real fruit and contain no artificial ingredients or added sugar.  The pouches are BPA-free and don't require refrigeration—so you can stash a couple in your diaper bag for emergencies without worrying about them going bad!
Tree Top products are available in the western United States; check out their website to find a store near you that carries their products.  They also have juices, apple sauce cups, and fruit snacks.  Their website includes recipes and useful health information.  You can also find them on social media.
Want to try Tree Top's Apple Sauce Pouches for yourselves?  Enter to win using the form below!