This post may contain affiliate links. Read my disclosure policy here.
Disclosure: Jill Berry, 5 Minutes for Mom writer, shares her insights into this review. We were compensated to write this post, however all opinions remain those of the writer.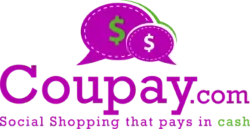 Saving money is fun and addictive. Whether I shop at the grocery store or online, I want to save money… and not just a little bit, but a lot of it. I get a real kick out of saving money. I buy in moderation and I focus my shopping on items we need. I'm always looking for new ways to save money on all my online shopping purchases and my newest craze of saving money is Coupay.com.
What is Coupay.com?
The tagline gives a hint: "Social Shopping that pays in cash." "Cash" caught my attention right away. I love saving money. Even saving a few cents is worth it to me. So how does Coupay.com work?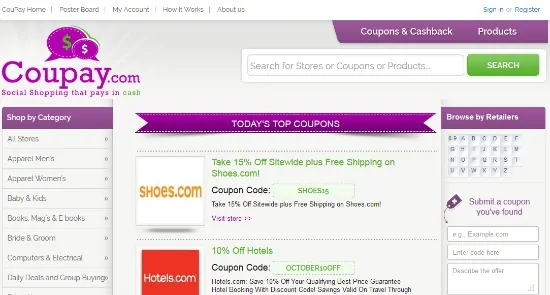 Coupay.com is a two-part service for customers. First the "Cash" part…
Coupay wants to pass the savings on to you. Did you know that when you click on an banner ad or text link to a retailer, that website you were on earns commission? Coupay wants to give you a cut of the savings.
Retailers pay Coupay commission for referring them sales. Once Coupay gets paid, Coupay passes on a proportion of that commission to the shopper…that's you. Not bad, right?!
Here's what you need to earn money with Coupay.com:
Step 1 — Register with Coupay.com. Its free to join.
Step 2 — Shop like you normally would. The cashback displayed on the page of your chosen retailer is the amount of cashback on each purchase you will receive.
Step 3 — Get paid cashback! Coupay automatically tracks and calculates your cashback. Its really that simple.
Step 4 — "Share to Earn." Get paid if a sale occurs.
And the second part of Coupay.com is the "Social" part.
Share any retailer or product found on Coupay.com through Facebook, Twitter, or Pinterest.
If a friend or one of your social media followers makes a purchase, you get paid the cashback amount from that sale.
The only catch…you must have a valid Coupay account and be logged in to Coupay.com before you share so that Coupay can track the sale and pay you cashback.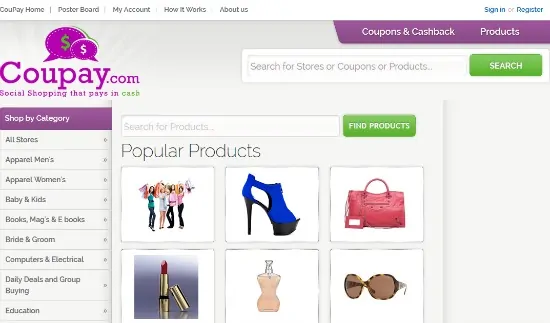 The selection on Coupay.com is endless. From men's apparel to books to gifts for the bride and groom to toys and games to home appliances and more. I can see myself shopping for holiday gifts and never leaving Coupay.com. I'm all about one-stop shopping!
What about you? Have you ever used Coupay.com?
Jill Berry @MusingsfromMe is a writer who stays at home or a SAHM who writesit depends on the day and her mood. While playing a writer on the internet, Jill has the gray hair AND blogposts from raising a kid, a preteen, and a teen. When not blogging at Musings from Me, Jill seizes family time whenever she candinner as a family, movie night, marathon family game sessions, travelingyou name it she wants to do it.